A traditional cup of coffee is the dark liquid we are all used to, milder and without any extra. An espresso, on the other hand, is more concentrated, aromatic, and with an extra layer of foam covering the top. If you want to buy your own espresso machine and become a home barista, this page has all you need.
This "shot" can be mixed with cream, milk, or anything else to make your favorite beverage. However, in order to do that, you will first need to get your hands on the best espresso machine for your needs.
Best Espresso Machine
Here are our recommendations:

Breville BES870BSXL The Barista Express Coffee Machine
This Breville espresso machine comes with a variety of features that will make every espresso connoisseur happy – pretty much because they can't be easily found in other items.
The device is a mix of super-automatic and semi-automatic. It has a built-in grinder that allows you to have freshly-ground coffee with every cup. It can take half a pound of coffee beans, and the sealed top will ensure that no flavor is lost.
At the same time, it's customizable, so you can decide for yourself how coarse you want your espresso to be. The "preset" cup is 30 millimeters, but you still have control over the water amount that goes in your espresso.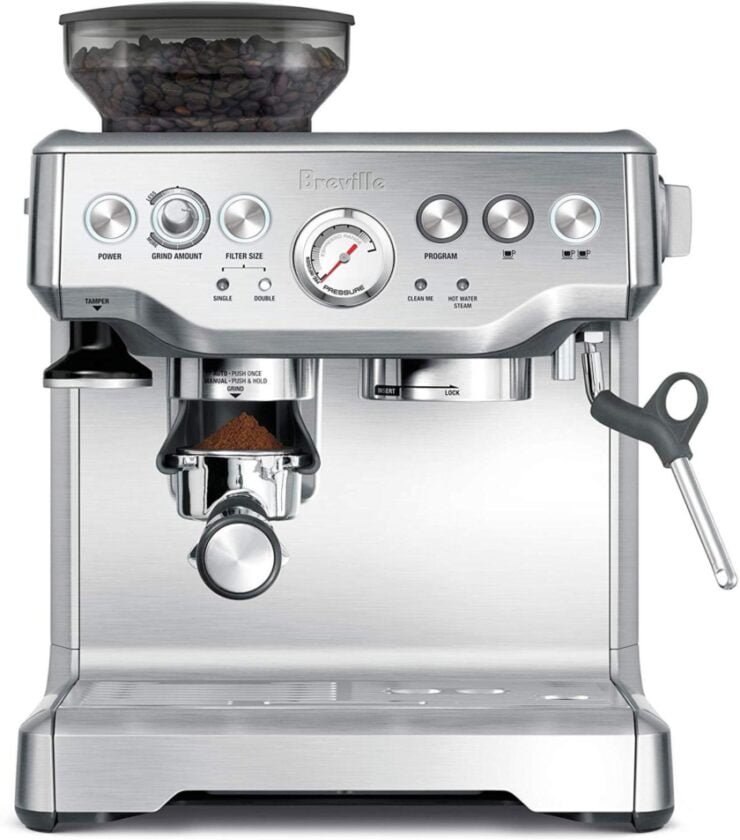 This model features a two-cup option, which means that you can pour coffee for you and one more person, without wasting any time.
We have a more detailed review of The Barista, and if this the machine you are considering, it's worth reading. Here is our shorter version of the review, in the mean time.
BES870BSXL is very easy to be taken apart, which means that it's also very easy to clean. You can simply use a cloth to clean the wand and the rest of the surface, while the nozzle tip can be cleaned only by turning on the knob that controls the steam.
While this machine doesn't brew regulars, you can still make a great Americano by brewing some espresso, followed by pouring hot water from the water dispenser.
Pros
It works fast and fine
It's made of stainless steel, which ensures its durability
It doesn't have "slippery feet," which means it will stay in place on the counter even if the grinder is working.
Very easy to clean
Looks very stylish
Cons
It may be easy to clean, but it's also fairly messy to use
The grind can occasionally spray the counter
Best Espresso Machine Over $500
Here are our recommendations:

Rancilio Silvia Espresso Machine
If you don't mind spending a couple of extra bucks for a good cup, then the Rancilio espresso machine should totally be your top choice. This unit went through many upgrades to ensure that every cup of espresso is delicious to any connoisseur.
We have a dedicated review of this superb semiautomatic espresso machine, and if you want to learn more about it read it here: Rancilio Silvia Espresso Machine Review.
The portafilter and the group head are made of chrome-plated brass, which ensures heat retention and full extraction. The material also makes the device very durable, since it does not allow for mineral buildups.
The temperature is customizable, and while this may be challenging for beginners, it's perfect for veterans that already know what temperature works for each cup.
You can see everything from the temperature to the steaming level on the display, which you can control with the knob.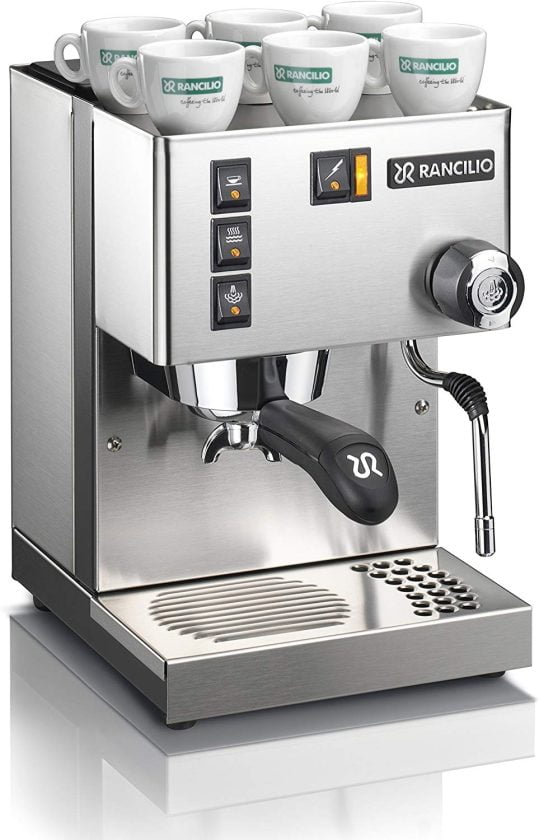 Cleaning this device is also pretty easy, considering the multitude of features that it has. All you have to do is clean the exterior, the group head and the steam wand, after which you need to rinse the portafilter.
Rancilio Silvia also comes with several accessories that include two filter baskets (one for single shots and one for double shots), a measuring scoop and a plastic coffee tamper. You can also opt for a metal tamper, but that will cost you extra.
The boiler is one of the largest of the class, which means that the heating time is also shortened. Your coffee will be ready in a fairly short time – even faster compared to your average espresso makers.
Pros
It features a large boiler size that heats up fast
The exterior is durable and the switches are strong and easy to operate
You can customize your espresso for your own taste
It's easily maintained and cleaned
Cons
Espresso cups may vary because the machine is reportedly fussy about the coffee grounds
The boiler doesn't have an auto-fill feature, which means you'll have to fill the tank yourself
It may take a while until you get used to brewing with this machine
Best Espresso Machine Under $500
Here are our recommendations:

Gaggia Brera Espresso Machine
It may not have many tuning options, but you can still work the main settings. It's a very suitable option for beginners since it will give them a kickstart in the world of coffee making.
This espresso machine may look simple, but it kicks a fairly strong punch. Featuring a wand frothing for milk drinks, this unit allows you to make lattes and cappuccinos as well.
Furthermore, the wand also acts as a hot water dispenser, so you may use this machine to pour yourself a cup of tea or prepare a good ol' Americano.
The machine features a two-cup brewing process. The procedure isn't simultaneous, as the espressos are brewed one after another. However, since you do not have to choose the settings again it still cuts down on the brewing time.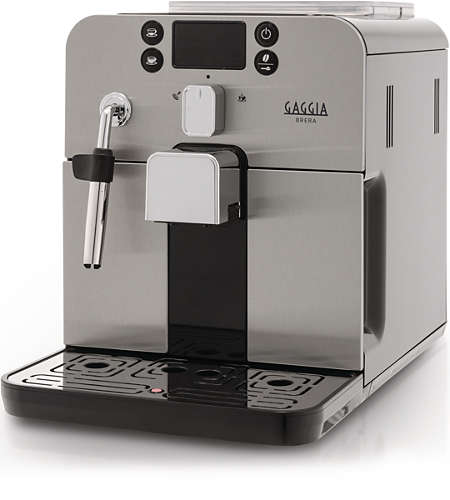 The Brera
also features a 60-minute automatic standby option that signals the coffee machine to turn off if it's not in use. This will allow you to save power and protect your home from hazards that may occur from forgetting your espresso machine on.
Since it's a super-automatic machine, it has a built-in grinder. Since it grinds the coffee beans on the spot, the coffee will be at its freshest. The only variable for this will be the quality of the coffee grounds.
Overall, this is a very good investment if you want a tasty espresso shot and fine-tune your barista skills. It is the best espresso machine under 500, so it should be affordable for everyone with a regular budget.
Pros
The automatic turn-off feature is very convenient if you forget to turn off the device
It is easy to use, since you only need to press a button to brew the coffee
It is suitable for both beginners and connoisseurs, since you can adjust the settings – or just leave them as they are
Cons
It's made mostly of plastic, so it offers a rather cheap feel and may be less durable
Since it is a superautomatic espresso machine, it's a little less reliable than Silvia or the BES870BSXL
Best Espresso Machine Under $200
Here are our recommendations:

Winner: Mr. Coffee Café Barista Premium System
If you are on a tight budget, this semi-automatic Mr. Coffee espresso machine is perfect for offering you a daily cup of espresso. This unit might be categorized as "cheap," but the beverage that it makes sure doesn't show it.
The reason why this machine is so affordable is not that it doesn't have features; it's because it uses mostly plastic instead of high-density metal. Still, this is the best espresso machine within the budget, and it will definitely last at least 5 years.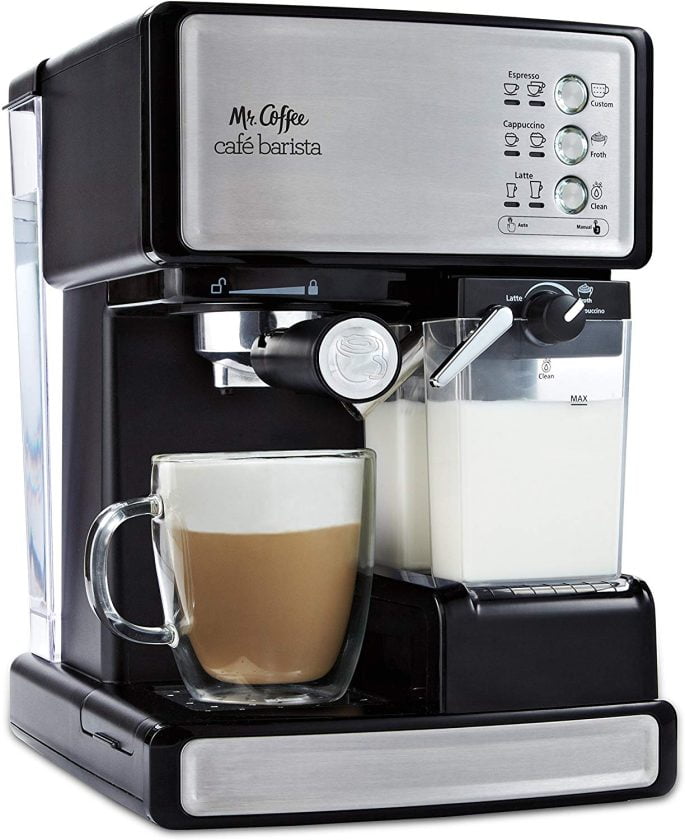 This espresso machine features an easy to use control panel and the whole LED lights tell you exactly when to start brewing. The only thing you'll have to figure out for yourself is when to stop brewing.
Measuring 12×14 inches at the base, it's slightly larger than most similar units; however, it's not large enough to be bothersome in a small to medium-sized kitchen. If anything, the fact that it's large offers you more beverage options.
Pros
Exceptionally affordable price
The LED lights and controls make it easy to use
It features a classy look
You can make anything from espressos to lattes and cappuccinos
Cons
It can be fairly loud when turned on
It doesn't have many options for enthusiasts
Runner-Up: De'Longhi EC155 15 Bar Pump Espresso Machine
It might be made mostly from plastic and this cuts from its durability, but it doesn't look cheap in any way. It also needs little counter space, so you may use it even in a small kitchen.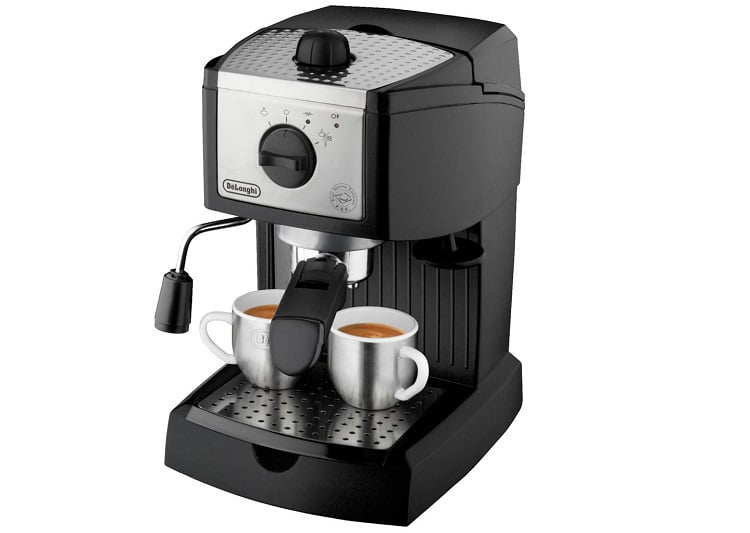 This machine uses both coffee pods and grounds, which makes it very simple to operate even if you are a beginner. It only takes one press of a button and a 30-second waiting time until you get the perfect brew.
Pros
Exceptionally affordable price
The LED lights and controls make it easy to use
It features a classy look
You can make anything from espressos to lattes and cappuccinos
Cons
It can be fairly loud when turned on
It doesn't have many options for enthusiasts
Why Should You Choose Your Espresso Machine Carefully?
"It just has to make espresso, why should I even care?" If this thought crossed your mind when you were out purchasing espresso machine, then it probably didn't take you more than a couple of days to realize you want to change it.
This might come as a surprise to you, but not every espresso machine is the same. Depending on their automation, you may choose between manual, automatic, semi-automatic, and super-automatic.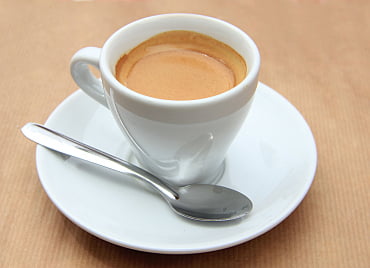 If you're asking yourself once more "why should I care," think about this scenario: say you've bought a manual espresso machine because you found it at a low price. You went home, all ready to brew yourself a creamy shot.
The problems started when you realized your barista skills were horrible. Furthermore, even though it took you ages, it didn't have the appropriate taste – despite the fact that it said it was the best espresso machine for home.
Quite the opposite, if you had barista skills or some personal taste and temperature preferences, a super-automatic espresso machine wouldn't do you any good. These types of machines usually have preset espresso-making options.
Before choosing your espresso machine, you need to do an evaluation of your skills, as well as your time. Do you have the time to spend every morning on a manual espresso? Or does your idea of time revolve around "press a button, then scram"?
This is exactly why you need to be extra careful when buying the best espresso machine.What works best for your friend might not work best for you.
On What to Pay Attention When Choosing Your Espresso Machine
There are several things you need to be mindful of when choosing your espresso machine. These factors may not only influence the way it tastes, but also your nerve-wreck level.
Buying an espresso machine only to realize it's more trouble than it's worth is never fun. However, these are some aspects that you may want to consider when buying such a device.
Type of Espresso Machines – Convenience vs Perfection
When it comes to choosing the best espresso machine,you have several choices to make, each with its particular features.
Automatic Espresso Machines – A Balanced Approach
An automatic espresso machine basically "automates" the amount of water that is delivered through the espresso shot. They're considered the best espresso machines since they don't need much human intervention, just the press of a button.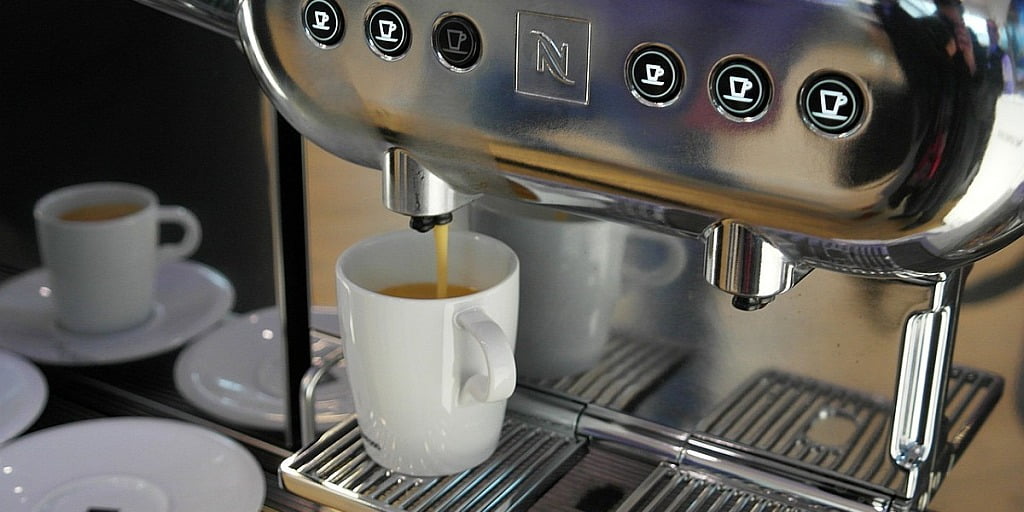 You will, however, have to grind the coffee beforehand. Most automatic espresso machines don't include a grinder, so you will either have to add the ground coffee into the portafilter or attach the coffee capsules or pods to it.
SemiAutomatic Espresso Machines – All about Control
A semi-automatic machine is like an automatic one, only you have a certain degree of control over the water used. While an automatic espresso maker stops shooting water once it reaches a set quantity, a semi-automatic one lets you stop it yourself.
With a semi-automatic coffee maker, you decide exactly how "strong" you want your espresso to be. You can also adjust the coffee quantity in the portafilter, giving you much more freedom to experiment.
Superautomatic Espresso Machines – Convenience Above All
A super-automatic espresso machine is even more automatic than the automatic version. You don't even have to grind the coffee; most super-automatic espresso machines include a grinder, which will make these units even easier to use.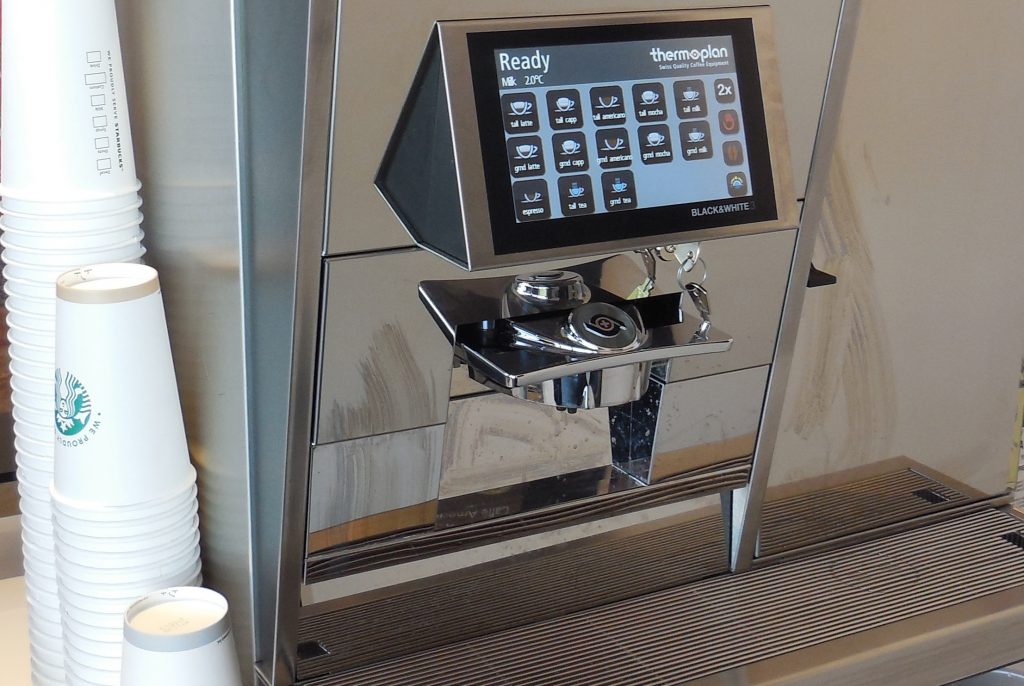 These machines may not offer you much freedom of customization, but you still have the advantage of freshly-ground coffee. Instead of resorting to pre-ground supermarket coffee, your espresso machine will grind it on the spot.
Therefore, your espresso will be tastier and more aromatic, since nothing will be lost in the pre-grinding and packaging process – which is why most people see it as the best espresso machine.
Manual Espresso Makers – Hobbyist Solutions
These are perfect for those individuals who like having full control over their coffee-making process and don't mind adding some extra effort. With a little bit of practice, a manual espresso can offer you the perfect shot, exactly to your taste.
Manual espresso makers are also decorative, so they look fancy on a counter or a coffee table. Depending on the model, they can be pretty expensive; however, for a connoisseur, they can offer the perfect shot.
Quality Of Build
The quality of build will directly influence the durability of the espresso maker. By reading various espresso machine reviews, you can get an idea of how well a unit is built and whether or not it's suitable for your use.
The material, in this case, is also of great importance. For example, a metal espresso maker will generally be more durable, and it will also keep on to heat. A device with many electric parts may also need more maintenance than the manual ones.
Ease Of Use
Some want an espresso machine because they like the taste. Other people want it because it takes the bother out of coffee-making. If you want a coffee machine that does everything automatically, you can easily find something.
Nowadays, there are even espresso makers that allow you to make fancy cappuccinos by just pressing a button.
If one of your priorities is convenience, then you may want to ditch the manual espresso machine and go for the automated categories. They have several programmable settings that will make it easier for you to use.
Make sure that you have all the features and buttons that you need before you buy it. The more buttons the best espresso machine has, the more options you will have.
Easy To Clean
If your espresso maker is very easy to use, but hell to clean, then your purchase probably wasn't such a great investment. Make sure that you have an idea of how you're supposed to clean it, as well as how long it should take.
Generally, the more features and components it has, the more troublesome it will be to clean. If you dislike spending the time to clean the machine, then you may want to go for something simple with few features.
Cost – What Is Your Budget?
Espresso machines are generally costly, but there's a huge difference between a $200 and a $500 unit. Generally, the best espresso machine under 200will offer you everything that you need for a tasty cup of coffee.
If you end up paying more, you're probably paying for build quality and durability. Sometimes, you may be paying more for ease of use, and other times, the taste is the deciding factor.
When purchasing an espresso machine, the budget matters, but I would say it doesn't matter that much, when you are an expert barista. Sure, pulling a shot blindly, without a pressure gauge, or a temperature PID is so much more challenging when trying to tweak it. But once you passed that initial tweaking, the process is simple, and coffee from an expensive and a cheap machine is pretty much the same.
If you're very picky about the taste, then a more expensive espresso machine will most likely be a worthy acquisition.
On the other hand, if you just want something easy to use in order to get your daily dose of caffeine, then you may go just as well with a low-priced model.
Drink Preferences
There are espresso makers that only make espresso shots – and then there are espresso makers than make mochas, cappuccinos, lattes, long coffees, and other similar beverages.
If you don't care about making any fancy drinks, then an espresso maker with a few particulars may not be up your alley. Those are even more expensive anyway, and you'll be buying features that you don't even use.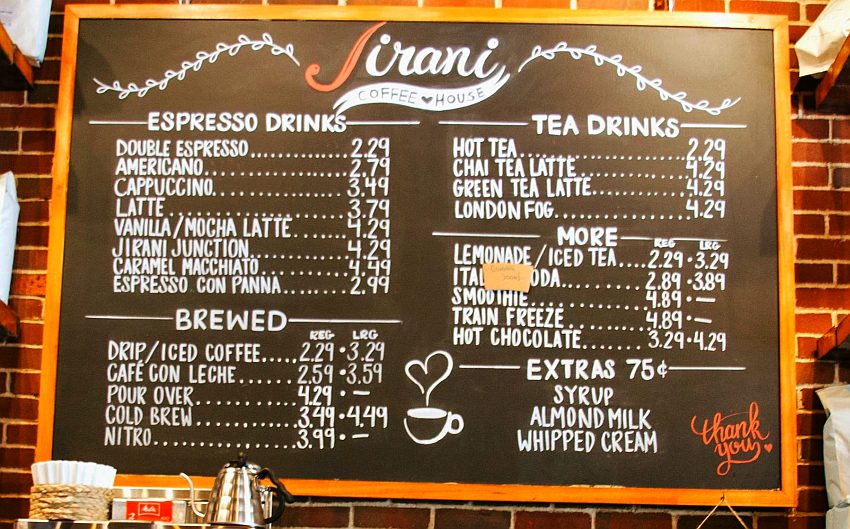 If you go past the "I just need caffeine" level and concern yourself with the taste, then the best espresso machinefor you may have some extra features: boiler number, temperature choice, whether or not the device uses steam pressure, etc.
So, if just the regular espresso shot doesn't do it for you, then it might be worth investing extra money in a machine with more features.
Size
Some espresso makers, especially the high-end ones, can be pretty big – which can be fairly problematic if you have a small kitchen or live in a shared dorm room, for example. In this case, you may want to go with an espresso machine with fewer features.
If space is not an issue for you, then you might want to go for a larger model. These have useful extra features such as two portafilters or the ability to make customizable drinks.
Final Thoughts
Buying the best espresso machineinvolves more decisions than you would think. No machine has the same feature, and no two coffee connoisseurs have the same taste in espresso.
If you don't care about fancy espressos and only want your daily dose of caffeine, then a model under $200 might do just the trick for you.
On the other hand, if you're picky about what you drink and only want "the best," then you may as well be prepared to pay over $500 – but at least you'll know you have all the options available.