We are reviewing her the espresso machine from Mr. Coffee – the Cafe Barista ECMP1000.
We all like affordable stuff – but unfortunately, the cheap stuff also come at a great price: their quality. At least, that's what happens 80% of the time. There are some cases when you can actually get high quality for a low price.
Granted, it's likely that with low-budget espresso makers, you won't get the quality brought by the high-end ones. Still, some can actually bring you close enough to the result so that you won't even need a professional espresso maker.
Let's see if the Café Barista by Mr. Coffee is a suitable choice for a budget espresso machine.
Introducing The Mr. Coffee Café Barista – Latte and Cappuccino Maker
Mr. Coffee's Café Barista is an automatic espresso maker that was made with low-budget individuals in mind. Sporting a compact form, it's the perfect appliance to have around if you have a small kitchen.
This unit features volume control, which means that you can choose whether you want a single-shot or double-shot espresso – everything with just the press of a button.
The 15-bar pump pressure of the unit will also ensure that all the coffee goodness is extracted, providing you with an intense espresso, yet not overly bitter.
The biggest selling point of the Mr. Coffee Cafe Barista is the automatic milk frother. We call Mr. Coffee Cafe Barista a cappuccino maker because it is aimed at coffee lovers who want convenience in their daily cappuccino routine. The automatic frother is equipped with a milk reservoir, and a special steam wand tip, that allows you to automatically steam and froth milk without any effort. There is no skill involved when frothing milk. There is no other coffee maker like it in this price range.
A great advantage, in our opinion, is that Cafe Barista is a semiautomatic machine which gives you greater control over the brewing process. Obviously, in order for this to be an advantage you need to learn how to pull great espresso shots with a semiautomatic. If this isn't "your cup of tea", (intended pun), you might look for a fully automatic machine, read our article for more details on how to choose a great espresso machine.
There is a high level of automation on this machine, compared to other machine in its class. The Mr. Coffee espresso machine is equipped with a one-touch control panel for drink recipe selection. 
If you are experienced, and know a lot about espresso machines, and you can pull great espresso shots with a unit like Mr Coffee Cafe Barista, you probably know a bit about its limitations. If you have the budget, you could probably upgrade to the Rancilio Silvia, which is a big step up.
Our Rating of the Mr. Coffee Cafe Barista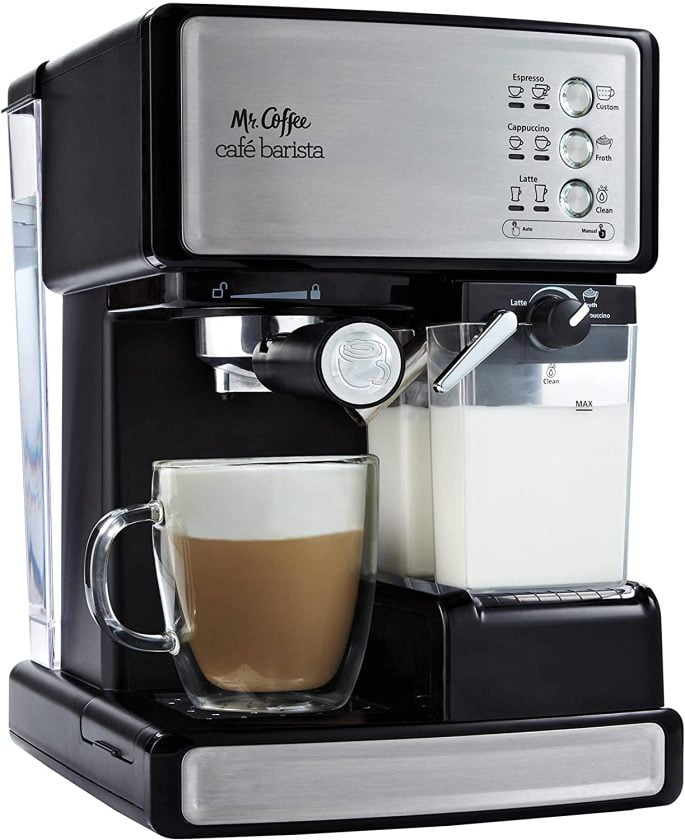 Our Review of the Mr. Coffee Cafe Barista Espresso Machine
What makes this espresso maker different from the others from this price range is the fact that it has an automatic milk frother. All you have to do is choose the desired froth level and the frother will prepare the milk.
Design
It is often compared to semi-automatic machines, because of the low cost, but it is an automatic machine.
This will be done without you having to mess with the frothing wand or prepare the milk yourself. The milk will turn into a creamy froth effortlessly, adding it automatically into the espresso.
The machine is quite larger than comparable machine in its class, the De'Longhi EC155, or the Breville Café Roma.
12.6 inches tall and 11 inches wide by 12 inches deep, takes a bit more space on you counter, but much of this footprint is due to its large water tank. The water reservoir can hold 52 fl. oz., which is more than most espresso machines.
The water tank is placed at the back, so it is a little inconvenient to refill. The large size comes in handy for this reason. But let's face it, who likes to refill the water tank no matter how easy it is to access?
Main Features
Here are the main features that might interest you in this particular Mr. Coffee espresso maker:
The volume control buttons that allows you to choose between single and double shot espresso
Automated milk frother that involves no steam wand handling
It features a water tank that can be easily removed and filled with water
Adjustable cup clearance that allows you to lower or raise the bottom, depending on the cup type used.
Removable drip tray that can be washed on the top rack of the dishwasher.
The parts are dishwasher-safe, except for the portafilter
The Coffee Brewed with Mr. Coffee
For many coffee lovers, sticking to what they know and control is the best idea. But let me tell you this, a coffee drink prepared with a French press, or AeroPress, or the drip coffee machine, is never as good as a coffee made with a pump driven espresso maker. The technology behind the espresso machine allows it to use pressure during extraction, and speed up the brewing process this way.
With an espresso machine, you avoid: bitter coffee, burnt taste, or the tannic flavors of strong drip coffee. This is the case with our Mr. Coffee ECMP1000. 
Don't expect the brewing abilities of this unit to amaze you. There is a cost involved in that kind of amazement. Moreover, the machine is build with convenience in mind, and it's not aimed at coffee perfection.
But here's the thing: the automatic brewing function gives you a decent espresso. However, like any automated function, variables are calculated for what most people need. This would be a finely ground coffee and a dark roast.
If you want to get into the advanced espresso making, you would need to press and hold the espresso button for 3 seconds in order to control the brewing time. Simply press the espresso button one more time and the machine will stop brewing.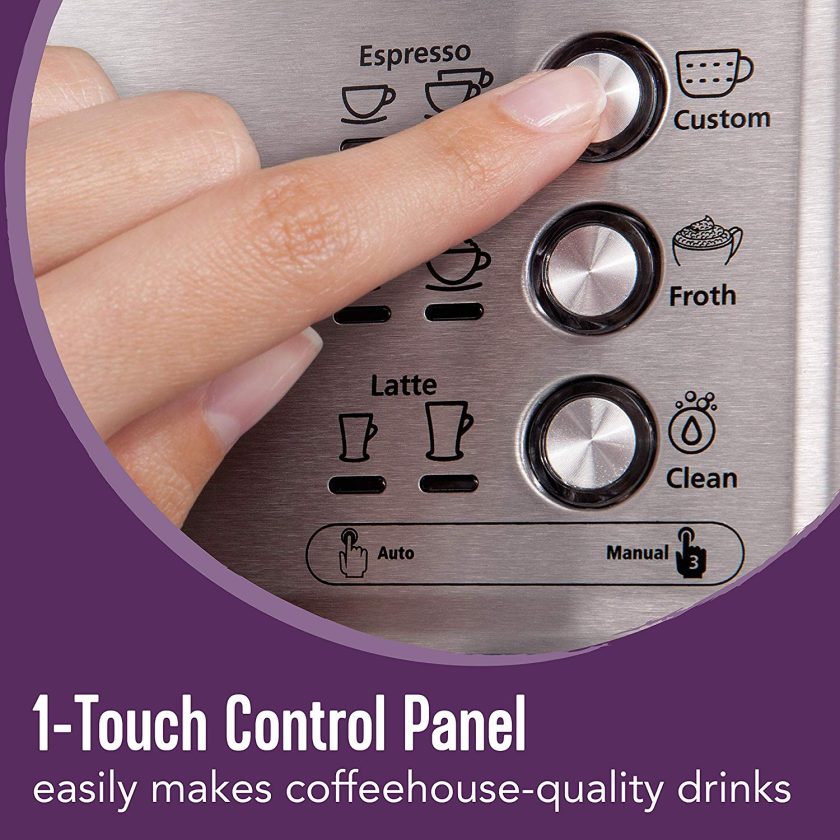 What Other People Say
There weren't many people that complained about this espresso maker. Considering the price that they paid for it, there wouldn't be any reason to complain.
There were some tips that suggested we handle this unit with extra care. Since the parts are made from plastic instead of stainless steel, it's very easy to break if you push too hard. But to those complaints I am going to reply with this: Stainless steel is expensive.
If anything breaks, however, you may find replacement parts on the producer's website – and the prices are reasonable as well. They won't create a hole in your budget.
Some people also complained about the fact that the machine is very loud. This is a small flaw, however, considering the price that we paid for it.
Espresso enthusiasts also complained about the fact that they don't have many customization options. The device caters mostly to general use, so they say that if you want something "professional," you should look somewhere else.
What We Liked
Aside from the fact that we like its very low price (which is a given), we also appreciate that this espresso machine is very easy to use. We call it an automatic machine, but it is an automatic machine in many ways. If you want to drink great coffee but don't have any particular barista skills, this is the device for you.
Automatic milk frothing and steaming. You have presets for espresso, lattes, and cappuccinos – but also the usual control steam wand pressure settings that every espresso machine has. Making espresso-based drinks is a breeze. 
The automatic milk frother can be turned into a cappuccino maker or a latte maker, with the help of the froth knob. This knob controls the amount of air introduced into your milk for the desire milk texture.
You can use it as a semi-automatic in manual mode, or as an automatic for convenience.
The machine heats up quickly.
15 bar pump with over-pressure valve at 9 bar. This means the pump is under used so it has a longer life.
It's easy to operate. Everything is simple and it can be a simple morning routine, if that's what you are looking for.
The removable milk reservoir makes it easy to take it and store it in the fridge, so that the leftover milk doesn't spoil.
There is a smaller pull out drip tray, if you have demitasses, in order to adjust the height. The small drip tray pulls out from underneath the milk reservoir, for a clan, organized look.
The steam wand reaches the correct temperature quite fast and you can get steam for almost a full minute. That's not a bad at all, that's a lot of steamed milk for lattes and cappuccinos.
This device is just a bit larger than the other espresso makers of this price range, but not large enough to cause any inconveniences. I list this as a pro because a lot of the extra footprint is added by the large removable water tank.
What We Didn't Like
We also didn't like the fact that it's shiny and, somewhat cheap-looking. Had they gone for a matte look, it wouldn't look so frail and modest on the counter.
Like all machines in its class the temperature is not perfectly consistent. However, a PID would have raised the cost.
The one-button automatic functions are a great option, but you cannot customize the brewing time in automatic mode. Again, for the price bracket is perfectly understandable.
Since the brewing temperature is not adjustable, pulling an espresso shot with a light roast blend doesn't get you great results.
It's not as easy to clean as other machines, but you get the convenience of automatic cappuccino. However, the pre-programmed cleaning cycle makes the job easier.
The removable water reservoir is easy to fill, though access to it is at the back of the machine, from the top. If you need to place the machine under the cabinets, the microwave oven glass tray solution will solve this for you.
Accessories
The machine sells with these included accessories:
Measuring scoop
A cheap tamper
A single shot filter basket
A double shot filter basket
A coffee recipe book
Further Advice
If you want more control over the brewing process, you should
You can get the Mr. Coffee Cafe Barista from many sellers, including the manufacturer's website. The best price though, is going to be on Amazon.
If you are getting this coffee machine, plan a budget for a coffee grinder. A good burr coffee grinder is almost a must, if you care for the quality of your espresso shots.
The automation on the machine is a nice touch, but that comes at a cost. There is no way to adjust the brew time, or the volume of the shot in automatic mode. So if that's a big problem for you, look at other machines, but be advised, the cost is going to be more than double.
As a former barista, I personally encourage you to use the manual mode, so that you can control brewing time perfectly. This will allow you to tweak your grind size for quality espressos.
This is a unit that aims for convenience rather than perfection. If you want espresso perfection in your cup, you should look for a slightly more expensive espresso machine. 
You should aim to descale the machine every 80 brew cycles, depending on the water hardness in your area.
Depending on your time of purchase, you may get a pretty good discount on the initial price. I got 37% off mine, which was a pretty good bargain.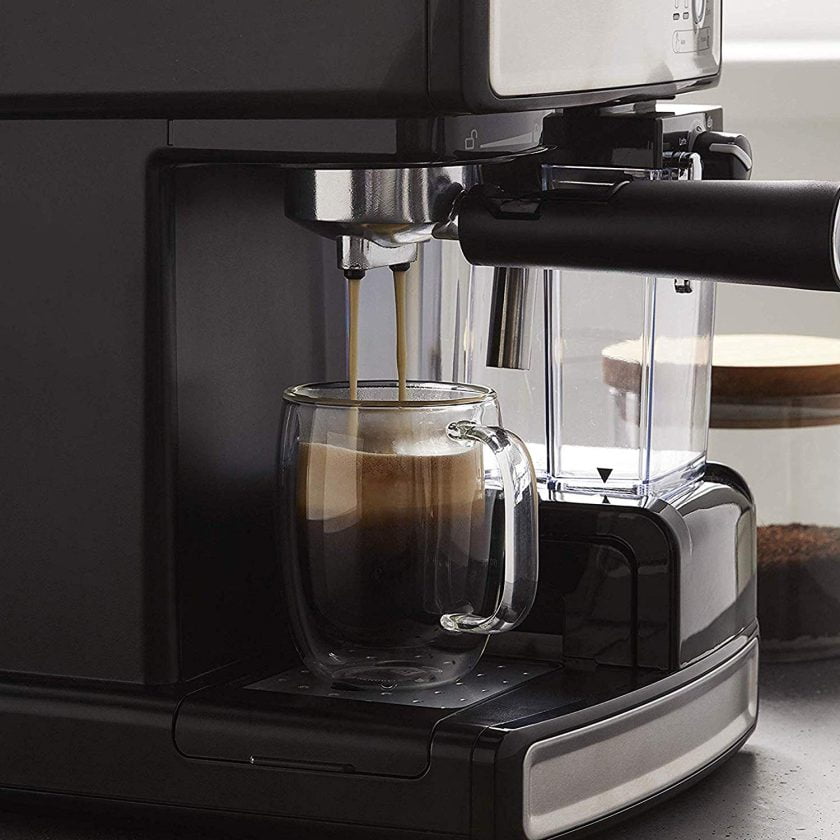 Depending on your time of purchase, you may get a pretty good discount on the initial price. I got 37% off mine, which was a pretty good bargain.
Final Thoughts
The Mr. Coffee Cafe Barista espresso machine is a convenient purchase if you want consistent brewing, the one-touch button brew, and a good-tasting coffee at a budget price.
It may not be professional-level, but it will soothe your caffeine-loving soul with your favorite drink.