When it comes to espresso machines, it's fairly difficult to pick something if you don't have any brewing experience. Most semi-automated espresso machines need personal adjustments, which makes it difficult if you don't have the knowledge.
This applies especially in the mornings when your brain is still half asleep and can't process reality – let alone coffee brewing techniques. You need that espresso to wake you up – and not an annoyingly complicated "make the right pick" puzzle game. If you are still trying to figure out if a super-automatic or a semiautomatic is for you, check our article on how to choose the right espresso machine.
In this respect, the Gaggia Brera was made to simplify the process, offering you high-quality espresso with just the press of a button. But does it really work that way? Well, let's see what it can do for you.
Introducing The Gaggia Brera Espresso Machine
The Gaggia Brera is highly appreciated by espresso enthusiasts that don't have a lot of time on their hands because it takes the trouble out of the brewing process.
Being a super-automatic espresso machine, all it takes is the press of a button to get things going. Since it has a built-in grinder, you won't even have to grind the beans before putting them in the espresso maker; the unit will do it for you.
Considering the price that you pay for it, the unit is very durable. This is also because of the Mavea water filter that purifies the water before the espresso is extracted. This helps prevent the buildup of scale, therefore lengthening the life of the machine.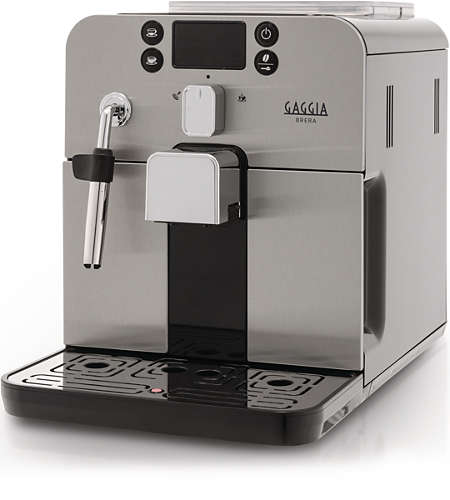 Unlike many super-automated coffee makers, this unit also comes with a doser bypass that allows you to make espresso from pre-ground coffee as well.
This unit is also equipped with a rapid steam technology that allows you to switch from hot water mode to steam mode in record time.
Plus, the machine has a metal Pannarello steam wand – which is very useful if you prefer your drinks with creamy froth and steamed milk. You can also switch that wand from right to left to accommodate many pitcher steaming sizes.
Overall, here are the main features offered by the Brera:
This is a super-automatic device with a built-in, adjustable grinder
It features a pre-infusion filter that reduces the chances of dry clumps
It has the Mavea water filter that extends the life of the unit
15-bar pressure pump for the ultimate extraction
The energy-saving standby feature that kicks in after one hour of inactivity
The LED lights will guide you through your brewing options
It features cleaning notifications that tell you when you should clean and descale the unit
The Pannarello-style frothing wand that is beginner-friendly
The Results
If you are a beginner, then this is definitely a machine worthy to be invested in. With the mere press of a button, you can get a classic Italian espresso which is as tasty as it is hassle-free.
The reason why the coffee produced by this machine is so aromatic is that the grounds are very fresh – like, on-the-spot fresh.
Thanks to the built-in grinder, no flavor is lost until you brew your coffee, like it would if you bought, for instance, pre-ground coffee. The only deciding factor here is the quality of the beans, but if you buy good ones, then the aroma is intoxicating.
This unit is fairly compact and simple to use – which makes it perfect for smaller-sized kitchens or coffee tables. Furthermore, while it may not have a bewildering number of options, you can still fine-tune the most crucial settings.
One aspect that you might want to be wary of, however, is the use of flavored beans. You may never be able to get rid of the lingering scent, and it will also void your warranty. This should not be an issue, however, if you take care of your unit.
Overall, this is a very good espresso machine for beginners, since it doesn't take more than a few minutes to master it. Plus, it has a futuristic design that works with pretty much every home décor. Gaggia Brera made it on our list of best espresso machines, which is a feat in itself.
What Other People Say
Most customers that bought this espresso machine hold it in high regards, mostly due to the fact that it's so easy to use. While they may agree that it's not at the level of a professional machine, the coffee that it makes is still excellent.
There were some people who advised patience since the unit is self-learning. Therefore, it may take a while until it makes the perfect espresso with your chosen setting.
The first few espressos that you make are bound to taste odd, but once you get used to it, the coffee resulted is indeed exquisite.
What We Liked
We liked the fact that you can brew two cups of espresso, one after another, with the touch of just one button. The bypass dozer option is also useful if you prefer pre-ground coffee to coffee beans.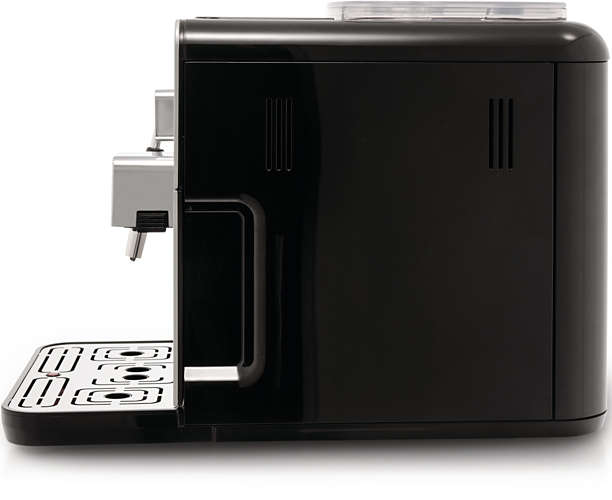 What We Didn't Like
We didn't particularly like the fact that the unit is made mostly of plastic. It offers a "cheap" look and promises less durability than a stainless steel model within the same price range.
Buying Advice
While this product may be available for purchase in many places, I suggest you check it on Amazon as well. It usually has the lowest prices, and the starting point here is a bit under $500.
Depending on the time of your purchase, you may also get a pretty good discount. Just keep an eye out for any coupon codes released by Amazon, since it may cut from the price.
The warranty is also one-year long, but you can get an extension from Amazon by paying an extra fee.
Adjust Your Espresso Shot
When you get the machine, it might not be set for the perfect espresso shot according to your taste. The video below shows you how to change the grind size, and the beverage volume, to make it for your taste.
Final Thoughts
Overall, I highly recommend this unit if you are a beginner when it comes to espresso-making. It's easy to use, it's compact, and it makes great coffee with little hassle.
If you're looking for quality, convenience, and performance at a great price, then the Gaggia Brera is the espresso maker for you.