As an espresso geek, I'm always on the lookout for ways to make the perfect cup of coffee. The WDT tools I owned were okay, but I never owned one to get me excited. I know… It's a raking tool, and you only use it for a few seconds a day. Well, I like beautiful objects, and I love the attention to details. This is why I love my newest WDT tool from Mantis Espresso.
I said it, all of the WDT tools before were decent, and they did their job, however, when you use the WDT a few time a day, you start to notice every little flaw, and you wish someone fixed that flaw in a newer product.
This page is a detailed review of the Mantis WDT tool, and I will show you why I like it more than my previous tools.
General Impression
The Mantis distribution tool feels sturdy, but not heavy. One of the previous tools I used was heavy, and the other one was made of plastic with a cheap feel.
The handle is comfortable to hold, and it feels really strong in your hand.
I recommend this WDT tool, as one of the least expensive solutions, that is not cheaply made. We featured this product in our article The Best WDT tool on the Market.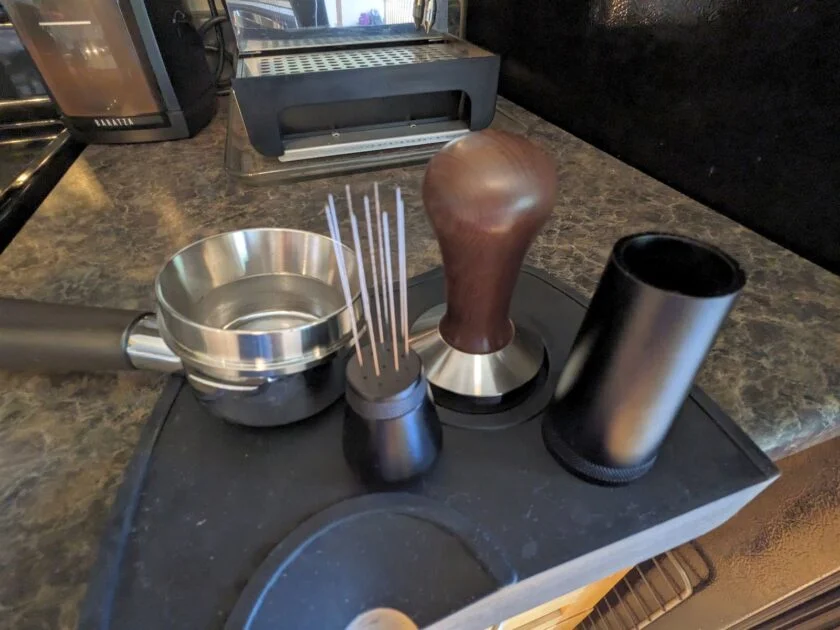 Needles, Alignment, and Distribution.
The Mantis tool has the pins aligned in the same direction, unlike other tools that spread them in a radial positioning. If you ever use a radial WDT, you probably noticed that it's not as efficient at declumping, because you can't move it as much as you can with a tool with the pins straight.
The tool has 9 pins, and it comes with two sets of pins, for those who want to experiment. The pre-installed set are 0.4 mm needles, and the second set is a .3 mm one. I personally like the 0.4 mm needles better, but many people like the thinner pins. The kit also includes three replacement pins.
The pins are easy to replace, or swap, you just need to unscrew the bottom of the tool to access the needles.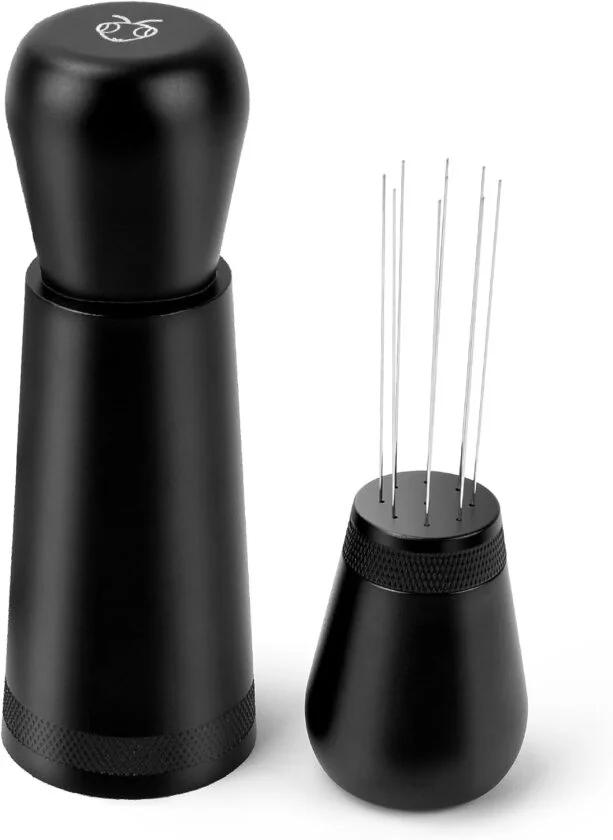 I mean, people are using paper clips to declump. They think it does help. i don't contest that, if you don't have the $20 for the tool, you can use a paper clip, or just create your own. I wrote about WDT in a separate article How Does WDT Improve Your Shots. And I go through some details about choosing a great WDT.
The Base
The base is is stable on the counter, and it doesn't tip over easily, but it doesn't take much space on your espresso corner. When the tool is docked in the base, it looks beautiful, and it has a neutral aesthetics that fits in most setups.
The base collects all of the coffee grounds as we dock the tool, and when there is a consistent amount, or you simply want to clean the base, you can unscrew the base to make the operation easier.
Aesthetics
I said it already, the tool looks great in any kitchen. The competitors in the market are either boring, or dull, or they try too much, with modern lines, but they end up sticking out in many traditional, classic settings.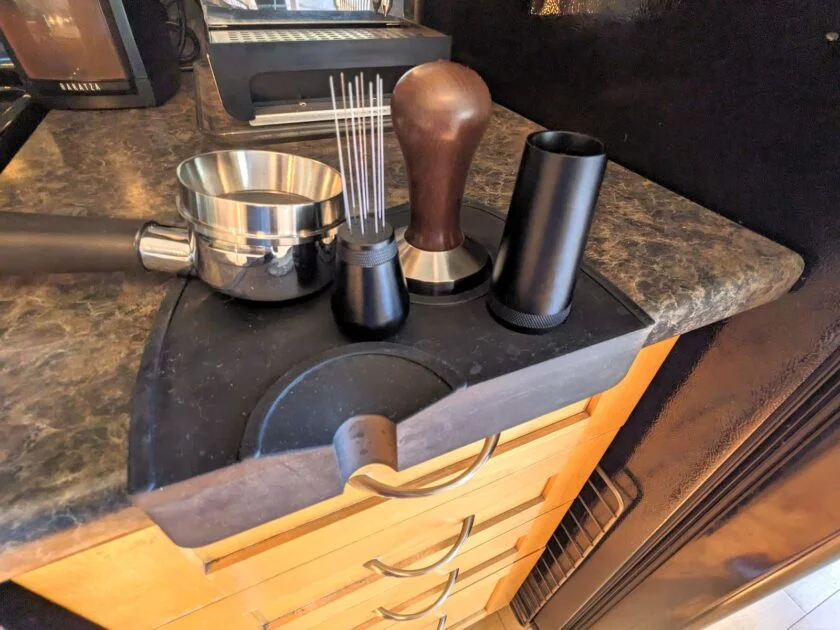 Mantis Espresso – The Company
You can find Mantis Espresso on their website here: https://mantisespresso.com/, or on Instagram where they post regularly espresso tips and pics: Mantis Espresso on Instagram
Conclusion:
The Mantis WDT Tool is easy to use, durable, and it ensures perfect coffee distribution. I tried other WDT tools before, but none of them were a perfect fit. If you're into making great espressos at home, I highly recommend giving the Mantis WDT Tool a try. It's definitely a winner in my book!