When it comes to espresso, there are quite a few options available. Ristretto is the choice of snob coffee connoisseurs, (and I mean that in a good way), to awaken you senses, and to get you up to speed in the morning.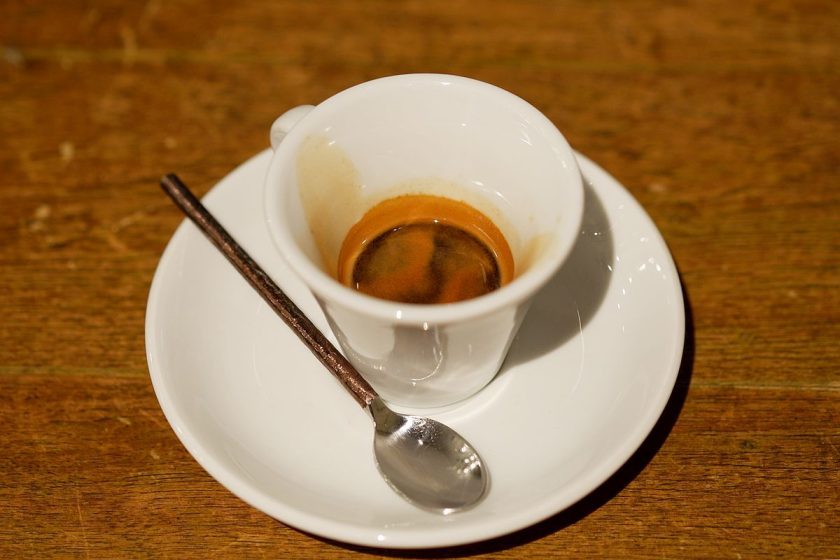 What Is a Ristretto and How Is Different from a Normal Espresso?
Ristretto is a concentrated shot of espresso pulled with 30 to 50% less water than an espresso "normale", but the same amount of coffee grounds. A regular shot of espresso is a 30 ml beverage, whereas a ristretto can be anything between 15 to 25 ml.
This gives it a more concentrated taste with a higher caffeine content.
The Italian word "ristretto" means restricted, which we see in the drink's recipe.
A regular double espresso shot, (doppio normale), is made with 14-18 grams of ground coffee extracted into 60 ml of water, (2 fluid ounce). A double ristretto, which the most common way to prepare it, requires the same amount of coffee beans but is extracted into 30ml of water.
Why Ristretto and Not a Normal Espresso?
Why would you want a ristretto instead of a normale? Why do people choose ristretto over a normal espresso? Ristretto is typically less acidic and has a sweeter flavor than a normal espresso. Some people like this sweetness and the more concentrated flavor.
A ristretto can also be used in any espresso-based drinks such as latte, cappuccino, or flat white. The extra sweetness and concentration will make the milky drinks stand out a little more. This difference is not very obvious in a latte, which is a long beverage. However a flat white, or a cappuccino are going to be more flavorful if prepared with the same amount of ristretto.
Ristretto vs Normale vs Lungo
A little Italian crash course now. As we said before ristretto means restricted. Normale means normal, as you probably guessed it. And a lungo means long. These are the three espresso shot lengths. You would think that they are all the same, because duh, it's espresso. But no, they are different beverages, with distinctive flavors, and we'll explain why.
Espresso contains over 800 aromatic compounds, which is the record among all coffee brewing methods. The chemical composition and taste of a ristretto differs from normal espresso extraction. The shorter extraction time changes the flavor profile considerably, because it contains fewer total extracts, is more concentrated, and it has a different balance between the various extracted compounds. To make things more complicated, the pressure restricted espresso, is also different from the time restricted espresso, but we'll touch on that in a bit.
We extract different aromatic compounds at different times of the extraction. So when we cut the extraction short, we miss some of the late extraction compounds.
Ristretto is more concentrated, because the longer we let the shot extract, the less soluble solids are left. With a "normale", the shot eventually "blondes", (the output becomes very light in color), and we have to stop it. With a ristretto we stop well before the shot blondes, hence a higher TDS.
Even though is more concentrated, ristretto has fewer total extracts than a normal espresso, because we restrict the extraction time. In an milk beverage, or prepared as an Americano, this will be apparent in the flavor.
A lungo, on the other hand, will taste more biter than both normale and ristretto. In this case, the extended extraction time will allow more bitter and astringent compounds to be extracted. There are various ways to extract a lungo, but that not the object of this article, so we'll stop here.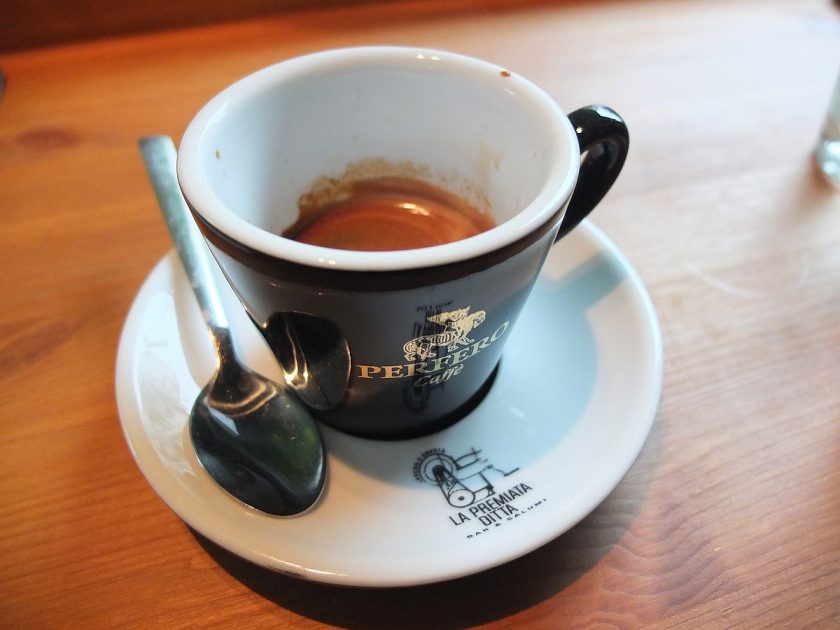 How to Make a Ristretto at Home
Making a ristretto at home is almost as simple as making a normal espresso. It involves a little bit more rigourosity than a normal espresso, and a bit of tweaking, until you get the perfect variables.
If you are a home barista that is used to making perfect espressos at home you can skip this section. But here is what you need for preparing a ristretto:
An espresso machine: A good espresso machine is the most important piece of equipment for making a good ristretto. Here is an espresso machine buying guide, if you are in the market. Don't think you can use espresso alternatives, you'll end up with just a stronger coffee. If you want to learn more about espresso, take a look at our dedicated article: What Is Espresso?
There are automatic espresso machines with a ristretto option. So you just press the button and the machine does everything for you. I personally love the semiautomatic espresso machines, because they give you more flexibility, and you'll see in a bit why…
A coffee grinder: You will need a good coffee grinder so you are grinding just before brewing. Espresso brewing requires burr grinders, so that you get an uniform grind size. Ristretto is more sensitive to the grind quality, and the grind size. You can't make a ristretto with pre-ground coffee, unless you are incredibly lucky. We'll touch on this a bit later in the post.
Water filter/bottled water: If you are using spring water, you don't need a water filter. But depending on the quality of the tap water in your city, you might need need a water filter. I recommend buying a quality water filter, if you can afford it.
Brewing Instructions
The preparation of a ristretto can be done in two ways. There is no right or wrong way to prepare it, but the flavor profile will vary a bit.
We can "restrict" the normal espresso shot in two ways:
We can adjust the time of the shot, so instead of extracting the shot for 20-25 seconds, we pour for only 15-18 seconds. This method is the preferred way in a commercial setting where changing the grind size is more complicated.
We can adjust the grind size and grind finer, but pull the shot for 20-25 seconds. A finer grind size will restrict the flow, and will allow less water to pass through the coffee puck. This is the preferred way for those who chose ristretto as their main espresso drink.
Let's pull a shot now, shall we? I assume you own a semi-automatic espresso machine, otherwise you won't be reading this. Unless you are sick of the mediocre ristrettos that come out of it. Here are the instructions for the time restricted shot:
Grind 7-9 grams for a single shot, or 14-18 grams for a double shot of espresso. The dose depends on your filter basket, and typically is marked on the side of your basket. You can also ask the basket manufacturer, if you can't find it on the basket.
The grind size is your regular espresso grind size.
Dump the coffee grounds in the filter-basket, and don't worry if the grounds are heaping. You can slightly knock the portafilter on the counter to pack and level them. A tamping mat is the perfect way to protect your kitchen counter.
Once the coffee grounds are leveled, proceed to tamp the coffee grounds. You should apply a considerable amount of pressure, so that the headspace is about 2 mm. If you press hard enough and you don't get the 2 mm between the top of the puck and the shower screen, you will need to adjust down your dose.
Lock the portafilter in the group head, and flick the brew button to start the extraction.
Time your shot to pull for about 15 to 18 seconds. No more than 19 seconds in any case. This should give you a 30 to 45 ml drink for a double shot, or 15 to 22 ml for a single. 15 ml is 1/2 fluid ounce, and 30 ml is 1 fluid ounce.
Enjoy your ristretto.
A pressure restricted shot is a bit more technical, and I only recommend it if you like to explore coffee, and have a methodical attitude.
The brewing instructions are the same, and the only difference is the grind size and the extraction time.
For a pressure restricted shot you will need to grind a little finer than what you grind for your normal espresso shot. When you grind finer, the flow gets restricted and water will pass at a slower rate through the coffee grounds bed. This in turn will produce a shorter beverage, even if we pull the shot for 20 to 25 seconds, as we would for a "normale".
The challenge with this way of brewing an espresso is that we need to tweak the grind size until we hit the sweet spot. This is a tedious operation, and you will need a good grinder, and patience. Write down all of the grind settings you tried. Sometimes, adjusting the dose will get you faster to your perfect shot. But the dose cannot be adjusted too much, up or down.
That's it! You know now how to pull a ristretto espresso.
What Coffee Beans are the Best for a Ristretto
In the barista world, this is a little bit of a debate. There are voices who claim a medium roast East African beans are fantastic because they allow the brightness of the origin to come through. There are other baristas who think that inherently acidic beans might produce a sour shot.
To each their own. I don't think either are wrong. But if I were to advise you what should be your starting point, I'd say go with blend of Costa Rican and Brazilian. The Costa Rica beans will give you a hint of acidity, while the Brazilian will give you the chocolate and sweetness of the traditional espresso. This is the safest blend to try.
You can even try a Sulawesi medium roast, where you don't have any acidity, your shot will still taste amazing.
If you think my recommendations are boring, you obviously don't need any direction with this, as you probably know your beans.
We do have an article where we show you how to choose coffee beans for espresso. That article teaches you how to look at purchasing your next bag of beans, from a technical perspective and from a subjective, personal perspective. It is an interesting read if you have the time, but if you don't, we got you covered as well. We have a post with some of our favorite coffee beans for espresso.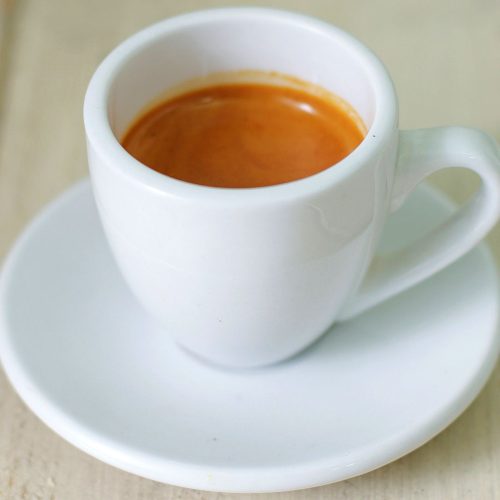 Ristretto
A ristretto is a short shot of espresso that can be made in two ways: by restricting the extraction time, or by restricting the extraction flow. The result is a sweeter drink with a more intense flavor.
Equipment
1 kitchen scale

1 espresso leveler/distribution tool

optional
Ingredients
7

gram

medium-dark roast coffee beans

up to 9 grams depending on the filter basket

filtered, or spring water
Instructions
Finely grind 7-9 grams of coffee beans to an espresso grind size. The grind size should be slightly finer than what you would use for your normal espresso.

Place the coffee grounds in the filter-basket.

Slightly knock the portafilter on the counter to pack and level them. If you have an espresso leveler, use it to perfectly level your coffee puck.

Tamp the coffee grounds with a considerable amount of pressure. When you are done tamping, there should be about 3-4 mm from the basket's edge to the coffee puck.

Lock the portafilter in the espresso machine, and switch the brew button ON.

Pull your shot for about 15 to 18 seconds.

You should get about 0.5 to 0.8 fluid ounces of espresso. If you get considerably more than that, grind your coffee finer. If you get too little coffee, grind your coffee slightly coarser.
Nutrition