Caffè Mocha, is a chocolate flavored coffee drink. Many times called a mocha latte, the original beverage is in fact a chocolate-flavored cappuccino. Well, the recipe is not that strict, and you can find it prepared in a latte ratio, or in a cappuccino ratio. We have here the cappuccino ratio, which is many times called mochaccino.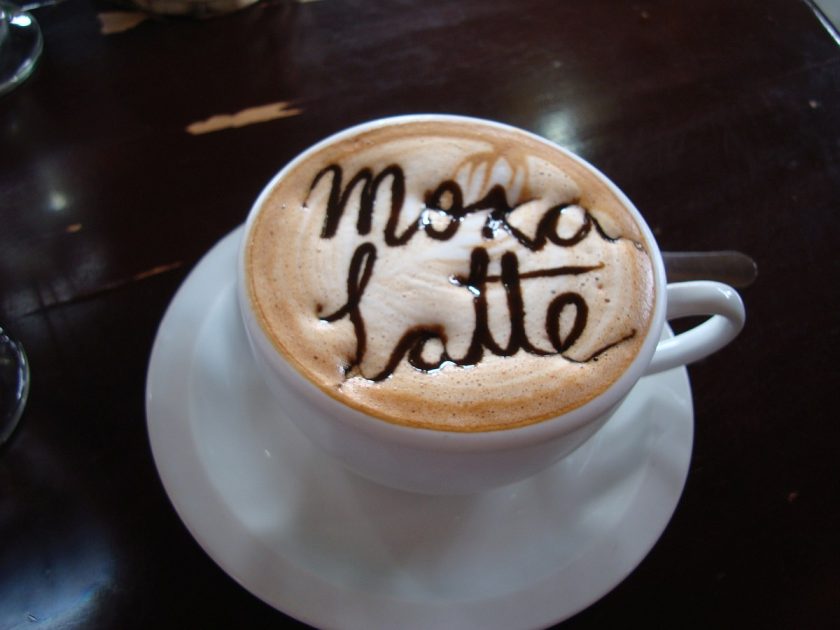 A Bit of Mocha History
The history of the mocha drink starts in Mocha – Yemen. The beans from Yemen are a type of coffee with a pronounced natural chocolate flavor. Since these beans are relatively expensive, baristas wanted to replicate the Yemeni coffee taste, and added a bit of unsweetened cocoa powder to the coffee.
In time, more cocoa powder was added, and later cocoa was replaced with chocolate, and the Mocha drink was born.
What is Mocha Coffee?
You can find it in any coffee shop, is one of the favorite espresso drinks on the menu, but what is a mocha? Many times called a mocha latte, the original mocha cafe is in fact a chocolate-flavored cappuccino. Well, the recipe is not that strict, and you can find it prepared in a latte ratio, or in a cappuccino ratio.
Mocha is a chocolate-flavored coffee drink prepared with steamed milk and hot chocolate. Mocha is often topped with whipped cream and/or chocolate shavings.
Mocha is a generic denomination to suggest that coffee has a chocolate flavor. This means there are countless ways to prepare a mocha. I explain this to people who ask me why the mocha they got in Paris, or New York was different than the one I make. But here are some more questions people ask about this wonderful beverage.
Is Mocha an Espresso or a Coffee
Mocha is an espresso beverage, but can be prepared with any other coffee. The most important feature of the drink is the addition of chocolate. You can even use cold brew coffee, if you want it, and that makes a very interesting drink.
Is Mocha a Latte or a Cappuccino?
As we pointed out earlier, it can be both. It depends on the barista, or your preference. If the coffee shop where you get it is flexible, you can ask the barista to make it as you wish. The original name of this beverage is caffè mocha, but an alternate name is mocaccino with the spelling variants mochaccino and mochachino. That implies a mocha cappuccino.
Is Mocha a Coffee or a Chocolate?
Mocha is technically a chocolate flavored coffee. It has a considerable amount of caffeine, so you can't give it to your kids. But even if it's made with decaf, the coffee taste is still predominant, so it's still a coffee.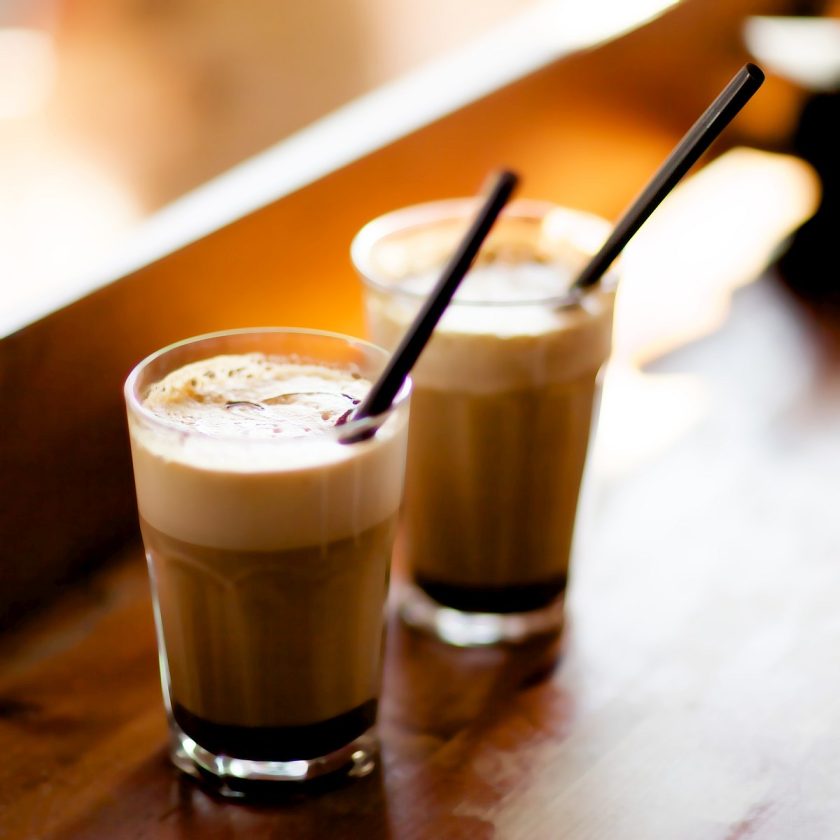 The Mocha Coffee Recipe
The original mocha coffee is an espresso-based beverage with a strong chocolate flavor. The recipe mixes 2/5 espresso, 2/5 hot chocolate, and 1/5 steamed milk. Note the low ratio of milk to coffee. Mocha breve is a shorter variant containing 1/3 espresso, 1/3 hot chocolate, and 1/3 half & half cream.
Technically, any coffee with added chocolate or cocoa qualifies as a mocha coffee. This is why the need for more specific names such as mocha latte, or mochaccino.
The ratio between the three ingredients are what can turn a mochaccino into a mocha latte. At the end of the day, you can use your own ratios, as long as you have all three ingredients. Actually, you can skip the milk and you still have a mocha coffee.
When you make your own beverage at home, just have this in mind, and tweak it to your taste.
How to Make a Mocha at Home
While you might think that you can only get a mocha coffee in a coffee shop, that is not necessarily true. You can make your own mocha coffee at home. Preparing it is fun and it's complicated at all. Depending on your budget and the quality expectations, the recipe can be adjusted.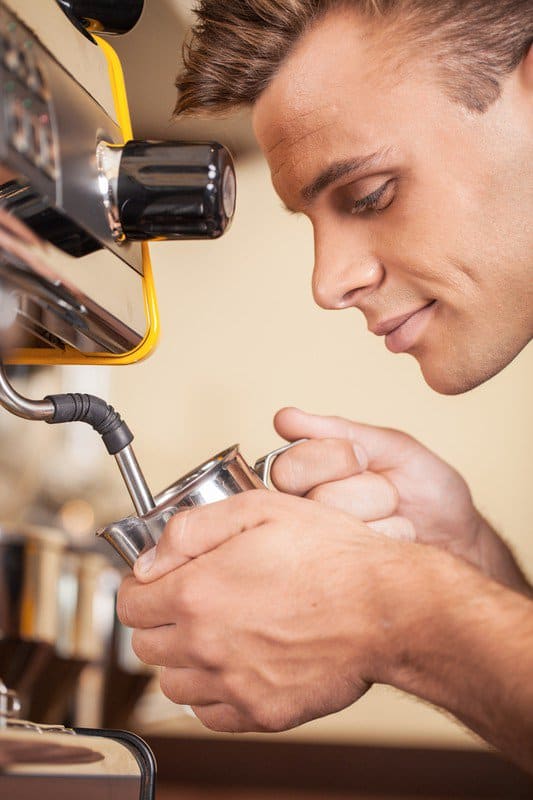 The original recipe calls for espresso as the coffee base, and if I'm being honest, it does make a difference the coffee you use. However, using just a stronger drip, or a French press coffee is pretty good too. So don't worry if you don't own an espresso machine, mocha coffee is one of those recipes where the coffee's flavor gets muted by the other ingredients. You will still get a strong coffee flavor, don't get me wrong. But the milk and the chocolate will cover some of the coffee notes.
The Simplest Recipe
So I said a few times that a mocha coffee can be prepared in many ways. The simplest recipe is to add some cocoa powder, or chocolate syrup to a cup of coffee. That's it. You can even decide how much chocolate taste you need.
The Mochaccino Recipe – Fancy Coffee Shop Beverage
Here is a step by step guide on how to make an espresso mocha at home, (the mochaccino variant).
Turn on the espresso machine to warm it up.
While the machine is warming up, you can start working on your hot cocoa.
Place 1 tsp cocoa powder, 1 tsp sugar, and a pinch of salt in a cup and whisk them.
Add half a teaspoon of milk and mix to form a uniform paste. As the cocoa mix absorbs the milk, add more milk little by little. If you add the milk all at once you will form clumps.
Continue to add milk and stir, until you have a up to 2 fluid ounces beverage.
Heat it up in a microwave, on the stove, or steam it with an espresso machine.
Let's get back to our espresso
Measure and grind your coffee for a double espresso shot as per our espresso brewing guide. You will pull this with a double basket.
Fill the filter-basket with the coffee grounds and lock the portafilter into the espresso machine.
Pull two shots of espresso, normal strength on top of the hot cocoa.
Steaming the milk
After pulling the shot, steam your milk, or if you don't have a milk steamer, just heat the milk up to 181 °F (83 °C). Try to not overheat the milk as this changes its taste.
Mix all of the drinks together.
Pour your the steamed milk over the coffee mix, and serve.
You can decorate with chocolate shavings, or add or add a small amount of whipped cream.
Alternatively, you can add the whole quantity of milk in the hot cocoa and steam it for a fluffy texture.
Or, you can create a thick cocoa syrup instead of a 2 oz. drink, and pull the espresso on top of it. Then steam the 3 ounces of milk and pour it on top of the espresso.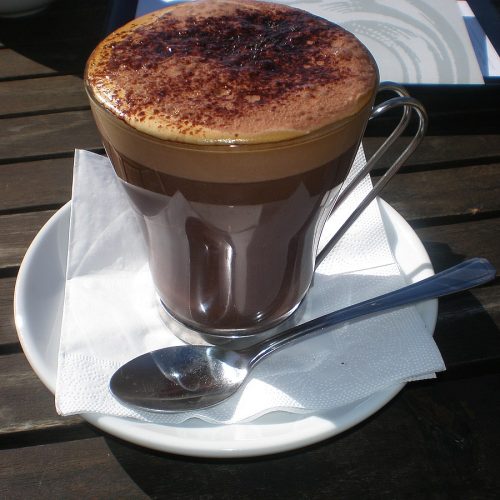 Caffè Mocha – Mochaccino
Caffè Mocha, is a chocolate flavored coffee drink. Many times called a mocha latte, the original beverage is in fact a chocolate-flavored cappuccino. Well, the recipe is not that strict, and you can find it prepared in a latte ratio, or in a cappuccino ratio. We have here the cappuccino ratio, which is many times called mochaccino.
Ingredients
2

fluid ounces

2 espresso shots

Espresso made with an espresso machine

2

fluid ounces

cold milk

(for the hot cocoa)

1

tsp

cocoa

1

tsp

sugar

optional

1

fluid ounce

steamed milk

1

square

Dark chocolate shavings

Optional
Instructions
Make a hot cocoa
Place the dry ingredients cocoa powder, sugar, and salt in a cup and whisk them.

Add milk little by little starting with half a a teaspoon, and mix it to form a uniform paste, and avoid clumping.

Continue to add more milk and stirring to turn the paste into a liquid.

Heat it up in a microwave, on the stove, or steam it with an espresso machine.

You will have now a 2 fl. oz. hot cocoa. For a milkier drink, just add more milk.
Steam MIlk
Set the espresso machine to milk steaming and let the boiler warm up.

Pour cold milk into a stainless steel pitcher. Use cold milk to avoid scalding the milk.

Submerge the steaming wand just below the milk surface and start to steam.

Steam until the side of the pitcher becomes hot – around 155°F.
Mix the ingredients
Pour the hot cocoa the espresso and the steamed milk in a 6 oz. glass.

Decorate with chocolate shavings, or small quantity of whipped cream.
Nutrition
Serving:
150
g
Calories:
155
kcal
Carbohydrates:
18
g
Protein:
1
g
Fat:
3
g
More Tips for the Best Mocha Drink
The recipe is just one aspect of the success. Here are some more important things to consider when making mocha at home.
Use Fresh Coffee
Mocha is a coffee, and coffee is best when brewed fresh. Please, don't use chocolate to mask stale coffee, it's just wrong. You will need a lot of chocolate and steamed milk to hide the taste of stale coffee. OK, you might be able to cover the taste of old coffee with enough milk, sugar, and cocoa. But just don't.
Use Quality Ingredients
We just explained how the mocha drink was invented, but don't take that to a new level. If anything, I'd recommend you to use Yemeni Mokha beans. They are absolutely amazing. However, this is a rather expensive coffee, and I totally understand if you pass it.
You can still buy good coffee, some Java Mocha beans are perfect for that. Java Mocha are the Indonesian variant of the Yemeni coffee. The different growing conditions made this into it's own cultivar, but it still boasts some great chocolate notes. Brazilian coffees are also a great choice.
Use a good quality chocolate, or cocoa powder, and not cheap sugary concoctions. You can add your own sugar after you prepare the beverage, if you go for the sweet version.
The milk should also be a good quality one. I recommend unskimmed cow's milk, it is the best, but if you need stick to a diet, skimmed milk, or plant milks are good too.
What Roast is the Best for a Mocha?
Anything from medium light to dark goes. This will obviously slightly change the taste of your beverage, but this is where you take control of your drink.
I personally like a medium for my mochas. A medium roast is the perfect balance between terroir taste and roast taste.
Make It Your Own
As I said before, mocha espresso comes in various ratios. Experiment with these ratios between milk, coffee, and chocolate and see what is your favorite. I'll give you my favorite ratio, which happens to be the traditional mocha recipe. But feel free to play with that and let me know in the comments what is your favorite.
I don't recommend adding more ingredients to this, sometimes less is more.
Mocha Variants
Dessert: Add whipped cream and chocolate shavings on top.
Spiked: Add a hint of Sambuca, Baileys Cream, Cognac, or coffee liqueur to booze up the experience.
White mocha: add white chocolate instead of the dark.
Low caf: Use decaf coffee wen brewing for a very low caffeine content.
Healthy mocha: Use cacao nibs hot chocolate for a nutrient dense beverage
Easy mocha: Pour hot chocolate milk, (or use a hot chocolate mix), over 2 shots of espresso for a simple recipe.
Conclusion
Mocha coffee is a flavorful drink that combines coffee and chocolate for an interesting taste. The present day mocha has a more pronounced chocolate flavor, compared to the initial drink, prepared from Yemeni beans.
Making a mocha coffee at home is simple and let's you tweak your beverage for a unique taste.