If you are looking to buy the perfect latte cup, or mug, this article is the perfect starting point. We show you here how to choose a latte cup or mug, based on your needs, and we give you a few great product suggestions.
There are many types of coffee: neat espresso, Americano, cappuccino, drip coffee, latte, etc… Each type of coffee is served in a special type of cup, or mug. These cups are designed to enhance the coffee drinking experience. As an exaggerated example, you wouldn't drink a shot of espresso from a big metal coffee cup, would you?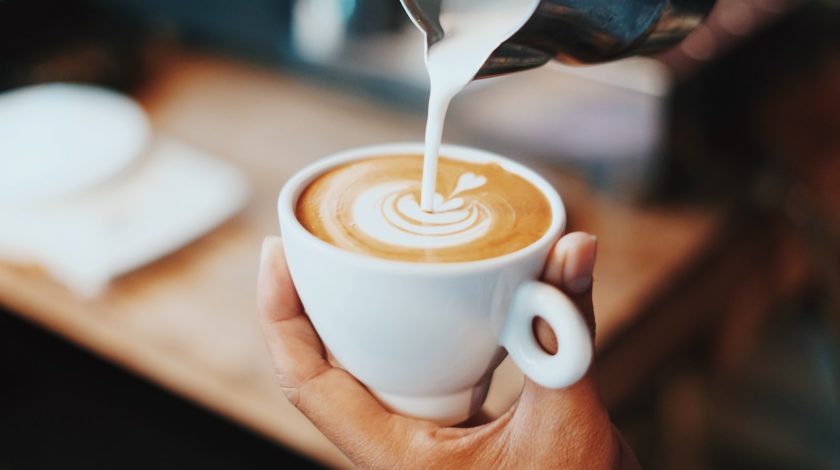 The same goes for lattes. Sure you can drink your latte from the standard coffee mug, but it's just not quite the same experience. To ensure the perfect coffee experience, you need to choose the right type of cup. We eat and drink with our eyes first.
How to Choose the Perfect Latte Cups?
Choosing a latte cup is a bit more complicated than choosing the perfect cappuccino cup. As the first step, we need to determine our needs. From this perspective we can get cups for latte art, or we can get simple latte mugs, that are functional and pretty. There is no need for you to get a set of latte art cups, if you aren't planning to do latte art.
Latte art cups are not as practical as the latte mugs. Firstly, they are wide, so it's easier to spill the drinks. Secondly, you can get better insulation with narrower mugs, since there is less exposure to the air.
After deciding between latte art and regular mugs, we can think about materials and size. And yes, size is not as strict as for cappuccino cups, or espresso cups. Cappuccino and espresso are pretty standard. The Italians even have cup size and shape standards for them, based on intensive research. Since latte is not a standardized coffee drink, the volume can vary.
A latte is typically served as an 8-ounce drink – 2 oz. espresso, and 6 oz. steamed milk. But it's not uncommon to see latte lovers making larger lattes, including 12 oz. beverages, (Starbucks' grande, and 20 oz. venti).
I personally think the 8-ounce latte is perfect, but that's just me.
What Is the Perfect Latte Art Cup?
It's all about the cup's shape and size! For latte art, you want a wide latte cup. These cups are round, and they look like a cup, but they remind us of a bowl too. These are what you see at your local coffee shop, if you order a latte.
Professional baristas use these wide cups because the larger surface gives them more space to play with. But also because in a tall cylindrical cup the same amount of foam would take more height in the mug. In a tall cup, the first couple of sips are mostly foam. With a short and wide cup, the foam is distributed, in a thinner layer, allowing for a more balanced sip and better mouth feel through the duration of the cup.
The advantage of a tall cup is that it holds the temperature better. Firstly, because there is less contact surface with the air, hence less heat transfer. Secondly, because the foam is an insulation layer that keeps the drink hot longer. Latte being a large beverage that will be consumed slower than an espresso, for example, we need all the insulation we can have.
What Size Is a Latte Cup?
The most common latte cup is 8 ounces in volume. Don't get deceived by the Starbucks "bucket" size, they invented that so they can sell. Sure, coffee is cheaper by the bucket, but it is not one of the things we should consume in large quantities.
If you like a larger cup you could go for a 12 oz. cup, but this is already 50% more than the standard latte. In fact, I personally like more the 12 oz. double wall glass mugs, than the standard size. My 8 oz. latte fits perfectly and I have some room in order to avoid spillages. The larger cup size is also useful if you like a lot of foam on your lattes. Frothy lattes need a bit more space because foamed milk has a higher volume than you typical steamed milk.
One think to consider when you are buying a latte mug, is that the tall ones might not fit into the espresso machine when you pull the espresso shot. Many espresso machines have adjustable spouts, or a way to remove the drip tray to make more space for a tall mug. However, removing the tray defeats the purpose of having it… This isn't the case if you own a Moka pot, obviously. One way around this problem is to pull your shots in a regular espresso demitasse, and then pour it into your latte mug. But coffee gets colder this way, and we all know how we feel about cold coffee.
What is the Best Material for Latte Cups?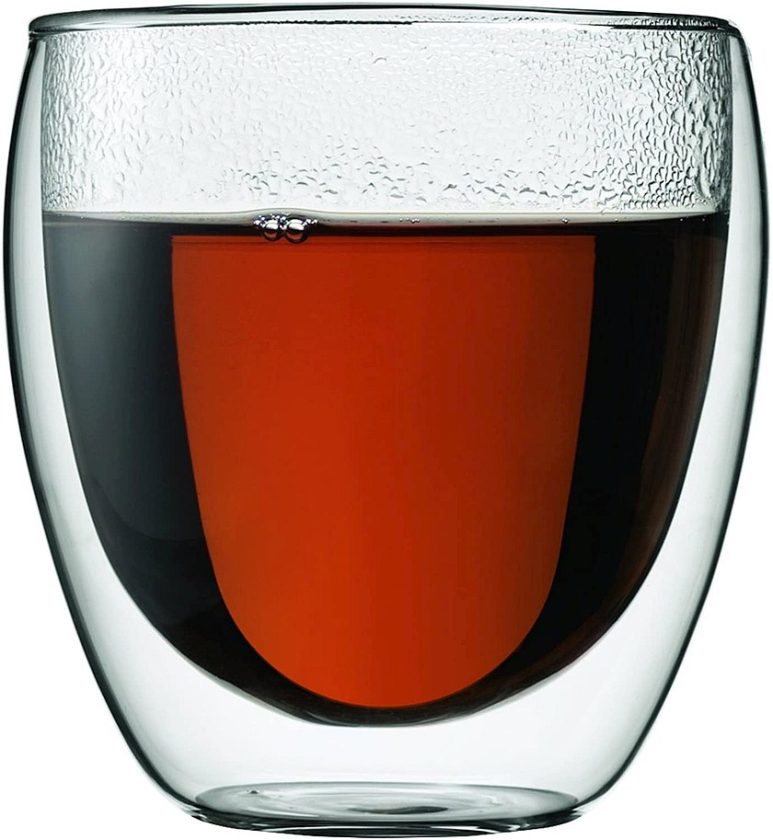 Speaking about cold coffee, there is nothing worse than sipping from a tepid cup of coffee, (milky or not). It gets me all the time when hot coffee gets cold or iced coffee gets warm. We love our coffee hot. For me, milky beverages are even worse if they get cold. Latte is a large beverage, we can't drink it fast, so it has more time to get cold. This is why the material is so important when choosing a latte mug.
There is some sort of consensus about the cup material in the coffee world. Most professionals agree that porcelain is the best material to keep your coffee warm. It is also less prone to break than glass. Quality porcelain is also very elegant.
Borosilicate glass is another great option because it is heat resistant, and it's less prone to break because of the thermal shock. The only problem with glass, is that it's a poor insulator. To mitigate this issue, manufacturers make double wall glasses and mugs. A double walled glass has a layer of air between the two walls, and this increases the insulation greatly. Glass has an aesthetic elegance that rivals porcelain. So if you like glass, there is an option for you.
Porcelain vs Double-Walled Glass
I'll leave the aesthetics aside when comparing double wall glass cups with porcelain cups. I like both. I like a bit more how the glass emphasizes the beverage color, in general, not just for lattes. If you are planning to make layered latte drinks, where you want to see all of the ingredients layered, you will obviously choose the borosilicate double wall glass mugs. A taller vessel looks better than a wide one, because you have a better separation between the layers. Also, visually, the tall glasses have a better contrast.
On the other hand, porcelain cups look astonishing, especially when you pair them with saucers. The elegance of white pro-grade porcelain cannot be matched by the sensationalism of transparent glass.
If you are wondering which ones to choose from an insulation perspective, borosilicate glass is the better insulator. The outer wall will be at room temperature, while coffee will be piping hot inside the cup. When I first tried a double wall glass a few years ago, I was amazed that I couldn't figure out the coffee's temperature inside the cup.
Double wall glasses are harder to warm so that they don't cool the coffee's temperature. But because coffee is too hot to drink when you just finished brewing, it works out just fine. However, if you feel like you need your coffee hotter, you can warm up your glass cups by filling them with hot water.
Best Porcelain Latte Cups
Coffeezone Latte Art Cup and Saucer Set
The CoffeeZone cup was designed specifically for making latte art. It comes with a saucer for ultimate elegance.
This is one of the more expensive cups. A cup and saucer from Coffeezone is about $15, but they are of a better quality than most other offers on the market.
The cups are made from bone China, and they are thicker than your regular coffee cup. This is a good thing, because it allows a better insulation.
The cups come in various colors, my personal favorite are white and red.
The manufacturer says that they are dishwasher safe, but I recommend you wash them by hand if you want them to last longer.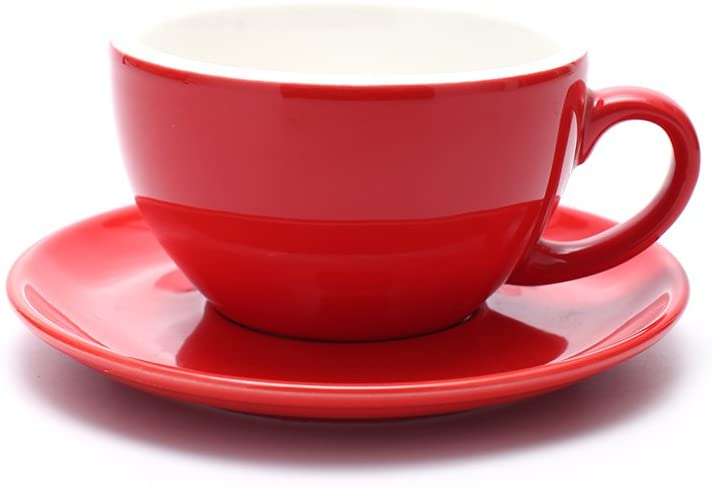 Amuse – Professional Barista Set of 6 Cups
This is a set of 6 white porcelain latte cups. They don't come with saucers, but they are priced accordingly.
Yes they are called cappuccino cups, but they hold 10 ounces when they are filled to the brim. Make sure you take that in consideration. An 8 oz. coffee will fit properly, but if you need milk with that, there is not much more room left in the cup. Now, typically, a cup of coffee is 6 ounces in volume. A standard latte is about 8 ounces, so these cup are the perfect fit in my eyes, but everybody's needs are different.
A weird thing with these cups is the handle. You can't fit your fingers into the handle to hold it properly. I have small hands, and my index barely fits into the handle. Besides that, these are great.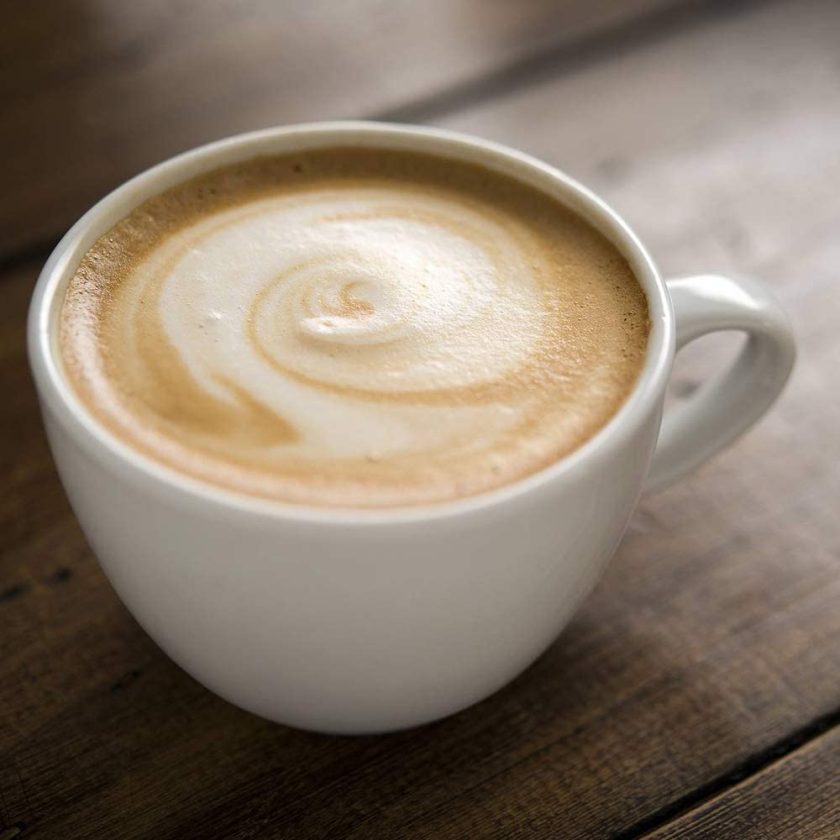 Best Double Wall Glass Latte Cups
Bodum Bistro Coffee Mugs – 10 Ounce
The Bodum Bistro double wall is a quality cup, made with thicker glass than the cheaper alternatives. The cheap ones will crack faster, and some of them are not dishwasher safe. They are made from borosilicate glass which doesn't break at high temperatures.
I use these cups for drip coffee, but sometimes, when I create layered lattes, I love to use these, because they are tall, and the visual contrast between colors is better.
What I love most about the Bodum Bistro coffee mugs is the great insulation. When I drink from one of these cups, my coffee stays hot for a longer time than all my other cups.
The two walls are separated by a layer of air which creates the insulation.
The cups are dishwasher and microwave safe.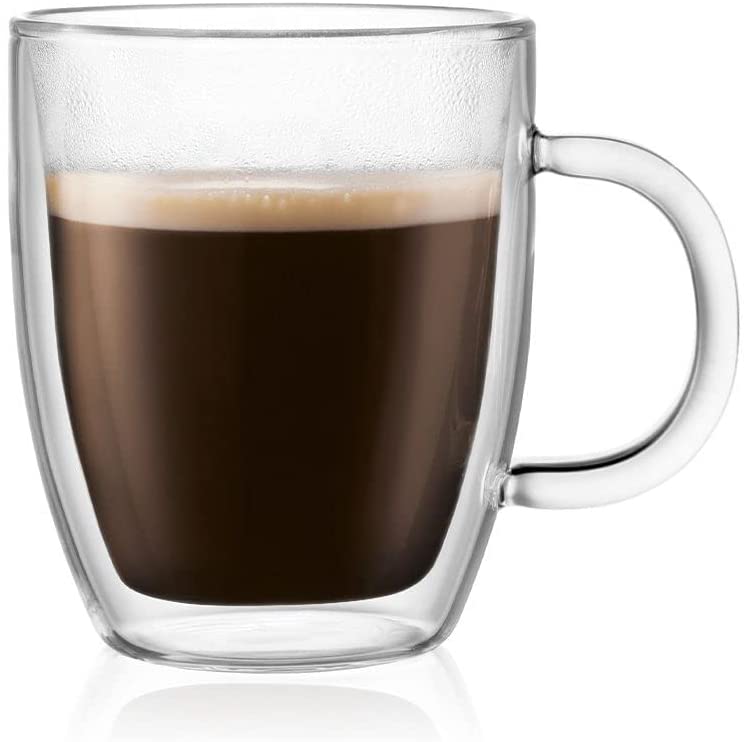 Bodum Bistro Double Wall 15oz Latte Cups
I admit, these are not your typical latte size, but you don't need to fill them up. Not necessarily designed for latte art, but a great option for layered lattes, since the cups are transparent. The cups are about 4 inches, so it will fit under the spout of most espresso machines. You can take a look on Amazon, if you like a larger cup for latte. Here is the link: Bodum Bistro Latte Cups.
Set of 2 DeLonghi Double Walled Latte Glasses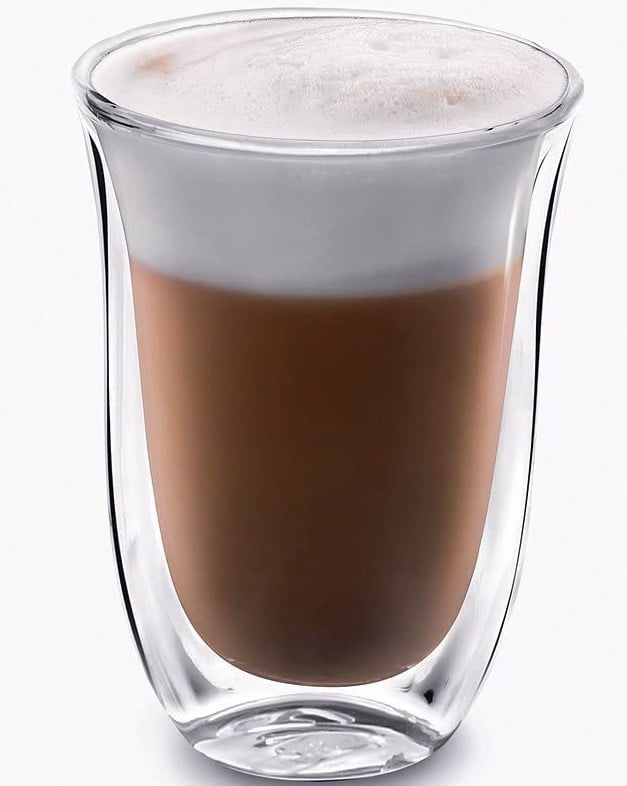 Serve creamy lattes at home in these tall double-wall glasses that keep your espresso drinks hot and limit condensation. They are dishwasher-safe so you don't have to worry about manually wash them.
With a 7.5 oz. capacity, they barely qualify as a latte glass, but for my style of coffee these are perfect.
The borosilicate glass ensures they don't break when pouring hot drinks. This is a high quality set, and if you ever owned DeLonghi espresso cups, or cappuccino cups, you know that you will enjoy every sip you get from them.