Choosing the best espresso cup is not as easy as one might think. Yes, we know, you can probably drink your shot from any small cup. Espresso though is more than downing a strong coffee to get you started in the morning. It's a ritual, and it is as much about the experience as it is about the taste and the jolt of energy you get. I personally think my shot tastes better when I drink it from a nice cup. Even if it's a disposable cup, it has to be pretty and functional.
A nice cup, that's a little subjective, and we cannot all agree on what is beautiful and what is not. This means that my input is probably less meaningful for you. I'll do my best… I can help you with the functional side though. Just bear with me while I show you what is the most important when you choose a demitasse.
How to Choose an Espresso Demitasse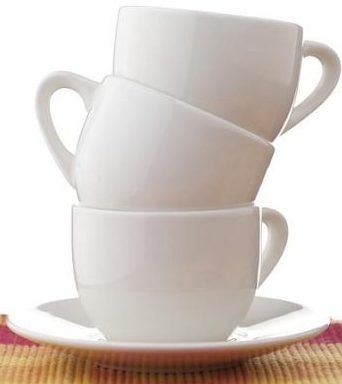 An espresso cup is sometimes called a demitasse. Demitasse is the French word for half cup, and I holds about 2-3 fl oz. An espresso doppio normale is about two fl oz volume, and a lungo doppio is can be up to 3 ounces. With this information in mind, you can plan your purchase. If you drink doppio lungo shots, the 3 oz cup is the best cup. If you mostly drink normale shots a 2 oz cup is fine.
I have seen people using cappuccino cups for their larger triple-shot espressos. I would typically avoid using larger cups for more than one reason. If you use a large cup, and the cup is not warm when pulling the shot, the extra mass will cool down the coffee faster. But if you really need larger cups you can take a look at our page about the best cappuccino cups, at least the best in my eyes.
Set of 4 – Konitz Porcelain Espresso Cups and Saucers
These are the traditional demitasses and saucers that you can find in European cafés. They hold the standard portion of a doppio espresso shot. The Konitz cups are made of the best material for serving hot drinks – porcelain. The saucers in the set are large enough to hold sugar cubes and a coffee spoon.
The set is microwave and dishwasher safe, and they have their own elegance in simplicity. The set is white, and the cups have no pattern, a truly traditional and classic design.
Insulation
The most important thing for an espresso cup is thermal insulation. Espresso gets cold in seconds. Part of the reason is the lower brewing temperature; the other reason is the small volume of the coffee. With a small volume, the heat exchange is much faster. For this reason, the most important feature of an espresso cup is the insulation. Regular glass cups are cute, but they lose temperature very fast. In fact Mark Prince has an entire article dedicated to this. The best are the double wall glass cups and the ceramic ones. Yes, glass can be fine for espresso cups, if it's designed properly.
The ceramic ones can hold the espresso hot for a longer time, but they need to be preheated. To be honest, I never preheat mine. I like to drink my coffee a bit colder, so I can taste it, and understand the flavors. If coffee it's too hot, all I can taste it's burning coffee. Among ceramic materials, the best is porcelain. Porcelain retains heat the longest, but if don't prewar your cup can lower your dink's temperature consistently. Again, I never heat my porcelain cup, but you might want to.A great alternative is the double walled glass espresso cup. It looks very elegant and it holds your drink hot for longer. The air between the walls will keep the exterior wall cold, so you don't burn your fingers.
Other Things to Consider
Do you need saucers for your cups? A saucer is both aesthetic and functional. There is nothing more elegant than a cup on a saucer. But again, this is just me; you might not even like the saucers.Do you need a handle? For larger cups with a more consistent heat exchange, a handle is the right way to go. Your cup can become very hot.
Set of 2 DeLonghi Double Walled Thermo Espresso Glass Cups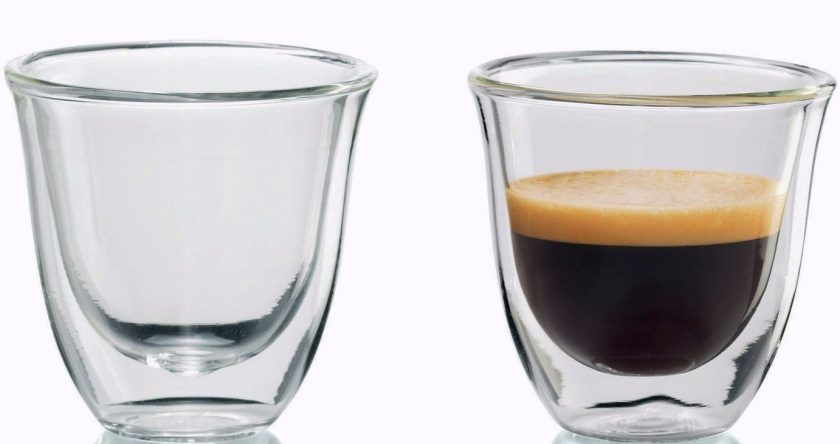 DeLonghi is a reputable player in the espresso industry, with amazing espresso machines and coffee equipment of highest class.
Their espresso glasses are the best quality, with a slightly different design. Their cups are from borosilicate glass, with an outward curved rim. I personally like the inward rim better, because improves thermal dissipation and keeps aroma in. It's a very slim advantage, I know.The DeLonghi cups can hold 2 ounces, slightly less than the Bodum. That's why you can only pull a solo lungo. They are almost identical to Bodum's glasses, except for the capacity and the shape.
The Best Materials for Coffee Cups
Ceramics, in general, and glass are good. The best is porcelain, (a ceramic material). Never use metallic, plastic or Styrofoam cups. They impart a specific taste to your coffee. Paper cups are better, if you have to. Styrene is even dangerous to your health, (more info here). Double wall espresso cups are very popular now, because they look great, however, a porcelain cup is better.
Bodum Pavina 2.5 ounce Double Wall Glass Espresso Glass Set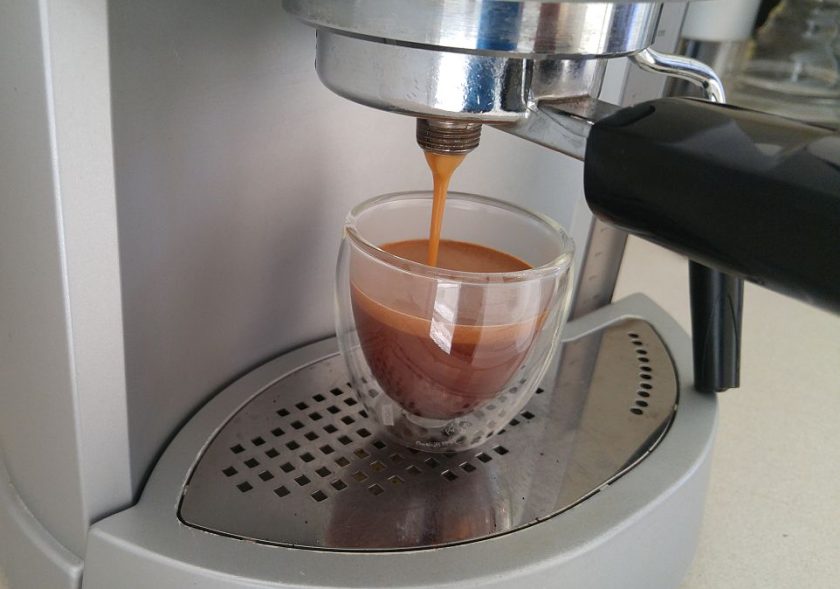 Bodum is one of the leaders in the heat resistant glassware industry. They make French presses, milk frothers, and teapots. The double wall espresso cups are a bold design statement, and I love them. I prefer my porcelain cups but whenever I have guests, I use the Bodum glass cups, because they look great.The Bodum Pavina double wall glass will keep your shot hot for longer. The air layer in between the walls prevents you from burning your fingers. The cups are made from borosilicate glass, and they have an invisible silicone valve to allow pressure changes.On the negative side, glass, even if it's tempered, can shatter at any time. Espresso is not that hot, and I always slightly preheat my glass cups, to prevent thermal shock.
Sweese 4312 Porcelain Stackable Espresso Cups 2.5 oz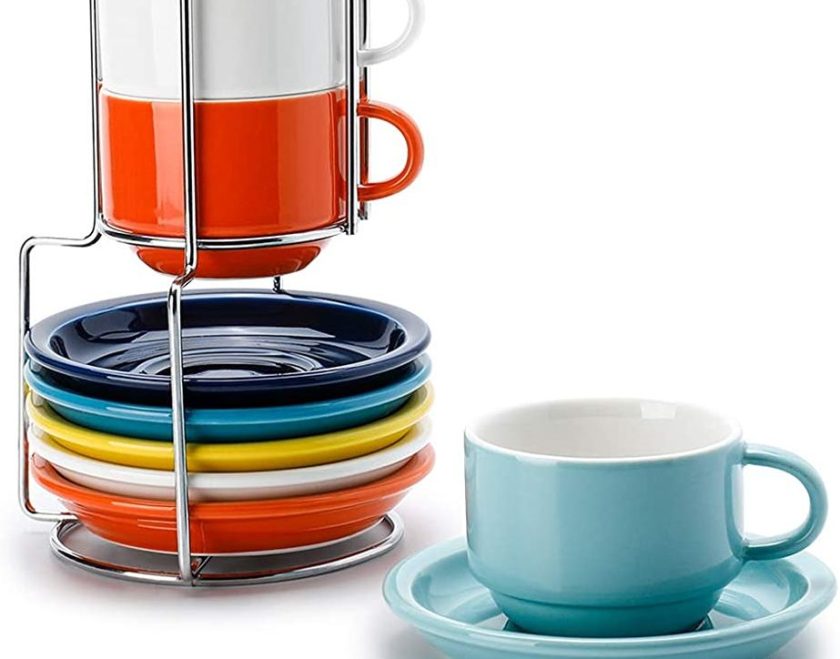 The Sweese espresso set is made of pro-grade porcelain, lead free, and durable. The size is perfect for a double shot – 2.5 ounces, and it can take solos as well. The set is stackable, and is great for small counters when you need to save space, and you need to keep things organised. These are a great gift for the tidy espresso lover in your life.
The one thing that I found missing with many other brands is the color. These demitasses are beautifully colored, with bright tones, a little out of the conventional classic white demitasse design.
Cuisinox 2 oz. – Set of 4 Porcelain Espresso Cups with Saucers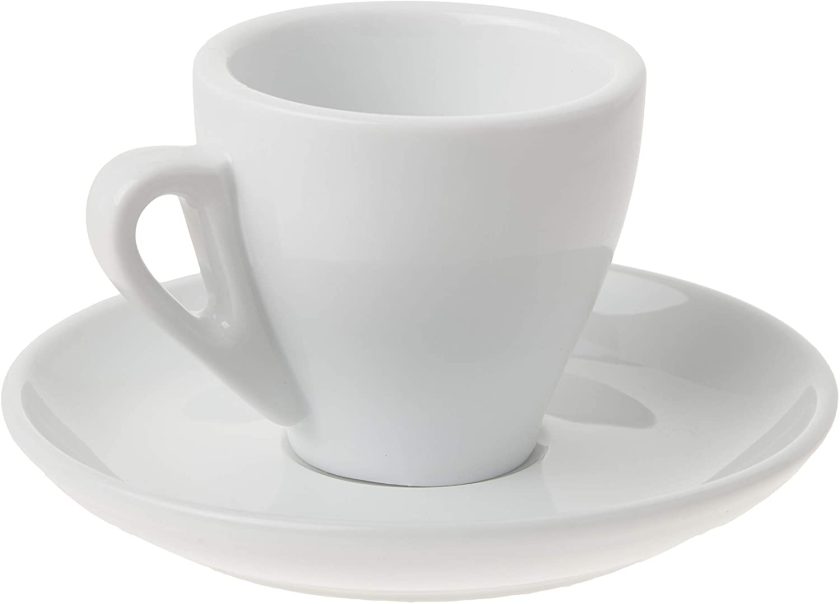 These cups are made from quality porcelain, by Cuisinox. The cups look classic, just like the cups you would see in a restaurant. This demitasse holds 2 ounces, a perfect recipient for that double shot espresso.
This set is pear shaped, and white, as per the Italian Institute of Espresso requirements. A truly classic espresso set. The material is high quality, and thicker than cheaper alternatives.
The set is dishwasher safe and microwave safe.
Stainless Steel Espresso Cups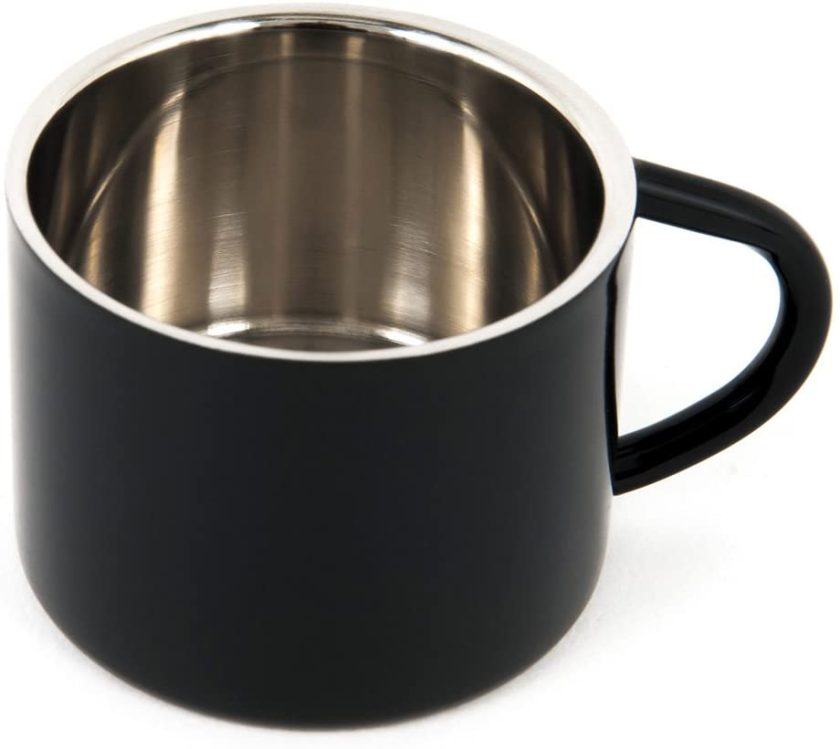 We talked about the best material for espresso cups, we haven't really touched on metallic cups. I thought this one was obvious, but since I got a few requests to answer this here is my take.Stainless steel cups are very elegant, at least I love them. However, as any stainless steel recipient, it imparts a taste to your espresso. While this might not be an issue with large coffees, like drip, or French press, espresso is more so affected by the taste.
If you don't mind the metallic taste, or you can't detect it, I highly recommend this espresso set of 4 stainless steel cups. They have a double wall for insulation, and they can hold 2 ounces of liquid.
Zwilling JA Henckels Sorrento Espresso Glasses Set of 2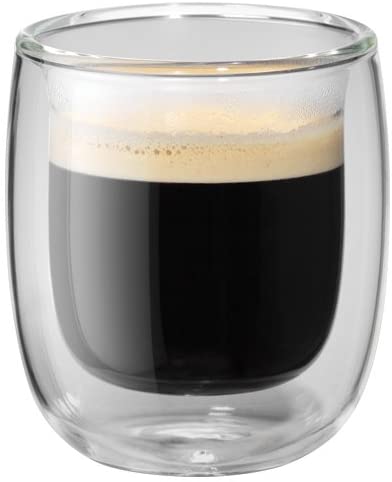 This is a set of two 2.7 oz. (80 ml) espresso glasses. I love these because it's a perfect size for my needs. I can pull a normal double shot, or a triple shot ristretto in these glasses.
The glass stays cool to the touch while the content stays hot. You have to be careful to not burn yourself. Unlike the porcelain demitasses, these don't allow any heat transfer to the outside of the cup.
These are made from high quality borosilicate glass, and they are dishwasher safe.