Lavazza Dek Decaffeinato is one of the best decaffeinated coffee blends for those who look for a flavorful decaf option for their espresso shot.
As a big roaster, Lavazza has more resources than small artisan roasters. This is why they can decaffeinate their beans in a healthy way while maintaining a great flavor. If you are an espresso lover who need to cut on caffeine, but needs their afternoon espresso shot, Lavazza Dek, is the coffee blend for you!
This medium roast blend is available in whole bean, ground, or ESE pods, and boasts a great, complex flavor.
Benefits of Decaf Espresso
Decaf espresso is a great alternative for people who enjoy the taste and ritual of coffee but are sensitive to caffeine. Decaf espresso has a variety of benefits, including reducing the risk of insomnia and anxiety, promoting hydration, and providing a rich source of antioxidants.
Decaf espresso can also help to improve heart health by reducing blood pressure, as well as reducing the risk of heart disease and stroke. Furthermore, decaf espresso has been shown to improve mental acuity and concentration, making it an ideal choice for people who need to stay alert without the negative side effects of caffeine.
But to me, the greatest benefit is that I can drink it in the evening without disrupting my sleep patterns. This great when I want to socialize over a cup of coffee in the evening.
Overall, decaf espresso provides many of the same benefits as regular espresso, without the negative effects of caffeine. It's a great option for people who enjoy the taste and ritual of coffee but are looking for a caffeine-free alternative.
Why Lavazza Dek is One of the Best Decaf Beans for Espresso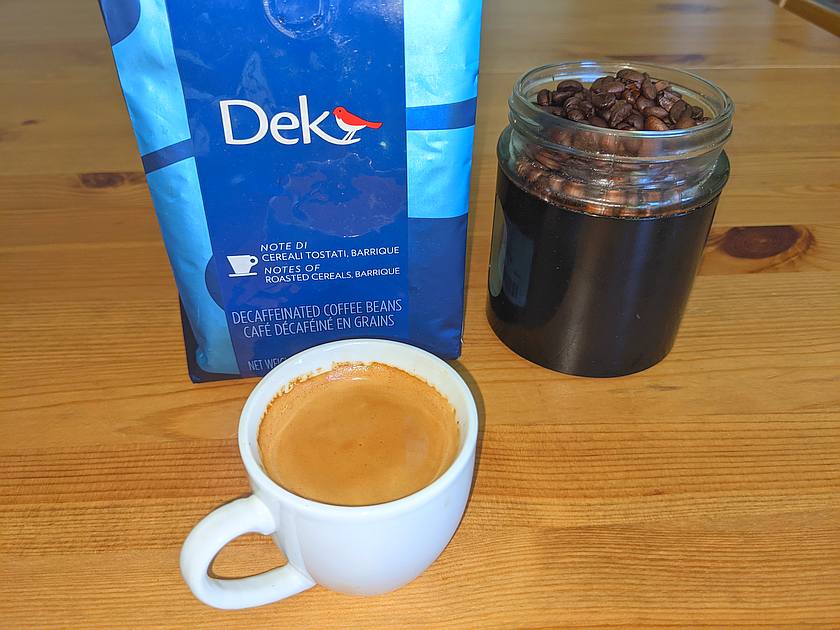 Compared to other decaf espresso options, Lavazza Dek is considered one of the best decaf beans for espresso due to its unique blend and decaffeination process. The blend of Arabica and Robusta beans provides a well-balanced flavor with a pleasant aroma. Additionally, the natural CO2 decaffeination process preserves the flavor of the beans, resulting in a smooth and flavorful espresso shot. Positive customer reviews also attest to Lavazza Dek's high quality and delicious taste.
About the Lavazza Company
As the most popular domestic coffee brand in Italy, Lavazza Coffee is an internationally recognized coffee brand. This family-run business, is one of the most popular Italian coffee brands, and they have been providing espresso beans since the 1895.
Many of their coffees produced for the Italian market boast an intense flavor. They offer a diverse array of products and delicious coffees.
Lavazza Coffee is a big company and this is great because they have access to more resources to create an amazing decaf blend.
The Lavazza Decaffeination Process
What sets Lavazza Dek apart is the decaffeination process that Lavazza uses. As a large commercial company, they are able to utilize the carbon dioxide method, a natural decaffeination process that uses no chemicals.
The caffeine is removed by highly pressurized carbon dioxide that is forced through a chamber full of green coffee beans. This preserves the most flavor of all the decaf methods, as no liquid is used in the process.
Swiss Water Process is touted many times as the best decaffeination method, and marketed as the natural process to decaffeinate beans. But the reality is that it soaking the beans in water and processing the water and the beans will result in a consistent loss of coffee flavors.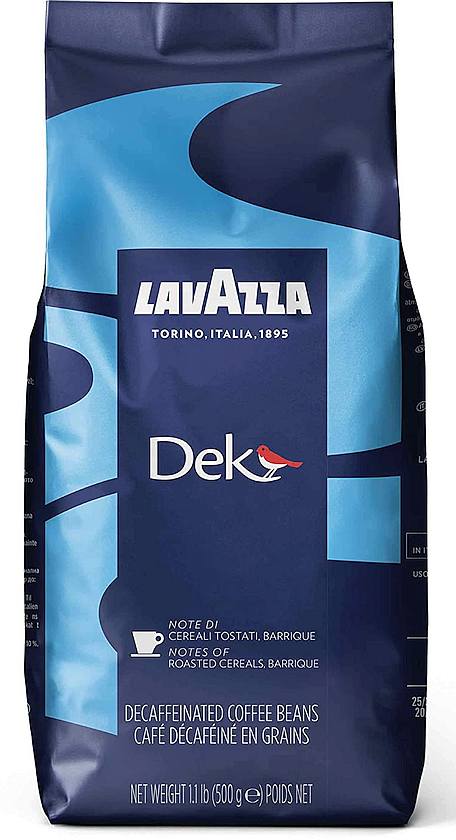 Lavazza's CO2 decaf process ensures that Lavazza Dek maintains the same organoleptic characteristics as traditional coffee.
While the carbon dioxide method is our favorite decaffeination method because it is healthy and preserves the true nature of the coffee, it does come with a major caveat – it is expensive. This process is often too costly for smaller, specialty coffee companies. This means it's unlikely to find CO2 decaf beans in a small roastery.
Let's say this again, most decaffeinated coffee beans are not that good. There some blends that are not bad, but use a chemical decaffeination method. Even though the chemical traces in the finished product are very small, people choose the CO2 method, since there are no chamicals involved.
Lavazza Dek – Decaf Coffee Review
Tasting Notes
I tried many decaf espresso blends, from horrible, to average. Lavazza Dek is one of my favorite blends in terms of flavor.
The Lavazza Dek whole bean decaf coffee is an exceptional product that defies the norms of a typical decaf espresso blend. Lavazza Dek is a medium roast with a flavor profile that is not overwhelming. The resulting delicate coffee drink exhibits an exceptional aroma, making Lavazza Dek a personal favorite among Lavazza products, and decaf lovers.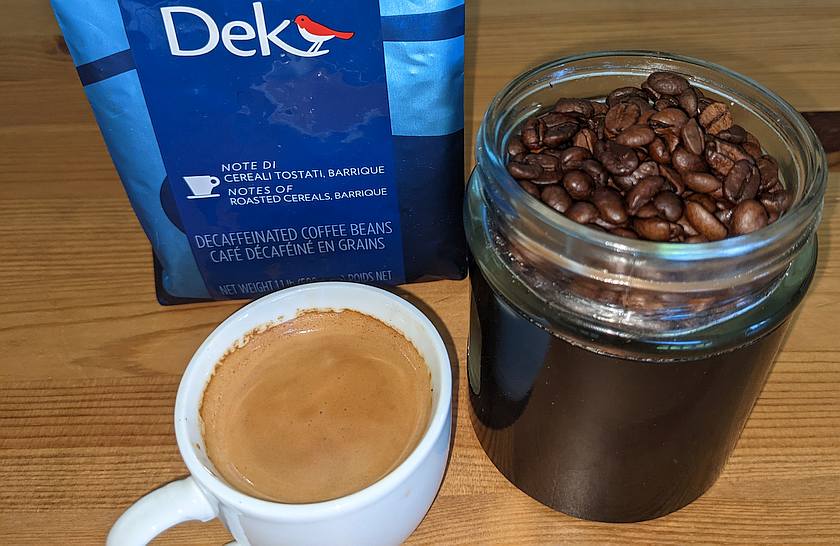 The main flavors we get from Dek are of toasted grains. The sweet notes of dried fruits and brown sugar in Lavazza Dek decaf coffee are just great, unlike any other decaf coffees you might have tasted. There is also a slight floral aftertaste, which elevates this blend. It might sound boring on paper, and it is a little boring as a blend, but for a decaf blend this is amazing. Trust me, I was a little skeptical when I first bought this, but I am now a convert.
If you are looking for the chocolate and caramel notes typical for the regular espresso blend, you won't find it in Lavazza Dek. In fact, you won't find it in any decaf. And, lets admit it, most decaf beans are just horrible. Too many times decaf coffees are very dark roasts to mask the loss of flavor during decaffeination, or they are a blend of the cheapest beans, because, they go through decaffeination anyway, so it doesn't matter.
The Blend
Lavazza Dek decaf espresso whole bean coffee is made using a blend of Arabica coffee beans from Central America and Robusta beans from South East Asia. This blend ensures that the coffee has the perfect aroma while still providing the rich crema and true taste typical of Asian coffees.
The coffee is a medium roast, so it's not overwhelmingly strong. This allows the flavors from the various beans to survive roasting, and underline the toasted grains flavor with hints of oak wine barrel.
The Lavazza espresso decaf beans are roasted Pozzilli, Italy, in the traditional Italian style. Therefore, you can be assured of the sweet aroma, the Italian experience, and the delicious taste that you seek when you buy Lavazza.
If you are looking for the smooth flavor and intense taste of gourmet ground coffee and the convenience of a capsule espresso machine, Lavazza Dek is also available as E.S.E pads or in capsule form. These pods contain exactly 7.5 grams of coffee, tamped and prepared to perfection, without any mess or clean-up required. However, note that these only work with Easy Serving Espresso systems. Therefore, it is important to ensure that your machine supports them.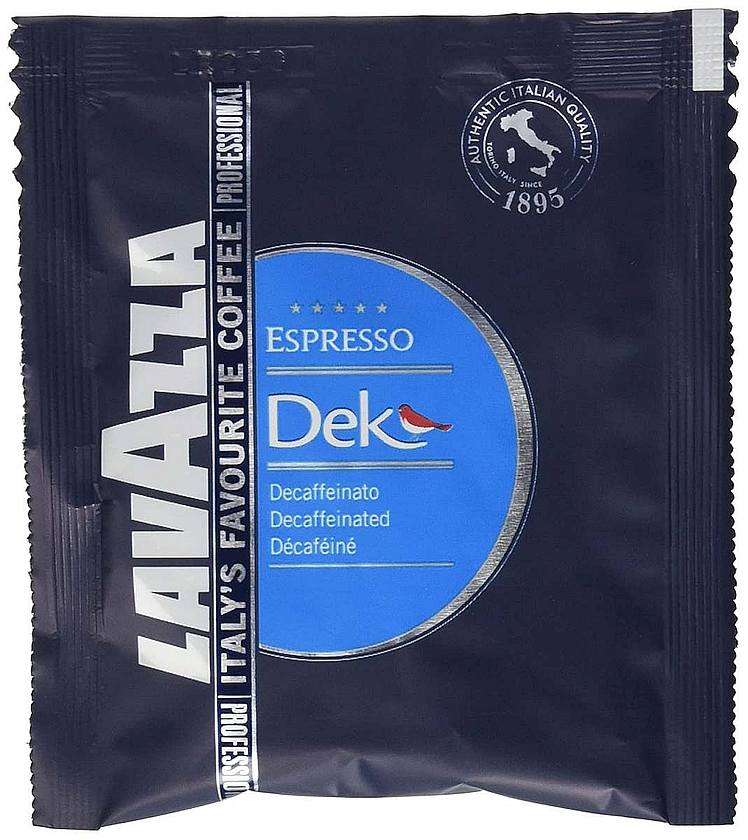 The caffeine content in Lavazza decaffeinated ground coffee is typically between 2-4%. This translates directly to about 2-4 milligrams of caffeine in a standard American coffee, which equates to less than a piece of chocolate. Drinking this type of decaf is therefore perfect for those trying to limit their caffeine intake.
If you are looking for a different brewing method, Lavazza also has this blend as ground coffee, for drip coffee lovers. The drip coffee blend is called Dek Filtro, and it's the same blend and decaffeination method. Even though we don't really care about it, it's worth mentioning.
Brewing with Lavazza Dek
The decaf blend from Lavazza is a decent blend beans. Typically, decaf beans have a low density, which suggest a low altitude growing environment. Lavazza Dek are small beans, but with a higher density than most decaf blends I tested.
When you grind them for an espresso shot, you should start at the same settings as you regular beans.
Lavazza Dek will produce an espresso shot with an ample body, with a decent layer of crema, and a lingering aftertaste.
Conclusion
Lavazza Dek is one of the best decaf blends on the market. The decaffeination method is safe, and it doesn't use any chemicals.
The flavors might sound a little boring on paper, but for a decaf coffee the taste is fantastic. The flavor profile is the result of Lavazza's research in order to provide a versatile decaffeinated coffee with a decent aromatic profile.
I highly recommend you try it.