The DeLonghi Magnifica ESAM3300 is a super-automatic espresso machine, that is affordable, reliable, and easy to work with. Any DeLonghi Magnifica will turn you into a home barista without the skills and knowledge you need if you buy a semiautomatic.
This Delonghi Magnifica might not have the bells and whistles of the more expensive machines, but it will provide you the convenience of the one button touch espresso. And what's the best about it, it is pretty reliable for a super-automatic.
This post is a review of the DeLonghi ESAM 3300 Magnifica. We will show you the pros and cons of the machine, and why do we think this is one of the best super-automatics you can buy for the price.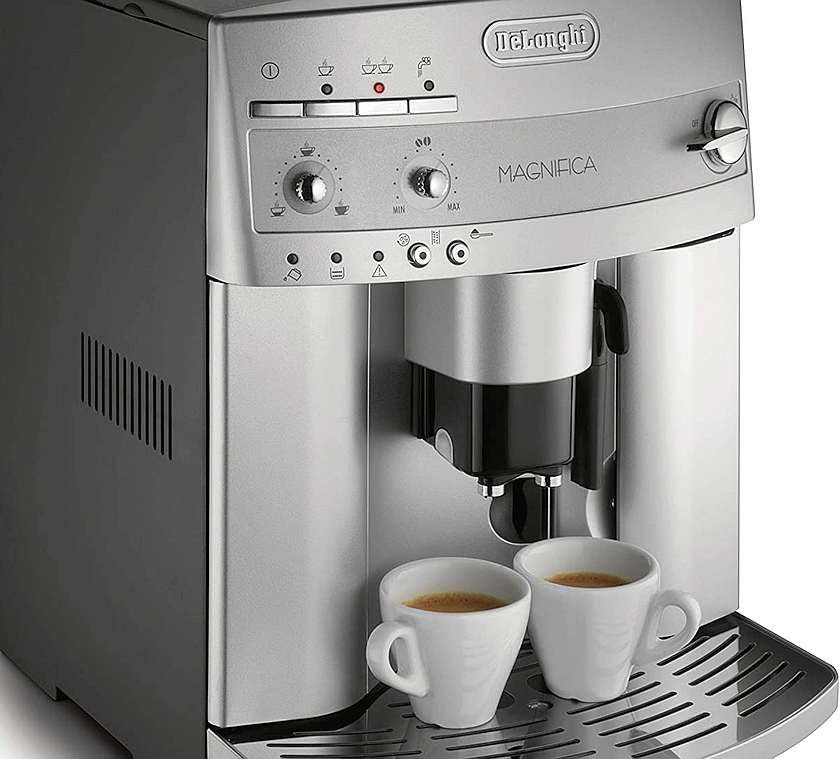 DeLonghi ESAM3300 Magnifica Review: Best Features
As a bean-to-cup coffee machine, the DeLonghi Magnifica 3300 ESAM is not the most advanced model. DeLonghi, and the competition, have models that are easier to use, but for the price range, we think that the ESAM 3300 is one of the best on the market.
Here are the most important features:
Built-in quality conical burr grinder. A coffee grinder grinder is essential for a great espresso.
Spent puck drawer for easy clean up.
Removable water reservoir with 60 oz capacity. The water tank is accessible from the front of machine, for greater convenience.
The replacement parts are easy to find on the Internet, and they are not expensive.
The shots are perfect with a smooth taste, and thick crema layer.
The milk frother is a pannarello with its own separate heating element, for easy and great cappuccino.
A reliable machine, compared to other super-automatics.
Customizable coffee strength.
Dial-in your shot by adjusting the grind size, for perfect boldness, crema, and taste.
Can be used with ground coffee, a huge bonus for some people.
You can remove the bean container, and change the beans. With other machines this is impossible, you have to run through all of your beans before changing them.
The beans hopper can be removed without moving the machine. Great feature for small kitchens, and not only.
Easy to remove drip tray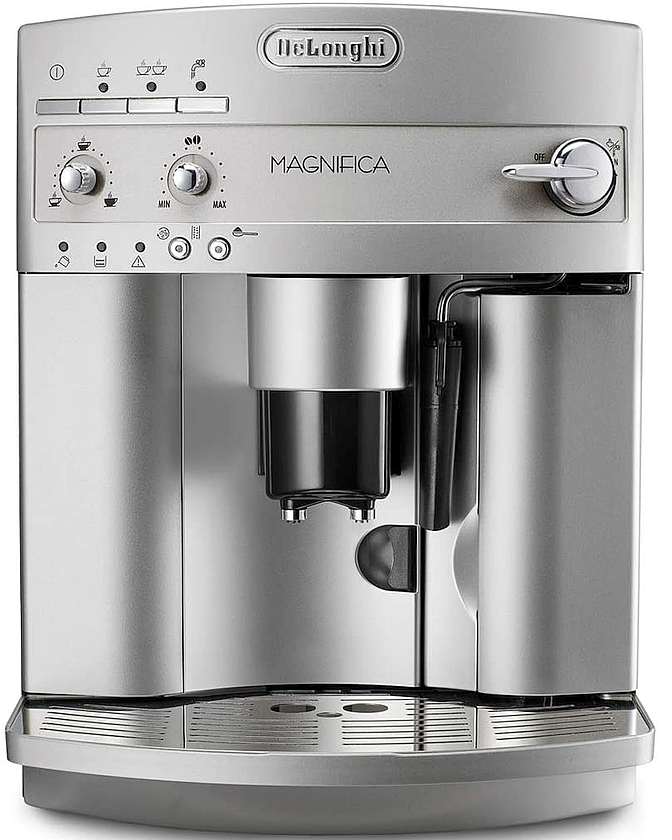 What to Look for when Buying a Super-Automatic Espresso Machine
When you are buying a super-automatic espresso machine, there are certain things you need to look for. These features are a little different from the features you are looking for when you buy a semiautomatic. Here is what I think are the most important criteria:
You want the machine to give you consistent results.
This is an obvious one, great heating elements, and sensors ensure you get the same coffee every time. If you have bad components, your coffee can get a little all over the place, too weak today, too strong tomorrow, etc…
Easy to tweak the shot variables.
Not an absolute, but for those who are a little picky, or come from a semiautomatic, you want a simple way to tweak the settings for your shot.
We want an easy to maintain machine.
If you need to spend hours to clean the machine and we need to descale it every two weeks, the whole thing becomes a chore.
We need that machine to be reliable.
I have a friend who bough a cheaper machine from a competitor. He had to send it to repairs within the warranty period. Fine, you say, he was covered. Well the machine spent 3 weeks being shipped back and forth, and two weeks in their repair shop. My friend was not happy.
Have a comprehensive warranty and easy to access service.
In my friend's case, the competitor has a decent repair shop network, but I've seen companies that have one or two repair locations. This is an absolute nightmare, if the machine breaks. You almost need to buy a new one.
The obvious requirement for all super-automatic coffee machines – easy to operate and convenience.
Pros and Cons of the ESAM3300 Magnifica
Pros
It is a reliable machine. In the super-automatic espresso machine market, you don't expect any coffee maker below $1000 to be as reliable as the ESAM 3300.
Adjustable water quantity gives you control
Double boiler for faster brewing & more precision
Very easy to clean
Descaling is a breeze
Very affordable
It warms up fast
Did I mention the price?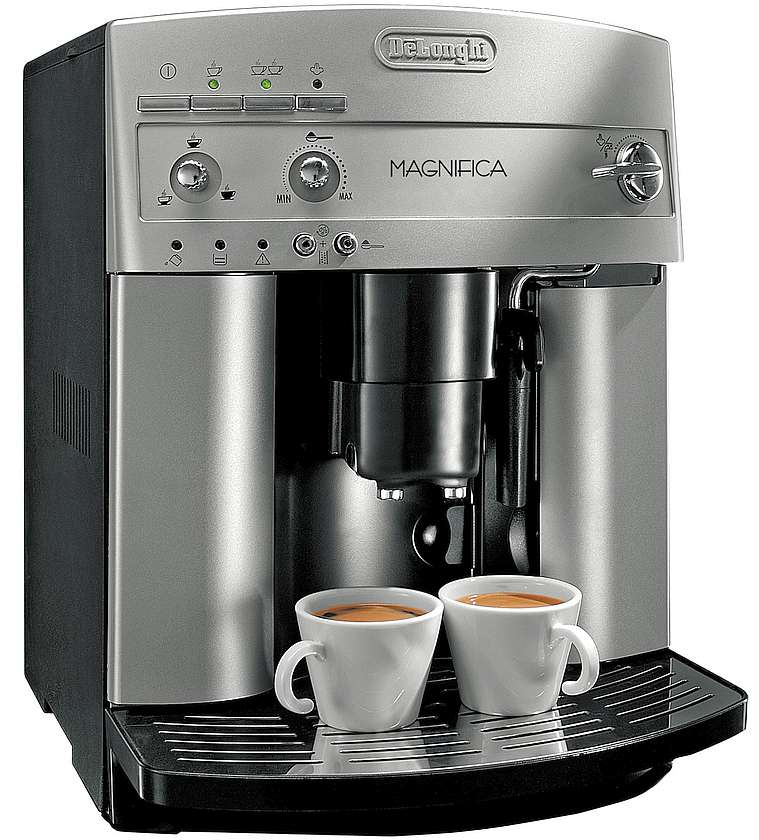 Cons
You cannot use oily beans in this machine. This is the one thing that can break it.
The grinder get clogged, and also other parts of the machine can get clogged with oily coffee grounds. This is not a weakness of the ESAM 3300, but rather a general weakness of the super-automatics.
The cup warmer is almost decorative.
The DeLonghi ESAM3300 doesn't have a great cup warmer. If we are being fair, that would have added to the machine's cost, and the price would have reflected it. So I'm thinking: "Yeah, it's good enough."
The grinder is noisy.
This is not uncommon with super-automatic espresso machines.
DeLonghi Magnifica ESAM3300 Review
Overall Design
The Delonghi ESAM3300 is a compact fully automatic espresso machine but don't underestimate its size. In terms of power, capability, and value, it is reliable enough to create barista-like coffee beverages.
Casing
The Magnifica 3300 just looks great, you'd think that is made of stainless steel, but in reality the casing is a durable plastic. The finishing makes it to resemble stainless steel, which is a nice touch, but it's plastic. But again, this is a cost effective choice.
Push Button Control Panel
De'Longhi Magnifica ESAM 3300 doesn't have digital display. All the controls are button operated. The machine is fully programable, so you can make the perfect drink, but who wouldn't love a graphical interface?
You can change the coffee strength and cup size, from the button operated control panel. These two options will allow you to tweak the amount of flavor and caffeine in your cup.
You can also program the machine to turn on or off from the same control panel. You also can select the number of shots you want.
Water Reservoir
One of the annoying things about automatic coffee makers, is that the water reservoir is placed in the most weird places possible. This placement, most of the time serves the manufacturer, reduces costs, simplifies the machine, etc… But for us the end user, that placement is something that we would have to deal with on a regular basis. An awkward placement will mean you need to move the machine every time in order to fill the water tank. Sometime this is is just a chore.
Magnifica ESAM 3300 has the water tank at the front, easily accessible and removable. Just another little detail to make your barista life easier.
If we take in consideration the 60oz. water tank, larger than some of the competition, re-filling the water tank doesn't seem a chore at all. You can make up to 25 double shots of espresso. Or, around 10 normal cups of coffee. The water tank level indicator will always tell you when you need to refill, and if you coffee maker doesn't make espressos, this is the first thing to check.
The ESAM 3300 doesn't have the option for a built in water filter, so you will have to make sure the water you use it's a good quality one.
Cup Warmer
The cup warmer helps warming up the cups, but it's taking the heat from the boiler, so don't expect a great one. It does work, but it works better if the machine is on for a while. This is probably not the case for most of us, since we aren't running a coffee shop.
Milk Frothing for Perfect Cappuccino
The DeLonghi Magnifica's milk frother has a panarello steam wand. The panarello steam wand is a special form of frothing wand that makes it easier for the non-trained home barista to obtain perfectly textured milk for lattes and cappuccinos. However, compared to other Super-Automatics, this milk steaming system involves a bit more manual work. The advantage though, is that you can do both foamy milk, for cappuccino, and microfoam, for flat white and latte.
I don't see this as a problem, but if you want a touchless milk frothing system, you will need to adjust your budget considerably.
Adjustable Spout Height
The spout height is adjustable, which makes it easy to choose between different cup sizes. The maximum cup height is 4.25 inches, and the minimum is 2.75 inches, which gives us a good range. It won't fit a travel mug, but it will fit a regular coffee cup, for back to back shots, if that's your thing.
If we are being honest though, 4.25 inches is a bit small for larger milk-based drinks, such as lattes.
The Brewing System
Double Boiler System
The brewing is based on a stainless steel – dual thermoblock boiler system, which makes the machine faster to warm up than the traditional boilers. One boiler is for espresso, and one for the milk steaming.
Unfortunately, you cannot pull espresso shots and steam at the same time, but because of the dual boiler system, you don't need to wait between the operations at all. Each boiler will have its designated temperature set, so there is no waiting between the two operations. No more dead espresso shots because of the time waiting for the temperature to normalize.
As we said, one of the advantages of the thermoblock is that they are very fast to heat-up. The machine will maintain the ideal temperature for either brewing, or milk steaming. De'Longhi calls this instant reheat, but that's how thermoblock works.
Built In Burr Grinder
DeLonghi ESAM 3300 has a built-in, conical burr grinder with 13 grind size settings. Don't think you've seen grinders with more settings – these 13 grind settings are espresso only. You will find that 13 grind setting is ample enough to dial-in your brew for perfection.
The bean hopper holds 8.8 oz of coffee beans, but I personally never keep espresso beans in the bean hopper. I only put in what I grind, and I only grind what I brew. This is the prefect recipe for fresh, flavorful coffee all the time. You want to use fresh beans every time. The bean hopper is not air tight, so your coffee goes stale faster than in a coffee beans jar.
If you don't have coffee beans, and you have pre-ground coffee, you can use ground coffee bypass. There is a coffee grounds container, which small, but you don't need a large one anyway. Ground coffee goes stale even faster that beans, so I'd fill the coffee grounds container for what I brew only.
The grinder is a little on the noisy side, but many super-automatics are. Other super-automatic models from De'Longhi are equipped with ceramic burr grinders, which are quieter, but the prices for newer models might be higher.
A very common problem with super automatics is that you cannot use dark roast. For darker roasts, I recommend using the bypass, but you will have to own a separate grinder that can handle oily beans.
DeLonghi's Direct-to-Brew system minimizes the amount of grinds that get stuck in the machine and get stale, but if you use a dark roast, you increase the chances to get some stale coffee grounds build up in the machine.
The Pump
The pump is capable of pushing 15 bar pressure, but it's normalized to the 9 bars, which the ideal pressure for brewing espresso.
The Brew Group
The brew group is removable, which has two advantages, it's easy to clean, and easy to replace since it's one of the pieces that might break in time.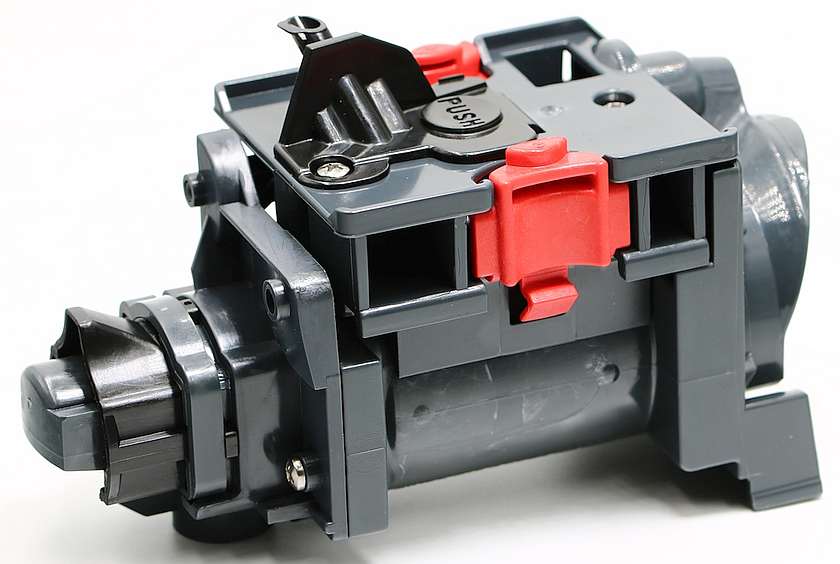 Hot water DIspenser
If you need an Americano, or you just need to prewarm your thick porcelain espresso cups, hot water is a need. You can use a kettle, if you have one, but using Magnifica 3300's hot water dispenser is more convenient.
However, you should use distilled or purified water as the coffee machine doesn't have a built-in water filter.
The Drip Tray
The removable drip tray is decently sized, and it has a red float that indicates the water level in the tray. I recommend you clean the tray every few days, even if the drip tray is not full.
Setting the Magnifica for the Best Coffee Cup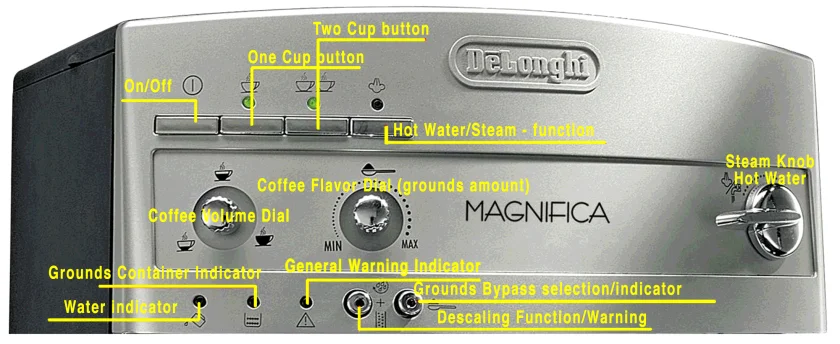 Magnifica 3300 has a few features that are meant to improve you coffee experience, and get you the best cup of coffee. From shot tweaking, to storing the settings for your favorite recipe, the ESAM 3300 has a lot of features for a machine in this price range. Let's see some of these features and how they benefit you as a coffee lover.
Adjustable Espresso Shot Length, Volume
Whether you like a lungo, a ristretto, or a normal espresso shot, you can brew it with the DeLonghi Magnifica. You can control the volume of your espresso shot between 0.5 fluid ounces for a ristretto, and 6 ounces for a lungo, by adjusting the volume knob on the front panel.
You can also select one or two shots by pressing the respective cup selector button.
Coffee Strength and Flavor Control
You tweak your shot for the ideal espresso flavor by adjusting the amount of coffee used for a shot. We have a coffee flavor dial, which will help you adjust the amount of ground coffee used when extracting.
The built-in grinder of the DeLonghi Magnifica ESAM 3300, has 13 grind settings, and you can dial in your shout by adjusting the grind size.
You might need to adjust the grind size when you play with the shot volume. The ideal extraction time is between 20 and 30 seconds. If the coffee is too finely ground, water will not flow through the coffee puck, so the shot will over extract. If coffee is ground too coarse, water will flow too fast, and the shot will be under-extracted.
Coffee Memory Function
This coffee machine will know exactly how to brew you preferred cup of coffee, and deliver it consistently every morning. The programming feature allows you to save and store your favorite espresso recipe, and all you need to do is to press the button.
Additional Brew Settings and Options
You can pause the brewing cycle midway by pressing the single or double cup button, (as initially selected).
If you press the same button again within 3 seconds of finishing the brew cycle, that machine will push more water through the coffee puck, for a mellower diluted espresso.
All of these options allow you to brew a variety of espresso based beverages such as: ristretto, lungo, Americano, cafe crema, etc.
De'Longhi Magnifica ESAM-3300 Maintenance
Easy Cleaning
One commendable feature of DeLonghi Magnifica is that it is easy to clean. The ESAM 3300 is a low maintenance unit, with easy to remove parts, so all cleaning is a breeze. The drip tray and water tank are dishwasher safe.
Repair Options
The parts are easily available. The brewing unit is removable, so that makes it very easy to change. After the warranty, expires, if you are handy, you can fix it with the help of YouTube tutorials.
Descaling
The machine has a decalcification indicator, so you know exactly when it's the time to descale.
Unfortunately, there is no water filter option for the 3300, so you will have to either pre-filter your water, or use bottled water, if the water at the tap is really bad.
Reliability
The De'Longhi ESAM Magnifica is a reliable machine but, as many super-automatics, requires maintenance regularly. Do not skip the maintenance, or the machine will eventually break, or your shots will be underwhelming. Here are some of the things you should do for your Magnifica.
Clean the brew group once a week. Just take it out and wash it under hot water. (Watch the video below for detailed instructions.)
Only high-quality Arabica beans. Make sure you don't use oily coffee beans, these tend to clog the machine, and they are very often, the reason for a broken machine.
Use quality water, some use demineralized water, or even distilled water to avoid calcification. The best for taste is spring water, but you need to descale more frequently.
Descale the machine exactly when it tells you to, don't wait. If you don't do it in time you risk breaking it.
Conclusion
For the home barista who prizes convenience, and wants to have the option to still tweak the shot, Delonghi Magnifica ESAM-3300 is the perfect option.
This is a versatile machine, it offers great performance, ease of use, and reliability. For those looking for a low budget super-automatic espresso maker, this is one of the best options.