I've spent a ton of time behind the counter at coffee shops, slinging espressos and getting that perfect foam on lattes. It's pretty cool, but let's be real—not everyone's got the time to geek out over pulling the perfect shot with a semi-auto machine. That's where this bad boy, the Gaggia Babila, comes in. It's like having a coffee shop on your countertop, minus the line and the "barista with an attitude" vibe.
The Babila is all about making life easy without ditching the good stuff you get from a coffee shop. You want techy features? It's got 'em. You want killer espresso without having to study the art for years? It delivers. And it does all this with the press of a button—no coffee knowledge required.
So, what's up with the Gaggia Babila? Is it worth the hype and the chunk of change? Stick around, 'cause I'm about to take you through everything—what's cool, what's kinda meh, and whether it's the espresso machine to end all machines. Let's see if this thing can really give you that coffee shop quality without making you late for life.
Table of Contents
Gaggia Babila Espresso Machine – A Detailed Look
So, Gaggia's been killing it in the espresso world for ages, right? They're the folks who rolled out the first machine that ditched steam for making coffee, which was a total game-changer. It's like, they've got a knack for brewing up some serious coffee magic.
Now, if you're eyeing the Gaggia Babila, you gotta know it's not exactly pocket change. But hey, you get what you pay for, and this baby's smack in the middle of the super auto espresso machine market, so it's gotta have some cool stuff to really shine.
And, honestly, it does. If you're all about that top-notch espresso and creamy milk froth, you'll dig what the Babila offers. It's not about flashy screens or using your phone as a remote. Instead, this machine is all about giving you the reins to tweak and play with your coffee's taste to your heart's content. Pretty slick, right?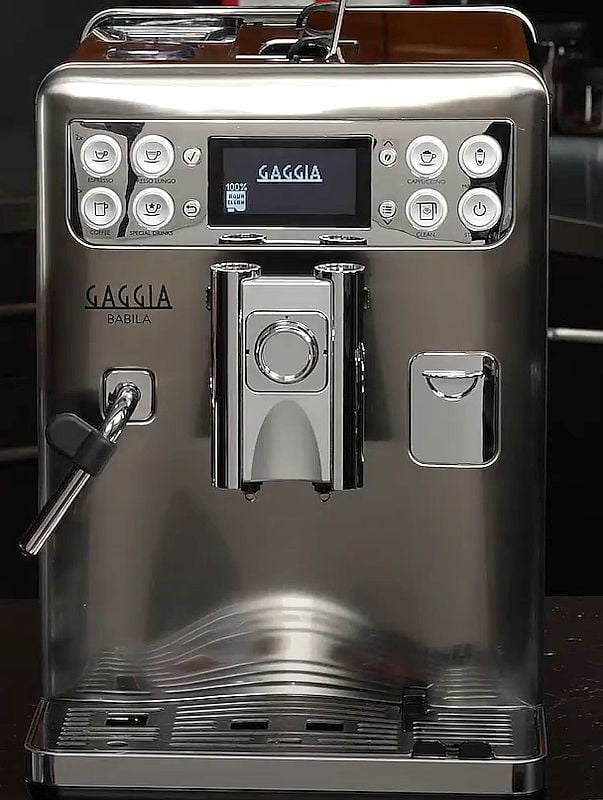 Standout Features
When it comes to the Gaggia Babila, we're diving into a machine that's brimming with perks that'll catch any coffee lover's eye. Here's the lowdown on what sets the Babila apart from the rest.
The Bean Hopper
First off, the bean hopper. It's a crucial part for any espresso machine because it's where you load up your coffee beans. The Babila's hopper is designed to keep your beans fresh before they hit the grinder. And if you're into customization, you'll appreciate the ability to adjust the grind size. This means you can fine-tune how your coffee tastes, from bold and robust to smooth and mild.
Stay tuned for more insights as we delve deeper into each feature, ensuring you know exactly what you're getting with the Gaggia Babila.
Gaggia Babila's Build Quality
The Gaggia Babila stands out with its solid build. It's crafted from stainless steel and finished with chrome touches—a sign of quality not always seen in espresso machines. It's refreshing to see a machine that steers clear of plastic, which Gaggia deserves a thumbs up for.
Despite not being the poster child for Italian flair, the Babila sports a neat, tidy look that would fit right in any modern kitchen. Plus, its size is just right. It's compact enough not to hog all your countertop real estate, which is great news if you're short on space but still want a top-notch coffee experience.
Babila's User Interface
Touchscreens on coffee machines might seem like the next big thing, but honestly, they're not always the game-changer they're made out to be. A good espresso and creamy milk foam are what matter, and for that, a straightforward display works just fine.
The Gaggia Babila goes for a retro vibe with its display, sporting chunky, pixel-style numbers that could give you a dose of nostalgia. Yet, it's super easy to read. The buttons around it? They make using the machine super simple, like, really no-fuss at all.
Gaggia's Grinder
When it comes to making great espresso, the grind of the coffee beans is key. The Gaggia Babila stands out because it uses a ceramic grinder. Why is that good? Ceramic grinders generate less heat, keeping the coffee's flavor intact.
You'll find the grinder on top of the machine, under a lid. Just below that, there's a spot for the coffee beans. The really cool part is the variety you get—there are 15 different grind settings. For an automatic espresso machine, having that many options is impressive, especially without breaking the bank.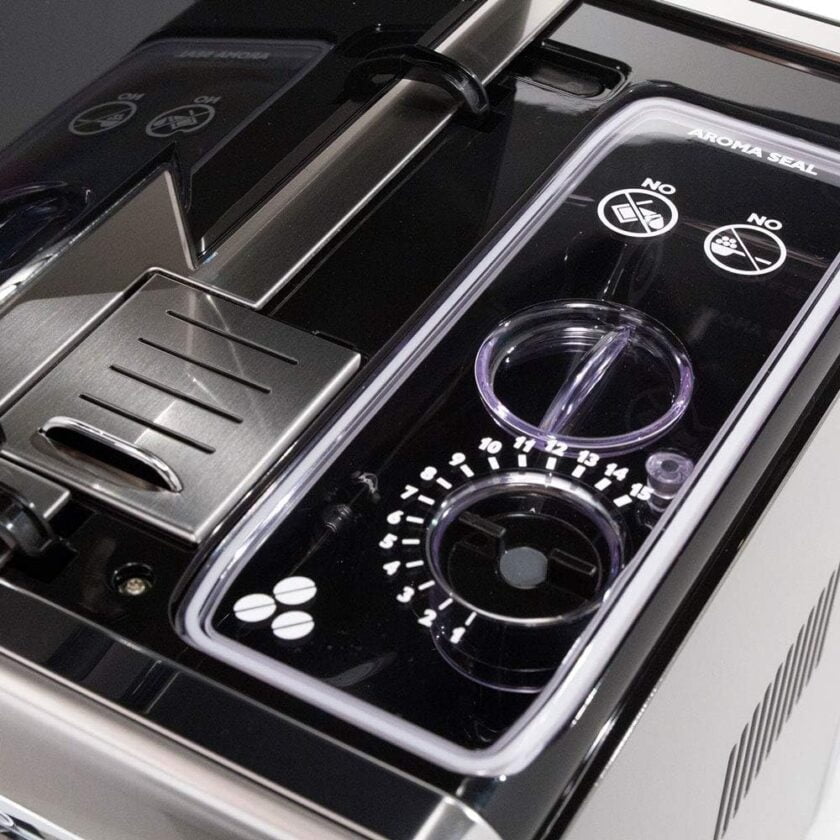 Specialty Beverages with the Gaggia Babila
If you're into your espresso, you might look at the Gaggia Babila and think, "Only eight drinks? That's it?" But hold on, because there's more to this machine than meets the eye.
First off, let's talk customization. This machine gives you lots of ways to tweak your coffee or espresso just how you like it. I'll get into the nitty-gritty of that later. When it comes to milky concoctions, the Babila's got you covered with all the go-tos like espresso macchiato, flat white, and cappuccino.
And here's the kicker: you can mess around with the milk settings to your heart's content. This means you could keep trying new things.
Adjustable Coffee Spout
The Gaggia Babila is pretty smart about where your coffee goes. It's got an adjustable spout that moves up and down—anywhere between three to six inches. This is great because for espresso, you want the spout close to your cup to keep the crema perfect. And for a bigger drink, just raise it up. Plus, if you're on the go and need to fill a travel mug, the spout comes off to make room. Super handy, right?
Efficient Double Boiler System
Some espresso machines can struggle to keep up when you're making back-to-back milk-based coffees because they only have one boiler. That's where the Gaggia Babila stands out with its double boiler design. This means you can make espresso and froth milk at the same time without waiting. It's a game-changer for when you're serving up multiple drinks. Can't wait to show you how smooth this runs when I try it out!
Tailored Espresso
The Gaggia Babila really shines when it comes to customizing your coffee. Not only does it have a top-notch ceramic burr grinder with lots of settings, but it also lets you tweak the brewing water's temperature and volume. That's not all. Gaggia goes the extra mile, giving you three additional ways to fine-tune your espresso to perfection. Choices are always great, right?
Customizing Strength with the Babila
The Gaggia Babila steps up the game with its coffee strength options. You have five settings to play with, each one bumping up the amount of coffee grounds used. This means you can easily adjust how bold your drink is to match your taste, any time.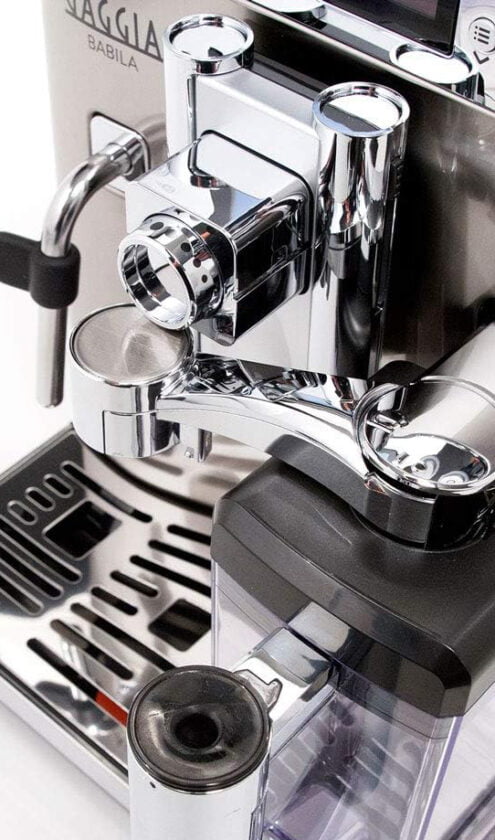 Aroma Enhancement Settings
When whipping up your favorite coffee, the trick to a full-bodied flavor starts even before the brewing – it's in the pre-soak. This step lets the coffee grounds release gases and bloom, making your coffee's taste richer. The Gaggia Babila gets this with its three 'Taste' options, tweaking how long the coffee soaks before the magic happens. Honestly, skipping the soak with the 'Delicate' option? Not my cup of coffee – you miss out on all that flavor-building.
The Espresso Plus Advantage
For espresso enthusiasts looking into super automatic machines, the Gaggia Babila stands out with its Espresso Plus System. What's exciting about this feature is its simplicity and impact: a straightforward dial on the spout lets you tweak how fast your espresso pours out. This little adjustment can significantly change the strength and flavor of your espresso. Pair this with the Babila's various customization options, and you're set for some top-notch coffee experiences. As someone passionate about coffee, the ability to fine-tune your espresso to such a degree is a dream come true!
Getting Started with the Gaggia Babila
Diving into the world of super automatic espresso machines with the Gaggia Babila is easier than you might think. This machine is user-friendly, even for those new to home espresso. You can certainly whip up a decent cup without so much as a glance at the manual.
However, for those aiming to master their coffee craft, the manual is your secret weapon. Familiarize yourself with its guidance, play around with the various settings, and soon you'll be making espresso that rivals your favorite café.
First things first: fill up the water tank and toss some quality coffee beans into the hopper. Don't forget to run a rinse cycle, check your water hardness with the provided strip, and pop in an AquaClean filter for the best results.
A tip for the wise: steer clear of oily beans to avoid a jammed grinder. And remember, always adjust the grind while the grinder's active to keep things smooth. With a little practice, you'll be pulling espresso shots like a pro.
Special extra chute for pre-ground coffee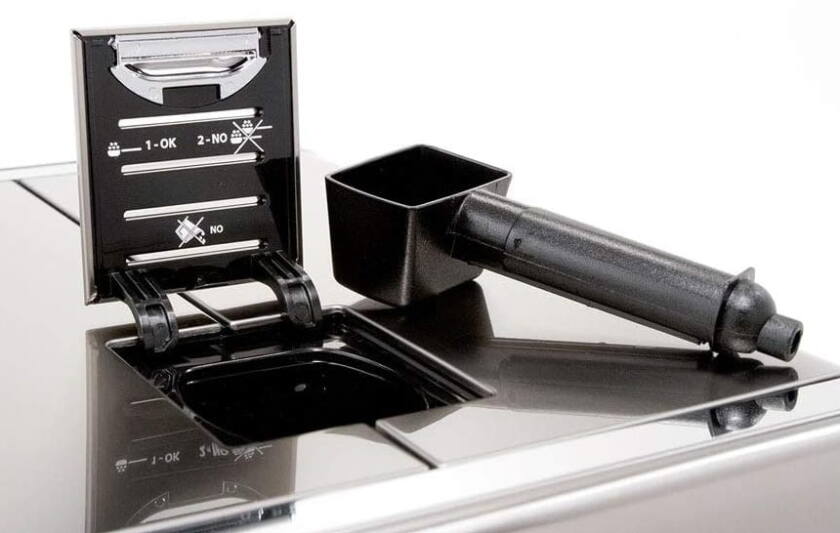 Hey coffee aficionados, did you know the Gaggia Babila comes with a neat feature for those evenings when you want to skip the caffeine buzz? It's got a special chute for pre-ground coffee—perfect for when you fancy a decaf and don't want to disrupt your regular bean setup.
Here's a pro tip: When you're getting to know your machine's grinder, go ahead and use less expensive beans. You see, it takes a few tries before your adjustments really show in the brew. This way, you won't be wasting your best beans as you fine-tune the grind to your taste.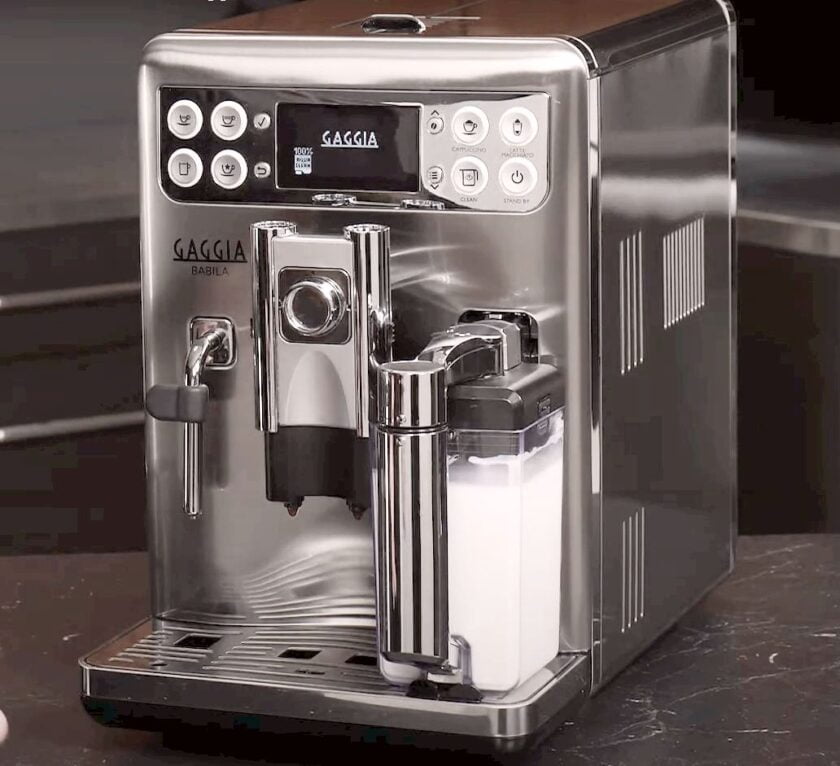 Maintenance – Keeping Your Babila Spotless
For those who treasure a flawless espresso experience, keeping your machine clean is a must. Let's talk about the Gaggia Babila. Daily cleaning is simple and worth the effort for the perfect cup. The drip tray, the grounds container, and the brew group are easy to take out and should be washed with warm water—never in the dishwasher.
Once a month, you'll want to clean the brew group with a cleaning cycle, as per Gaggia's guidance. Use tablets specifically for this to keep things running smoothly.
A quick wipe of the machine's exterior with a damp cloth is all you need. Steer clear of any harsh cleaners. For the automatic milk system, even though it self-cleans, a daily manual wash of its parts is still a good habit to maintain everything in top form.
Using a water filter cuts down on scale buildup, meaning you may only need to descale once every few years. The Babila will tell you when it's time with a prompt on its display. The descaling process is straightforward, though it takes about 30 minutes and requires a bottle of Gaggia's descaling solution. While other descalers might be tempting for being less costly, sticking with Gaggia's own ensures you're doing right by your machine.
Gaggia Babila: Key Features and Tech Specs
| | |
| --- | --- |
| Feature | Details |
| Brand | Gaggia |
| Model Number | RI9700/64 |
| Type | Super Automatic Espresso Machine |
| Removable Brew Group | Yes |
| Material | Stainless Steel and Plastic |
| Color | Stainless Steel |
| Milk Frother | Integrated Carafe and Steam Wand |
| User Interface | Button Operated with Text Display |
| Smart App Compatibility | No |
| User Profiles | Memo Function for Preferences |
| Water Reservoir | Removable |
| Water Reservoir Capacity | 1.5 Liters |
| Number of Boilers | 2 |
| Pump Pressure | 15 Bar |
| Max Cup Height | 6.4 inches |
| Grinder Type | Ceramic Flat Burr |
| Grind Settings | 15 |
| Bean Hopper Capacity | 300 grams |
| Ground Coffee Bypass | Yes |
| Grounds Container Capacity | 11 Servings |
| Number of Specialty Drinks | 11 |
| Pre-infusion | Yes |
| Coffee Temperature Adjustment | Yes |
| Milk Foam Temperature Adjustment | No |
| 2-Cup Function | Yes (Non-milk drinks only) |
| Hot Water Function | Yes |
| Hot Milk Function | Yes |
| Milk Foam Only Option | Yes |
| Water Filter | Yes |
| Power Consumption | 1500 Watts |
| Weight | 13.4 kg |
| Dimensions (WxDxH) | 36.1 x 24.6 x 42.2 cm |
| Warranty | 1 Year |
| Included Accessories | Lubricant, Measuring Spoon, Water Filter, Manual |
Gaggia Anima Specs
Barista's Verdict
Alright, wrapping up my take on the Gaggia Anima: it's honestly a solid pick if you're into tech and don't wanna get stuck with a complicated espresso setup. It's got what you need to whip up a legit espresso without needing to geek out on coffee knowledge or barista skills. And for us who want a quick, quality coffee hit before diving into our day, it hits just right. It's not the fanciest out there, but it's got the goods where it counts.
From my time behind the counter, I can tell you that the Anima is like that no-drama friend who always comes through. It's got the chill factor down – simple to use, easy to clean, and it looks pretty sleek on the counter, too. It's the go-to for anyone who wants their coffee quick and tasty without having to play barista. Plus, you won't be playing "find the feature" with a confusing interface. So, if you're all about living that hassle-free life but still want your coffee to be on point, the Anima's your bet. It's all about keeping that coffee game strong without the extra work.