If you are looking for a mid-range semi-automatic espresso machine, for your morning coffee fix, there are a lot of options. However, the Gaggia Classic and Rancilio Silvia are a lot of times compared. There are other machines within the same price range, however, these two coffee machines are the best rated by customers.
This is comparison between Rancilio Silvia and Gaggia Classic Pro two Italian espresso machines. It would seem that the battle between Silvia at $800 vs Classic at $450 comes down to price, ultimately. There is no doubt that if you have the budget, the Rancilio machine is the better one. We have a detailed review of the Silvia, where we go in detail explaining why is it such a popular machine.
If we compare Gaggia Classic Pro to Rancilio Silvia, the Classic Pro is better in many aspects, but the boiler size and material make Silvia the winner.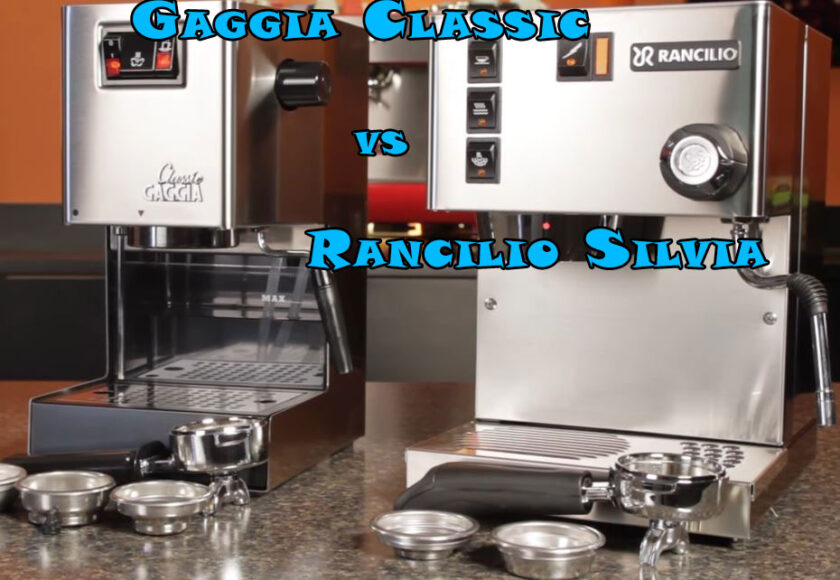 Rancilio Silvia vs Gaggia Classic – Side by Side Comparison
The comparison is by no means a fair one. We are comparing an 800 dollars machine with a 450 one. I've seen manufacturers trying to make a quick buck by over-pricing equipment, but this is not the case with Rancilio. But if we have to make this comparison, just so that it's clear why Silvia is so much more expensive, here it is.
While price wise Gaggia Classic Pro is the clear winner, there are some areas where Gaggia's machine loses. Rancilio Silvia has a larger boiler compared to Classic Pro, so you can pull shots back-to-back without much waiting.
The same boiler will help you make more milk drinks, because there is more steam in the boiler.
Surprisingly, Gaggia Classic pro heats up faster, partly because of the more powerful heating element, but partly because it has a smaller boiler, which is not a good thing.
Both machines are equipped with a 3-way solenoid valve. They both have commercial grade chrome plated brass portafilters, and commercial style steam wands.
The commercial style steam want is good for those who want more control over the milk texturing process. But if you need a simple way to make a cappuccino, you can purchase a panarello for either of the machines. For latte and flat white, the stock steaming tip is better, but you need the skills to use it. If you are new to steaming milk, you might need some practice, until you nail it perfectly.
Silvia is overall more robust, and the steel frame makes it heavy and this adds robustness, and reduces vibrations.
I personally don't care for the pressurized baskets, but they can help absolute beginners pull decent shots. Gaggia has two sets of baskets, a non pressurized one and a pressurized one.
The portafilter is a 58 mm chrome plated brass commercial portafilter. I said it before, I love wide portafilters, and brass is the best material because of its thermal conductivity properties.
For those who plan to set the machine under the cabinets, Gaggia Classic is perfect for that. The access to the water reservoir is from both the top of the machine, or the front of the machine if we remove the drip tray.
Silvia's group head is made of brass, while Classic Pro' is made of steel.
Here is a side by side comparison of the Rancilio Silvia vs Gaggia Classic:
| | | |
| --- | --- | --- |
| | Gaggia Classic Pro | Rancilio Silvia M |
| Price | $450 – Winner | $800 |
| Aesthetics and Design | tie | tie |
| Water Tank | 2.1 liter | 2 Liter |
| Water tank access | Access from the top and front | Access from the top |
| Boiler capacity | 3.5 oz. | 10 oz. |
| Boiler material | aluminum | brass |
| Boiler Heating Element | 1370W | 800W |
| Initial Heat Up | 65 sec | 190 sec |
| Temperature stability | tie | tie |
| Steam wand | commercial style | commercial style |
| Time to produce steam | 28 sec | 20 sec |
| 3-way Solenoid Valve | yes | yes |
| Robustness and reliability | reliable but Silvia lasts longer | Reliable |
| Filter basket | 2 sets of single and double baskets | 1 set of single and double baskets |
| Portafilter | 58 mm chrome plated bras | 58 mm chrome plated bras |
| Grouphead | steel | brass |
| Pressure | 9 bars of pressure | 9 bars of pressure |
| Pump | 15 bars with over pressure valve | 15 bars with over pressure valve |
| Other | stainless steel housing | stainless steel housing |
| Controls | sturdy rock-switch controls | sturdy rock-switch controls |
| Weight | 20lbs | 30lbs |
Yes, there is a price difference between the two. Some consider that difference the most important factor when deciding. However, consider that you are going to pull numerous espresso shots with this machine. You want to be comfortable using it.
Rancilio Silvia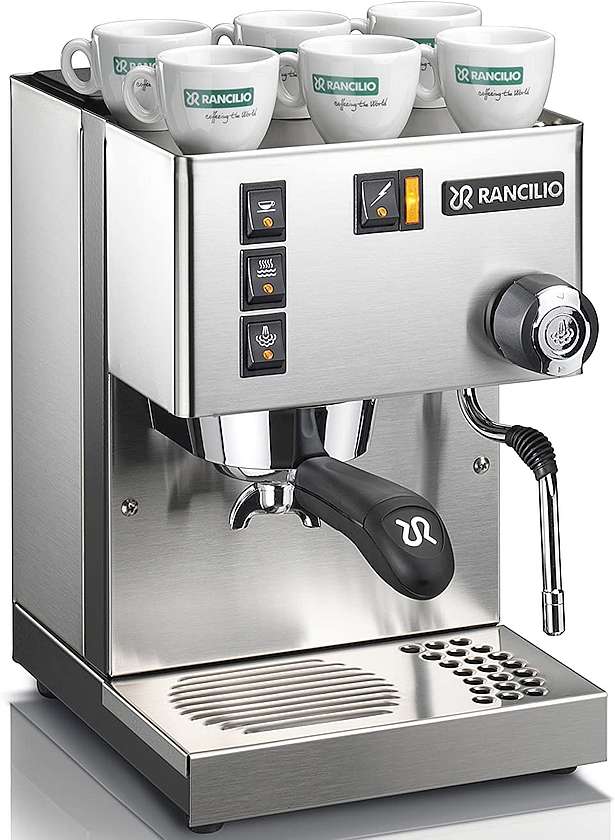 With a sturdy stainless steel casing and brass components, Rancilio Silvia is one of the most popular machines on the market. Simple, powerful and reliable, Rancilio Silvia espresso machines have been the choice of many home baristas for a long time. These machines simply don't die. We have a full review of the Rancilio Silvia here.
Pros
Rancilio Silvia is one of the most reliable semiautomatic espresso machines for home use.
It has a large boiler, which allows you to pull more than two shots at a time.
Milk-based drinks are easier to make, grace to the large boiler. The boiler creates decent pressure, and allows more milk steaming or frothing back to back.
Silvia looks stunning in any kitchen; the minimalist design, with stainless steel side panels, is just great.
The iron frame gives the machine stability and reduces the vibrations.
Cons
It is a bit "temperamental", the brewing temperature can fluctuate quite consistently, and that's going to affect your shot.
Single boiler, dual use, however, because the boiler is so big is less of a problem than with Gaggia.
Conclusion
The reliability and sturdiness of this machine make it unique. The decision to not include a PID might be seen as a bad decision, and many espresso enthusiasts critique it. However it is this simplicity that makes the machine so reliable.
The portafilter and the 58mm filter basket amazing. You can also buy an aftermarket naked portafilter for you Silvia, but this is later on, when you would have perfected your technique.
Gaggia Classic Pro Espresso Machine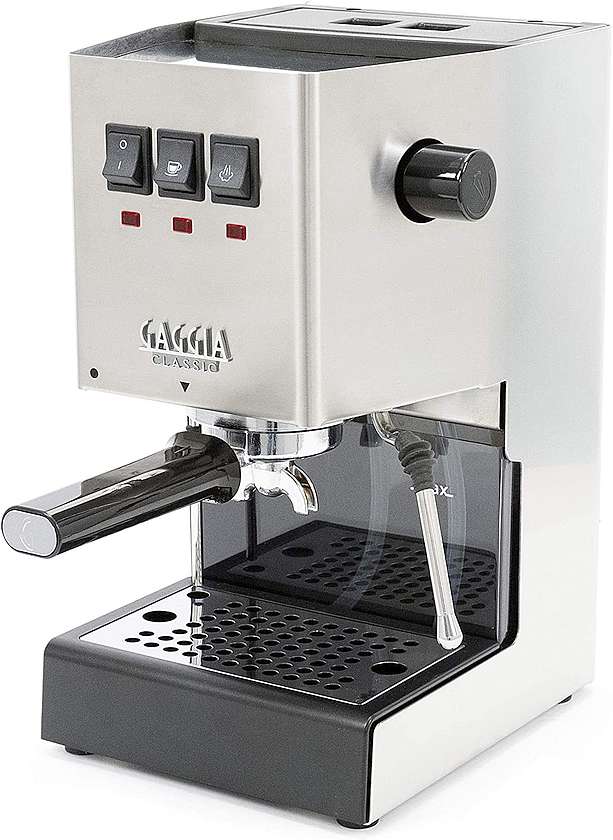 The Gaggia Classic Pro is the best entry espresso machine. Gaggia Classic has been around for a long, time and is got some fixes to address some of the feedback on the market. If this is your target price range, you can't go wrong with it.
Pros
It is very elegant, and it fits in any modern kitchen easily.
Can be used with ESE pods.
It comes with a pressurized portafilter, which will help you pull nice looking shots.
It is very affordable, compared to Rancilio is about 75% less expensive
The semi-automatics from Gaggia are insanely reliable.
The powerful heating element allows fast reheating after use, which offsets a little Silvia's advantage of having a large brass boiler.
Cons
The milk frother is not that good, many people just change it with a Rancilio frother.
The boiler is small, that means more waiting between pulling shots, and less steaming power for milke based beverages.
Single boiler dual use, but this is normal for this price range.
As with Silvia, temperature surfing is needed.
The boiler is a bit smaller than the Silvia's and that makes the Classic ideal for day to day espresso pulling, but it's not ideal if you have guests.
Conclusion and other Options
A big problem with both of these machines, and any other similar machine for that matter, is the brewing temperature stability. The brewing thermostat will engage and disengage at the set temperature, but the heating element is already hot and it will heat the water in the boiler for longer. It's because of thermal inertia.
The brewing temperature can be consistently higher than the ideal espresso extraction temperature. This will lead to over-extracted, or under-extracted coffee.
Some Silvia and Classic Pro owners modified their machines to include a PID, in order to improve the temperature control. Others, prefer to stick to simplicity, and a technique called "temperature surfing" when pulling shot. The technique is very popular among Silvia and Gaggia owners.
If you have the budget, buy the Silvia, you won't have to wait between shots, or texturing milk for espresso and milk beverages. But if your budget is tight, and you only make one or two shots, the Classic Pro is perfect.
But if you only need one or two drinks every morning, buy the Gaggia Classic Pro, as you will save a few hundred dollars.
The pressurized baskets might seem like a deal, however, I strongly suggest you to avoid them. The pressurized baskets will allow you to use pre-ground coffee with your machine, but coffee made with these is not as good. The non-pressurized filter baskets pull far better shots, if you master the technique. The ESE pods are a nice touch, although I don't care much about this feature for a semi-automatic.
The temperature surfing is annoying, but it's something you get used to after using the machine for a while. Both of the machine have this problem because they don't have a PID. If you think that temperature surfing is not a big deal, then Silvia and the Classic pro are the best choices within this price range. If you hate temperature surfing, you wouldn't be the only one. Take a look at our cheap PID espresso machine recommendations, the budget to get one of those is the same. Though win some, lose some. What you win in features, you might lose in durability, or material quality.
Some of the alternatives are the Breville Barista Express, Breville Bambino, Lelit Ana, or the Ascaso Dream. Some of these alternatives come with a PID and a pressure gauge, which you only get with prosumer machines.
The filter baskets are 58mm which is great for pulling great shots. In my experience, the narrower the baskets, the harder to find the perfect grind size.
When you plan the budget, make sure you plan for a burr coffee grinder as well, if you don't already own one. As I mentioned before, using pre-ground is not the best. Always buy whole coffee beans and grind just before brewing.
In an economy where everything is made to last as little as possible, you wonder how come Gaggia and Rancilio didn't change yet.