Learn how to choose your home cappuccino maker. We review the best home cappuccino machines, De'Longhi, Mr. Coffee, Nespresso and Breville from all price ranges.
I enjoy from time to time a frothy cappuccino, even though my daily habitual coffee is a neat espresso with a tiny bit of sugar. I prepare my cappuccino using my semi-automatic espresso machine. I pull an espresso and froth some milk and then combine them. Simple enough. Wouldn't be lovely though, if I could push a button and the machine does all of that for me?
This is the subject of this article. We review the best home cappuccino machines, De'Longhi, Mr. Coffee, Nespresso and Breville from all price ranges. We look at solutions to make a cappuccino for all budgets, and styles. The only criteria is that the solution has some sort of automation to make the process of preparing a cappuccino easier and faster.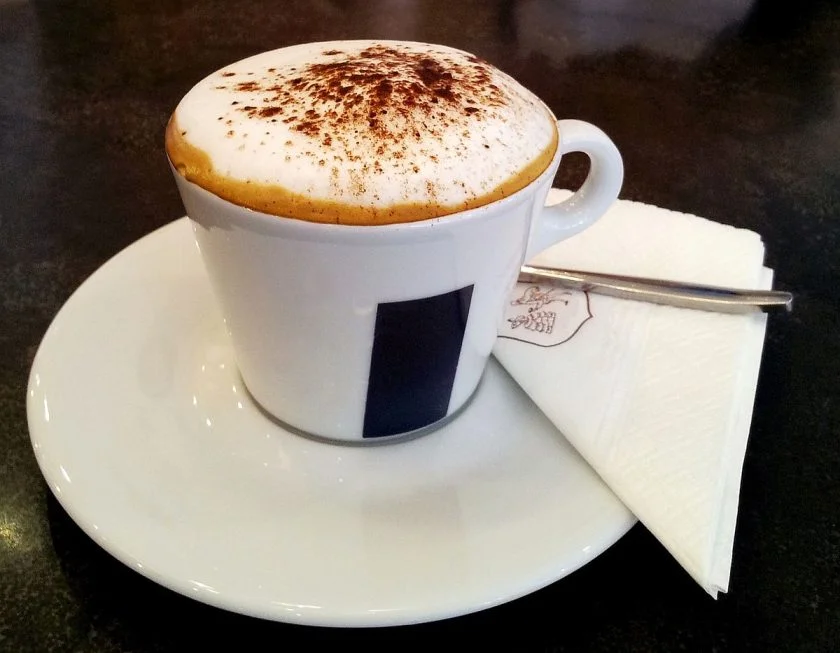 I know we can make a cappuccino with an espresso machine. I do that every so often. But I worked as a barista, and pulling an espresso shot and frothing some milk is for me second nature. This is not the case for everyone. In fact, I have friends and family who operating a semi-auto is not something they would ever do in their life.
Getting back to our topic, lets see how to choose a cappuccino maker. What criteria should we consider when picking a specific machine?
How to Choose your Home Cappuccino Maker?
Not an easy way to answer that question. It is easier when you know the person, their personality, budget, and barista skills. But when you write about it, you need to consider all budgets and all barista skills. A great semiautomatic espresso machine is good for me, but for mostly everybody else in my circle is a definitive no.
Basic Cappuccino Recipe
According to Wikia, the recipe calls for 2 thirds of milk and one-third espresso. The Italian Espresso National Institute defines cappuccino as a drink made from 25 ml. of espresso and 100 ml. of steam and foamed milk.
At the end of the day, if you can brew a shot of espresso and get some steamed and frothed milk, you have your cappuccino. We have our cappuccino recipe, if you want to review the ration between textured milk and espresso, but the simplest way to describe the recipe is one part steamed milk, one part foamed, (frothed), milk, and one part espresso.
Illy has a great tutorial on how to make a cappuccino here, but we think our cappuccino recipe is easier to follow, and is more comprehensive.
Buying Criteria
When buying a home cappuccino maker, the most important criteria are: the budget, the automation level, (expected convenience), durability and reliability, and brewing precision. Some are mutually exclusive, for instance, you can't have a lower budget, if you want a fully automatic cappuccino maker. But let's dive deeper into these criteria, this will help later when making a decision.
From the convenience perspective, the best are the capsule-based espresso makers, with an integrated milk frother. With semi-automatics, you have the most control over the preparation, from espresso pulling to milk frothing.
You have some control with super automatic machines as well, just not as much as with semi-auto. The pod machines are conceived to make it easy for you. This is the reason you have the least control over the brewing process.
Let's go through each of these criteria and discuss them. If you already know what you want, skip to the reviews, for our suggestions.
Brewing Precision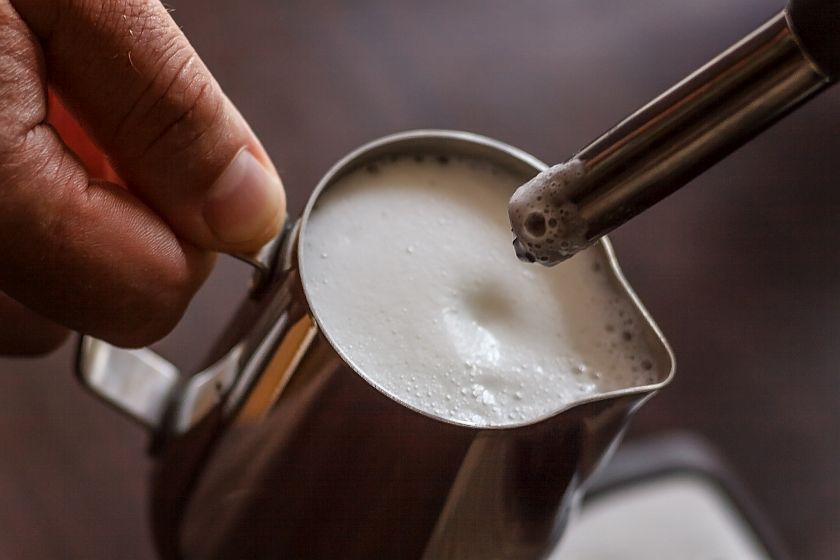 If you ask me, brewing precision is the most important, but for most of my readers, the precise taste is not as important. A frothy caffeinated beverage will do, even if it's not perfect. And this is understandable, life is fast, and coffee perfection is just for hobbyists.
But if you want perfection, you need to buy a semi-automatic espresso machine, and dust off your barista skills. If this sounds too much, let me tell you this: most people don't notice a difference between a perfect cappuccino and one made with an automatic espresso machine.
But if we are to rank the precision among the various ways of making a cappuccino, here it is:
The best for perfect cappuccino: semiautomatic espresso machine with professional steam wand.
Automatic espresso machine with pro steam wand
Semi-auto with panarello tip
Super-automatic espresso machine
Capsule based espresso maker with a separate milk frother
Moka pot, or AeroPress with a milk frother
As I said before, a semiauto doesn't really qualify as a cappuccino machine, because it is not a specialized equipment. So we have a little paradox: the perfect cappuccino comes from a coffee equipment that is not technically a cappuccino maker. Okay, these are semantics, but I insisted so that we are on the same page.
Budget
This might be the one deciding factor when choosing a cappuccino maker, and it might affect your ability to get what you want.
Forget for a minute what I said in my brewing precision. There are machines that can combine perfection and convenience, but these machines are very expensive. Jura Giga 6 costs a whooping 6k for the ultimate convenience and perfection. And if you have the budget, please don't hesitate a second. It's going to be worth every penny.
For the rest of us with more modest budgets, careful consideration of all our needs is the best.
Convenience
If you want absolute convenience, the super-automatic is the best way to go. If you want both convenience and perfection, you need a solid budget, there are other options less expensive than the Jura Giga 6, but they are still a few thousand dollars.
If convenience is a must and you don't need absolute espresso perfection, a capsule based espresso is a decent option. As I said, many people don't even notice a difference between capsule based and classic espresso. This option is one of the best for a low budget equipment purchase, but will turn into an expensive option in time. We have a price comparison in our article about espresso vs Nespresso.
The cheapest solution for a home made cappuccino is a Moka pot and a manual milk frother. But we are not reviewing that here. And that is not a convenience winner, it actually feels like a chore for those who need an uncomplicated morning.
Now that you probably have an idea how to choose your next cappuccino maker, let's see what's the best equipment you money can buy.
Super Automatic Cappuccino and Espresso Machines
You can choose a specialized super automatic machine that can be programmed to deliver a highly customized coffee drink. Yes, one of those is expensive, but if convenience is your friend, it's worth to spend the money. The super-automatics can do many types of coffee beverages, and the advanced ones can even be programmed to deliver personalized drinks.
These machines have a built-in coffee grinder, an espresso brewer, and a milk frother. Everything happens automatically, but you can customize your coffee by modifying the brewing parameters. A super automatic espresso machine is the best option for the coffee lover with a generous budget. It offers convenience and a good control over the preparation of your cappuccino.
The cheaper models will have less options to tweak your espresso shot, and your final beverage. They will end up as decent approximations of the caffe quality cappuccino. The more expensive models can tweak your cappuccino to perfection, and you can save the settings for future use.
Some super automatics will be touchless, while other require you to mix the coffee with the textured milk, but the two components are prepare automatically for you.
Super-automatic espresso machines will allow you to choose between single and double shots, tweak the strength and volume of your drink, and generally are the best option for those who seek convenience.
When you budget, and the super-automatic seems too expensive, don't forget to take in consideration that you also need to spend on a good grinder, if you buy a semi-auto. A decent grinder will bump up your budget, and you can't skimp on it.
If you think about buying pre-ground coffee, that is not going to work. We go in details about this in our technical article about espresso extraction.
ESAM3300 Magnifica Super-Automatic Coffee Machine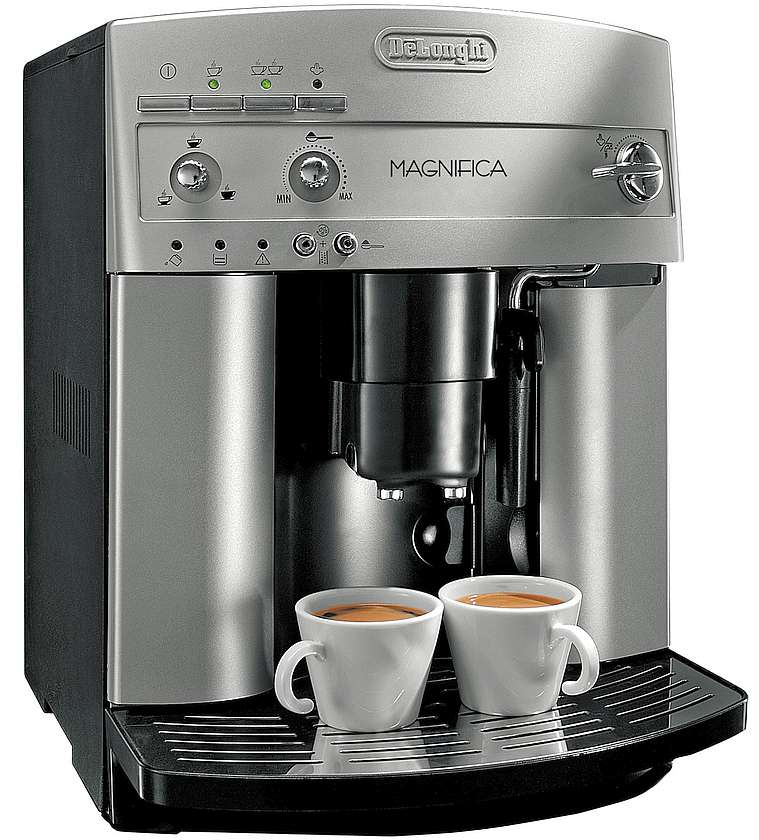 The next leap in domestic cappuccino makers is to the fully automatic machines. With the Delonghi ESAM3300, everything is done for you. You choose the coffee you want and wait for it to pour.
There are no capsules required. It is extremely easy and painless preparing your morning coffee in this way.
The built-in grinder will grind on demand each time a coffee is prepared. The coffee dosing and tamping are also done automatically, for you inside the machine.
The milk frothing is still done separately, which can be a deterrent for the absolute convenience seeker. You will have to froth milk manually.
For a completely automated brewing, from pulling the espresso shot, to frothing the milk and adding it to the drink, you need to spend a little more money. But in my eyes, the ESAM3300 makes one of the best choices for a domestic cappuccino machine. Read this other article with more super automatic espresso machines reviewed.
This machine allows you tweak your cappuccino in a few ways. Compared to a capsule based, it is a big step up, because it allows you to make a perfect cappuccino. You can adjust your grind, for a perfect extraction. You can change your dose for an extra kick or tweak the extraction time, and you can adjust the volume of your espresso for a longer drink, or a shorter one. You can also save these settings in the machine's memory for a repeatable experience.
We have a full review of the DeLonghi Magnifica ESAM 3300, if you want to learn more about it, but you can check the ESAM 3300 price here, if this short review convinced you.
Note that the ESAM 3300 doesn't have a cappuccino button, so you would need to operate three separate buttons and knobs, but this machine is extremely reliable, and the price is unbeatable for a super-auto.
ECAM 22110 SB Magnifica Super-Automatic Coffee Machine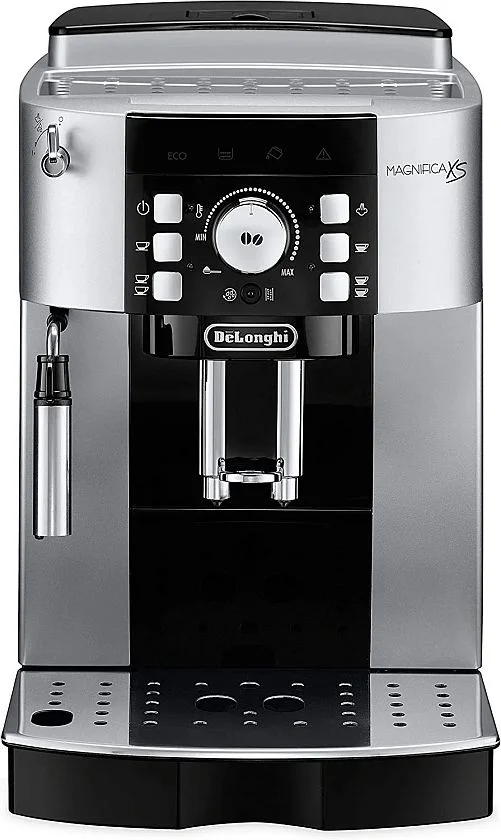 The super-automatic espresso machine is the most expensive of your option, but it's make the best tasting cappuccino.
With the Delonghi ECAM 22110 SB, everything is done for you. You choose the coffee you want and wait for it to pour.
The milk frothing is done for you automatically, you don't need to know how to do it. The texture is perfect, just ready to use in a cappuccino. The machine has a water filter for those who don't want to buy bottled water.
No capsules, no grinder, no scale, or tamping. Just press a couple of buttons and your cappuccino is ready.
As the other DeLonghi machine reviewed, the ECAM 22110 SB is not a one button operation. But the machine is very compact, the price is great, and the ratings on Amazon are really good.
PHILIPS 3200 Series Fully Automatic Espresso Machine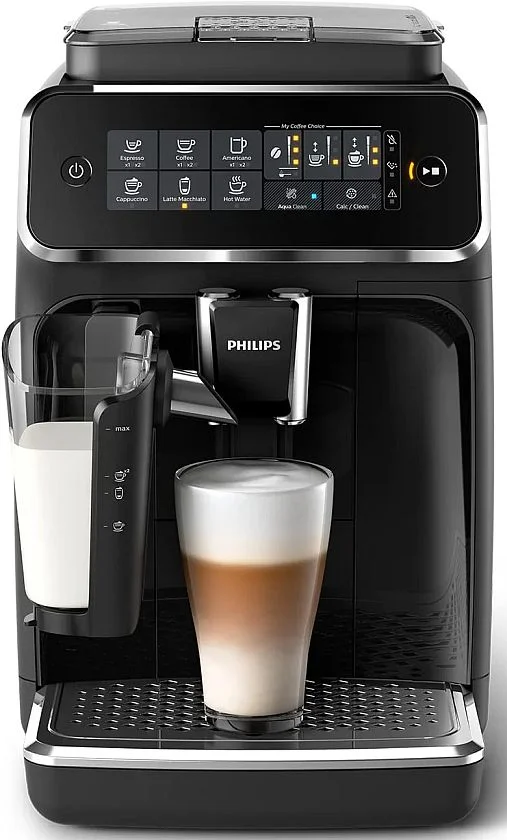 The Philips EP 3200 series is digitally controlled machine, which can prepare most espresso and milk beverages with a button press. Has 12 preprogrammed espresso beverages, including cappuccino, flat white and latte.
The milk frothing system is automated, and it pours the frothed milk over the brewed espresso, no extra intervention from the operator.
Place your cup on the tray, select the desired drink from the digital control panel, and walk away to carry on with your other morning tasks.
The milk frothing system is dishwasher safe, easy to remove, for a no frills cleaning. If you owned a super-automatic espresso machine before, you probably know that this is a great feature.
You can create your perfect cappuccino, with the desired coffee strength and the desired length, and store it in the programming, for later use. There are 4 user profiles and a guest.
I am a De'Longhi fan, but the Philips EP3241 pictured above, is a better machine than the other two DeLonghi I reviewed here, for just a small price increase.
Capsule Based Cappuccino Makers
The third option, the capsule-based cappuccino maker, is the most convenient of the three. The espresso purists will say that you aren't getting a real espresso out of these but trust me, you won't notice a difference; unless you are a coffee cupper by trade.
Do I use these machines? Yes, I use one of these at work, and it works great for the espresso, latte, and cappuccino lovers.
I prefer the semi-automatic, but not all my coworkers know how to operate a semiautomatic. Everybody finds the Nespresso machine convenient and easy to use. Capsule based espresso machines are the best for convenience and consistency. You will get the same cup every time, you can't miss.
This espresso machine is probably the cheapest investment to get your morning fix without giving up on quality. However, you have to note that the coffee pods are not cheap, and the more you use the machine that more expensive it gets, compared to manual machines, or super automatics.
This option is a compact machine, but very few of them are equipped with a built-in milk frother, so that is a little extra piece on your kitchen counter, and a little bump up on the budget.
DeLonghi Lattissima Plus Nespresso Capsule System
The Lattissima Nespresso system is the most convenient way to prepare a cappuccino or a latte. The capsule-based espresso makers are one of the greatest inventions for the home cappuccino maker market. Every aspect of the preparation is fully automated and optimized for consistent results. Because of this, many restaurants are starting to use this type of machines to replace the commercial semiautomatics.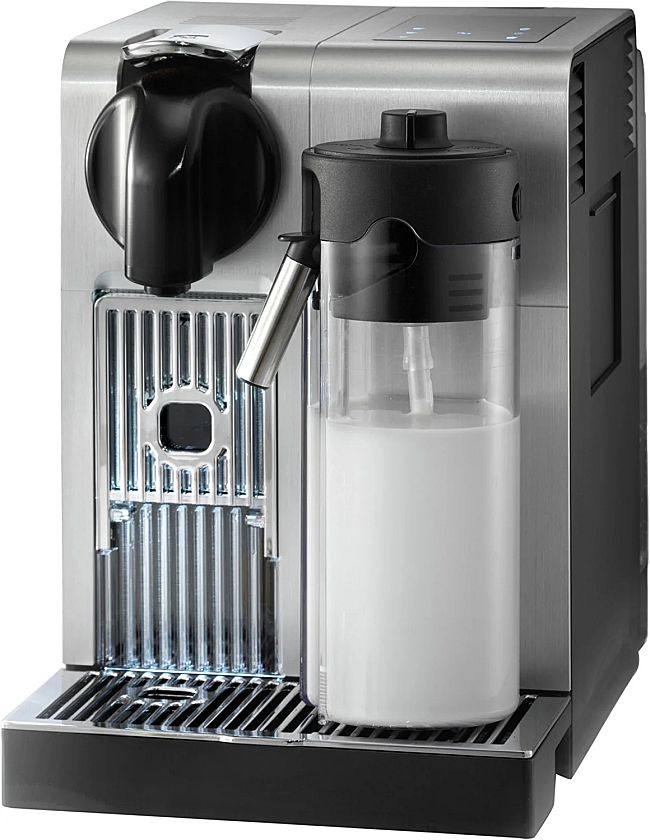 An argument against the capsule-based espresso is the inability to customize the pulled shot. While for espresso aficionados this is a must, for the vast majority of cappuccino lovers, the consistency is the only thing that matters.
Here are some of the advantages of the Nespresso systems:
It brews great espresso shots and great cappuccinos with the push of a button.
There is no mess, and you don't have to clean.
You need no barista training, and you don't need to perfect your technique. Not for pulling espresso shots, not for milk frothing.
Relatively compact, and great looking.
The machines are reliable, so you won't have to buy a new one every year.
Sliding tray to accommodate various cup sizes.
Powerful brewing pump with 19 bar of pressure, enough to ensure the machine will not choke while pushing steam through the capsule.
Semi-Automatic Espresso Machines
You can also choose the complete opposite of the automation, which is a semiautomatic. With a semi-automatic, you need to do the legwork, and most importantly, you need serious barista skills. The name is a little confusing for the uninitiated barista; it gives you the impression that the machine is easier to use than a manual espresso machine. So you think that: "It can't be that hard."
The semi-automatic espresso machine is the best option for the coffee geek, or the wannabe barista, who want to control all the steps of the cappuccino brewing.
If you are a beginner home barista, make sure you arm yourself with some patience while training to perfect your technique. Make sure you read my tutorial on how to make a​​ perfect espresso and this guide on how to froth milk for cappuccino and latte.
My Favorite Semi-Automatic Machine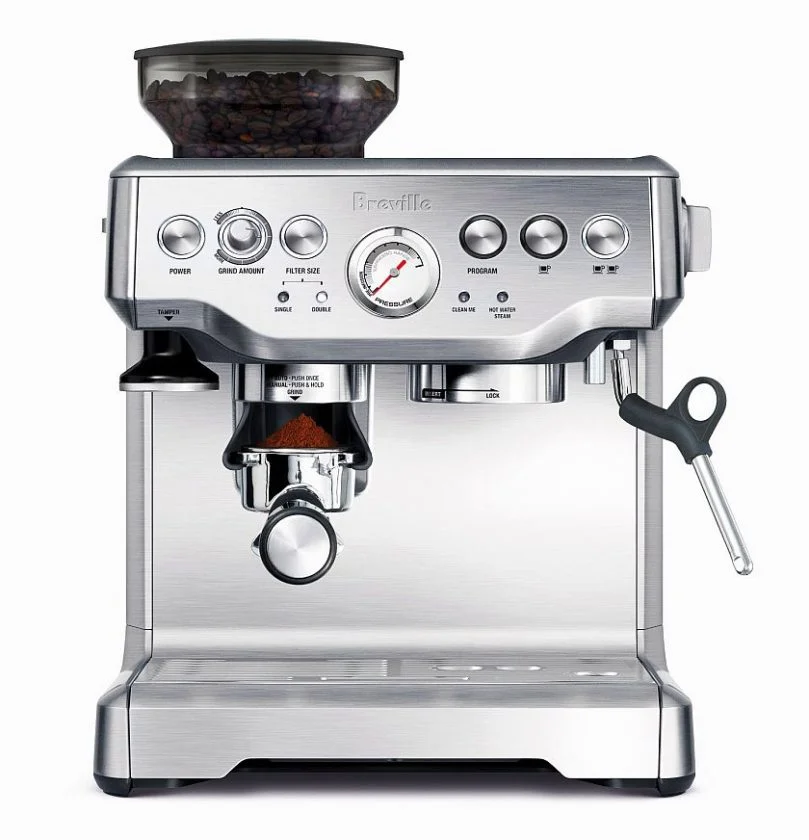 Is a Breville BES870XL, which is a semiautomatic with so many features that will allow you to fine-tune your espresso to perfection. For most of the cappuccino lovers though, the pod machine might be the best choice. The link above gets you to our review of the BES870, but you can check the price of the Breville BES870XL on Amazon.
The BES870XL is impressive and it is within the budget of most espresso aficionados.
If you want an automatic-manual espresso maker, the BES980XL – Oracle is a great machine. The name doesn't make sense, I know. Which one it is, automatic or manual? If you read my Breville Oracle review here, you will understand. The Breville Oracle price is about double the BES870, but the Oracle is a double boiler machine.
Mr. Coffee BVMC-ECMP1000 Espresso Maker – Automatic Milk Frother
Retailing under $200 on Amazon, the Mr. Coffee Barista Espresso Maker has the best ratio between the convenience, price, and features.
With an automatic frother, a feature only seen with more expensive machines, it is very close to perfect convenience, as you would expect from a home cappuccino maker.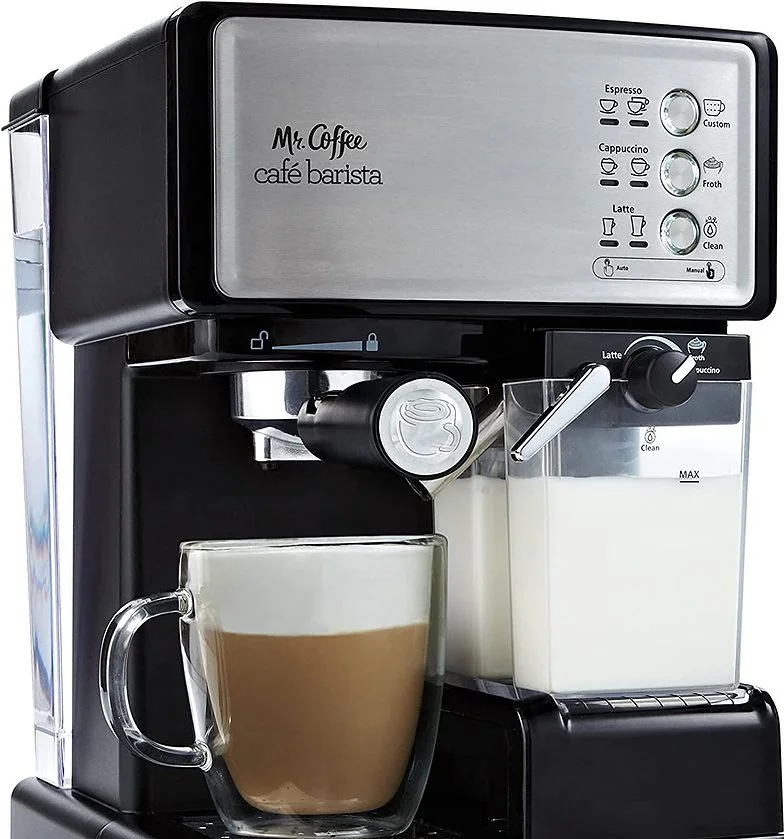 You still have to grind coffee, tamp, and clean the machine after using it, but on the other hand, you have absolute control over your espresso. Mr. Coffee's machine cannot compete for convenience with the Lattissima line from Nespresso.
I consider it a happy medium between a cheap machine such as the De'Longhi's ECC155 and Lattissima. It will let you brew a decent espresso with fresh beans, or prepare milk-based drinks, like lattes and cappuccinos while still run on a tight schedule.
More about Mr. Coffee BVMC-ECMP1000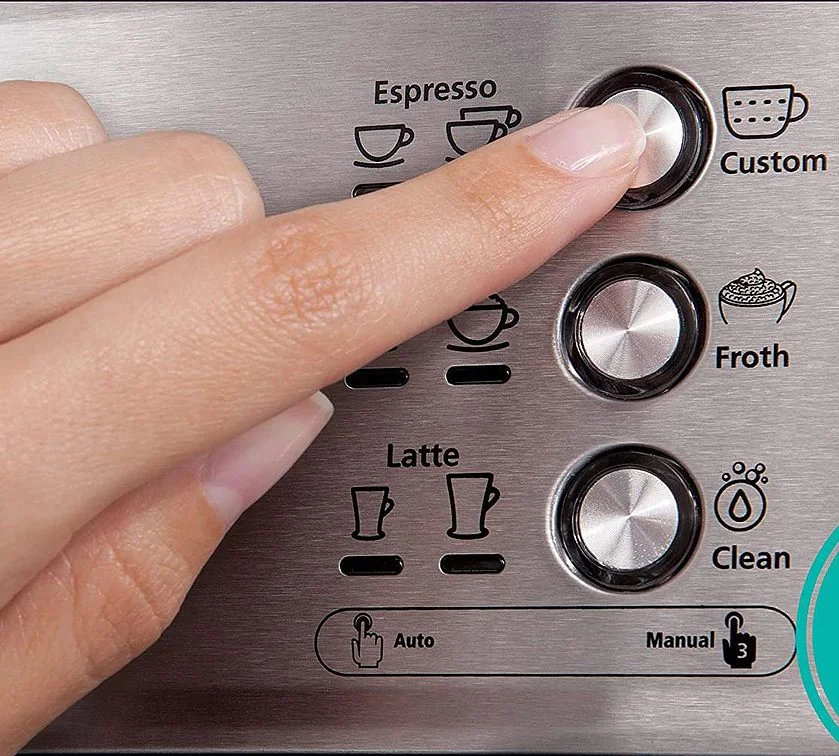 This cappuccino machine takes the complication of milk frothing out of the preparation process. Frothing good milk for cappuccinos and lattes can take professional baristas months to perfect. Here the milk is frothed for you which takes that added level of stress out of your morning.
You can switch between cappuccino and latte foam, depending on your mood, or your guests' preference. This is a real cappuccino and latte maker; you don't need to learn to froth milk or to master the micro-foaming technique. You just press a button and your cap is prepared for you.
Final Thoughts on Selecting Your Home Cappuccino Maker
After carefully considering all the options, I believe that semiautomatic espresso machines should not even make our list. I included them because they do make the best cappuccinos, they just need more work from you. You can make a great cappuccino with a semiautomatic, but unless you are a barista or a coffee enthusiast, the process takes time and skills. This is the reason an automated machine is the way to go.
Beware of Cheap Machines
When you are shopping, and you have a tight budget, the natural choice is to go for the least expensive machines. Nothing wrong with that, but preparing cappuccino requires two things: real espresso, and frothed milk. Real espresso cannot be brewed with a steam espresso machine, or with a Moka pot.
Cappuccino is a drink that features the espresso. Authentic and tasty cappuccino is made with real espresso.
Frothed milk is relatively easy to make with the steamer of a semiautomatic espresso machine, but many specialized machines come with an automatic milk frother.
In conclusion: Yes, try to save some money, but don't get the cheapest machine, if you want the real thing. If you absolutely have to cut the budget to minimum, try this guide on espresso alternatives.
Instead of Conclusion
Which of these machines is the winner? I'll let you decide. On one hand, the price, the ease of use and overall taste of Mr. Coffee Cafe Barista is a great buy. An automatic milk frother, real espresso for those who don't like capsules, all of this while maintaining an affordable price. Remember though, that for both the Mr. Coffee Barista and the ECC155, you will need to budget for a decent grinder too. That means another 150$ expense.
The super automatic ESAM3300 Magnifica is one of the most reliable on the market. When you compare it to the Nespresso Lattissima, you will notice that, although is a super automatic machine, is less automated than the Lattissima.
So why pay the extra couple of hundred dollars? Firstly, it's going to be cheaper in the long run, because you don't need capsules. Equally important for some, you do have more control over the brewing process with the ESAM3300. For just $100 more, the Philips machine is fully automatic, and the preprogrammed drink buttons make your home barista work really easy.
In my eyes, the real winner here is the Nespresso Lattissima, mostly because of the convenience. Many espresso lovers, however, consider that is nearly impossible to grind beans, seal it in a capsule and preserve all the good properties of the coffee.